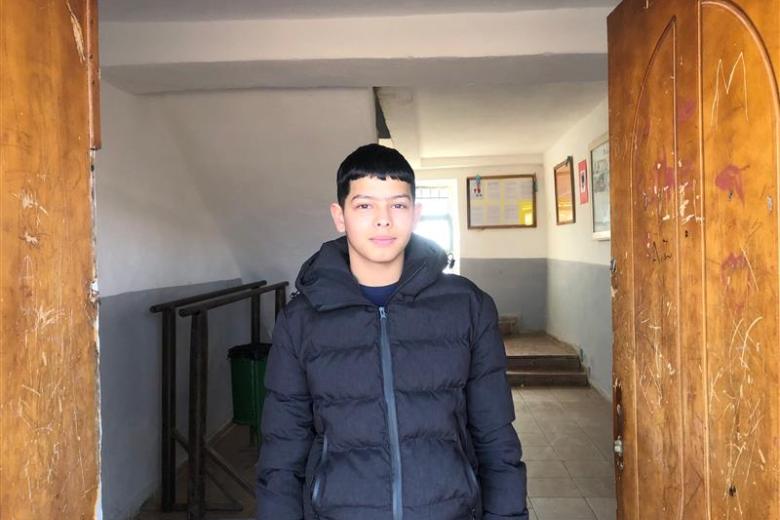 Changing yourself, your family, your community
Friday, September 2, 2022
Klodi from Dibër felt bullied at school until a few years ago because he is part of the Roma community. The teenager was the quiet type, shy, rarely spoke and generally did not participate in discussions with his classmates.
His involvement with IMPACT groups in his school near the city of Peshkopi three years ago has been life changing for him and his family.
"It all started with my teacher asking me to be part of the IMPACT group. Honesty, I didn't know what it was, but the topics and the way they [World Vision staff] were conveyed to us were very attractive. Topics like conflict resolution, how to better communicate or how to gain skills to take initiative and work, broadened my horizons," tell the 14-years-old boy.
Klodi is from a family that suffers economic hardships. The boy is the eldest child in his family.
As time was going on, discussions held in IMPACT youth groups and his passion for cars gave the teenager an idea that later turned into a small family business.
"I really wanted to help my family with our financial difficulties. We went into difficulties because my parents were unemployed. The lessons I learned with IMPACT group made me think deeper. My father is my best friend. I talked to him and convinced him to rent a small car wash facility, with the promise that I would help in the afternoons, after school. My family borrowed money and shortly after we opened our car wash," proudly says Klodi. He didn't neglect his classes at the school while supporting his family.
The teenager's initiative to start a small business proved to be a success, even though his parents were initially uncertain. Now, Klodi's father, Gentjan, has a stable job and provides living for his family. Gentjan even decided to hire another employee to help them to expand the business.
"Making ends meet in these economically challenging times is harder than ever, especially with three children to raise. Klodi is persevering and loves working. I often tell him to focus on his classes but he wants to contribute to the family's budget. His idea has had a positive impact on our family and things have changed for the better," says Gentjan.
Everyone in his community knows Klodi. Alongside other members of IMPACT groups, he has been involved in movements that have had a positive impact on residents.
"Klodi's change has been incredible. Today, he leads most of the topics we discuss, and takes initiative in school and in his community. Together with his peers, he has organised or taken part in awareness campaigns for mental health, keeping the community and the environment clean, and children's rights," says Violeta, his teacher and student government coordinator.
His story is inspiring; an engaged teenager whose contributions to his family, school and community are so valuable. Meanwhile, Klodi always seeks to expand his knowledge, and just as passionately wants to help his family he wants to be useful for his community.
His passion for cars has motivated him to explore the field further; he knows automotive parts well and can diagnose and fix small issues. In the future, he sees himself as an engineer, as he dreams to own a workshop. He is working towards his dreams.
"We all need a little help and a push to do well. I got the support form the IMPACT group that World Vision Albania initiated in my area," concludes Klodi.