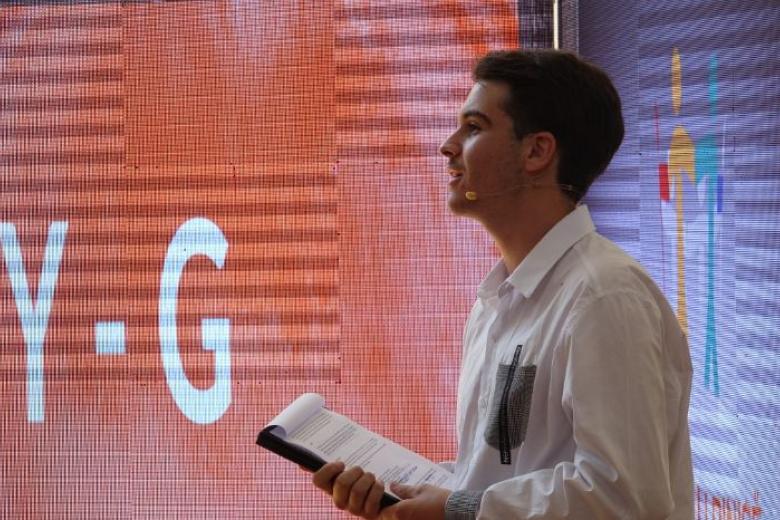 Dream big
Friday, September 23, 2022
"Supernatural dreams don't hold us back, very natural purposes limit us," This is what Sardi, the 18-year-old teenager from Korçë who dreams about his future and career, believes in.
He believes that work, discipline and passion are the answers to achieving 'the impossible'. The boy from Korçë does not give up. His fiery desire to accomplish his goals in life rises above the challenges.
"It's not easy for a young person to live life to its fullest. However, I am not afraid of failing; I always push myself to the limit to achieve the best. The conviction to move forward is rewarded. Dreams have started to come true," Sardi tells us, encouraging his peers, adolescents and youth to not give up and to work towards their goals and dreams.
One of those dreams for this young boy was to be on the stage one day and lead an event or activity in front of a live audience.
"My dream was to have one of those little microphones by my cheek," he tells us.
Sardi did it. On the second day of the 2022 Youth Festival held in Korçë, alongside one of the most recognised TV hosts in Albania, Jonida Shehu, Sardi presented a panel of institution and organisation leaders, including Sotiraq Filo, the Mayor of Korçë and Bora Muzhaqi, State Minister of Youth and Children.
To Sardi, this was no coincidence. It was the fruit of several years of effort and attempts. He believes in work and cultivating passion. He believes in meritocracy and being rewarded for his efforts. In the fall, he starts a new journey. He just finished high school and will soon find himself sitting in college auditoriums.
"What will I be doing in the future? All that matters is helping society. I want to deserve my position, compete fairly and feel comfortable, be it in law, medicine, journalism or activism." - the boy says, after three years of participating in every programme World Vision Albania has in his high school. He considers his engagement in IMPACT groups one of his most special and constructive experiences. Sardi says he gained the right skills, motivation and counseling in IMPACT groups. He says that he discovered himself thanks to these activities, and more over his desires for the future.
"The IMPACT group has had a strong influence on my life. I have gained new skills. I have grown personally and professionally. My school is one of the oldest in the area and World Vision Albania's interventions have been necessary: new sporting materials, teaching materials, new books for our library, starting the IMPACT club, as well as the Library Detectives project," Sardi states.
In a closing message to his peers, he focuses on technology as an opportunity for the new generation to build a successful career in the future.
"At the Youth Festival, alongside with my art partner, the message we gave through our miming was that we must embrace technology. We must use it to our advantage. Focus on the priorities you set for yourself. Invest in your own intellectual growth, widen your knowledge and always learn new things. Through perseverance and dedication we will reach our dreams," - the teenager says in his message for International Youth Day, calling for youth to be heard, engaged and supported in their attempts to enact change.
World Vision Albania works with over 2,700 youths across the programmes it implements in 26 municipalities of Albania and 1 in Montenegro. World Vision works with adolescents and young people, helping them build skills and empowering them in active participation in social and economic lives. Sardi is just one of them, and he is succeeding.