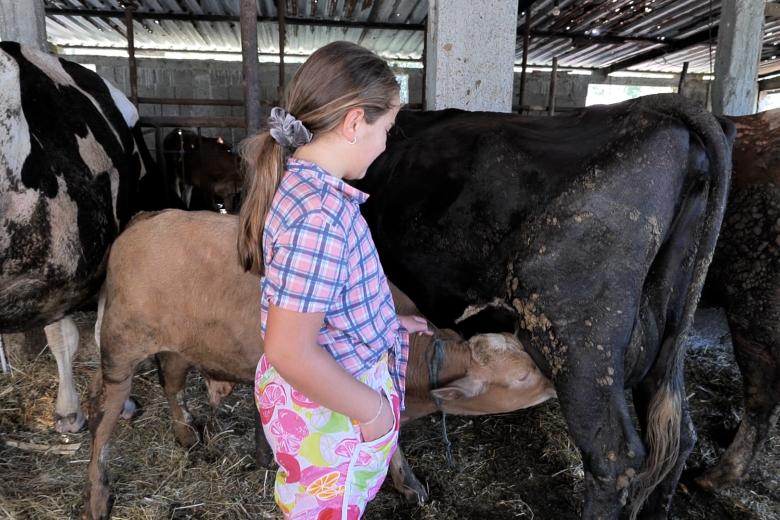 Finding the strength to keep going
Thursday, March 16, 2023
From a young age, Zef decided to emigrate to Greece in pursuit of a better life. After working abroad for 12 years, he permanently moved back to Albania a few years ago.
From Mirdita (a region of northern Albania ), where he lived with his family, the young and energetic man moved to Thumana, where he invested all of the savings he made during the emigration. When he was feeling secure and things were going well, the dwelling in which he had invested all of his hard-earned money was destroyed in just one day. Fortunately, no family member got injured.
"I returned to Albania with an intention to never leave again. I invested everything I had in Thumana. However, suddenly everything was gone in a blink due to the November 26, 2019 earthquake," says the 34-year-old man.
Since then, Zef and his family live in a container. His family is composed of his wife, three children, and two parents. Their house, despite being a new construction, was declared uninhabitable by the authorities due to the numerous damages it suffered from the earthquake. The state provided Zef and his family a new dwelling near the old one, but they have yet to move in.
This consequences of the earthquake were heavy and discouraging, but Zef never gives up. He found the strength to keep going, despite the numerous difficulties he had to face.
"I have established a small farm with 22 cows and calves, and seven goats and kids. We support ourselves by agricultural work. We have no other income. I will do anything to ensure that my children attend school and have a better life," he explains.
Noting the need for help and the potential to obtain financial independence, Zef's family is being supported in the framework of the "Improving the Family Capabilities to Respond to Emergency Situations" project.
"It has been a considerable help. The project provided me with two milking machines, a mill, and an irrigation pump. While before I had to spend one hour to milk cows, now I only spend 20 minutes thanks to the machines. The water pump helps irrigate the crops, while the mill is used to grind corn. With a little help, we can recover," continues he.
While milking the cows with the new machines, Zef is accompanied by his eldest daughter, Klea. The 9-year-old girl says that she loves reading and wishes to become a nurse.
The project is funded by UNDP Albania and is implemented by World Vision Albania in Kruja Municipality. It provides assistance to 115 households affected by the pandemic and the earthquake.
The beneficiaries are receiving food and sanitary packages, farming inputs, as well as trainings and psychological counselling on how to better respond to future emergency situations.
This intervention has been undertaken in the framework of "Earthquake Social Protection and Response" (ESPR), a project executed by UNDP Albania and funded by the Government of the United Kingdom, the Government of Finland and the Government of Norway. The project supports the Albanian Government and three municipalities affected by the earthquake with the process of designing and translating policies aiming to initiate the adequate local actions to ensure that men, women, girls and boys living in poverty or in vulnerable situations, combined with post-earthquake conditions, will have access to quality and integrated social services.