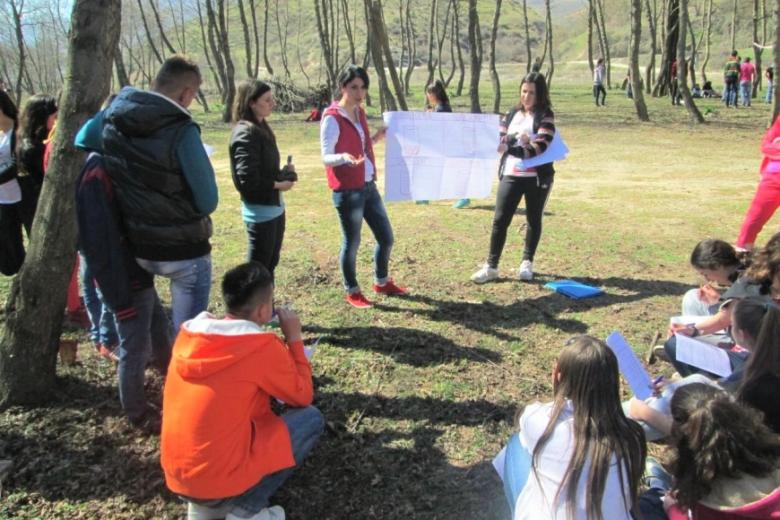 Follow your dreams …
Tuesday, September 14, 2021
"When you believe strongly in yourself, even if you are young, you can make it." These are Sadete's words. For six years, she has been one of the volunteer leaders of the youth groups in Dibra. Her commitment to this group started a decade ago when she was a young person enrolled in one of the programmes of World Vision Albania.
In 2011, young people from Dibra identified a lack of psychosocial and educative activities for children and young people in their community. They found that there was a lack of information on violence awareness. Women were judged and were not very engaged in activities outside the house, which was related to early marriages as well as the lack of attention of local authorities and institutions towards young people and children. Many of the young people who were engaged in the project came from communities with the aforementioned problems, and they highlighted the lack of programmes and activities where young people could be involved to broaden their minds, skills, and spend their time in a healthy way. Sadete was one of them.
"I first heard about World Vision from a friend of mine who told me I could register as volunteer if I wanted to," says Sadete. "At that time, I was a student of psychology-sociology. I was married and a mother of a two-year-old girl. I got married as soon as I finished high school and didn't have the time to provide myself with certain things which become very difficult to attain after you have a family."
Fortunately, a university was opened in Dibra and Sadete started her studies. "But besides that, and the family, until then I hadn't found any job opportunities, nor did I take any specialized training or course, to learn something new or have experiences that would help me grow me as an individual, as a citizen or even as a future professional," she says. "At that time, I think that for me and many young people it was a luxury and a big sacrifice to go to university, so such activities like volunteering or engaging in community work were not seen as important by most people."
Trained for the Voice and Citizen Act, they began implementing initiatives which were focused on fixing and organizing of two kindergartens and schools in the village and the involvement of children in educational activities. The interest of youth to join these groups grew quickly and as a result, in 2013, there were 300 active young people who engaged in different activities in communities with various psycho-social problems in Dibra.
"The first initiative our group applied was identifying talents in secondary schools, and we had the opportunity to offer children a chance and a space to express themselves, to challenge and be challenged, to socialize with others and have fun," says Sadete. "Even though it required a lot of commitment and work, I enjoyed every step of it. In the closing activity of the event, we would select the winning participants of each category of talents and there were representatives of the 'Jordan Misja' Artistic School who were part of the jury. In fact, it was unbelievable when they decided to accept one of the kids participating to enrol in their school for painting, avoiding the admission procedures of that school."
Sadete says that young people and especially girls face challenges when deciding to get involved in community activities. The mentality of the family and the community had difficulty in understanding the value of such activities.
"To be honest, the moment I registered, some of the closest people to me were surprised at the fact that I was engaging myself in this direction," says Sadete. "A young mother with great commitments, who is also attending studies, decides to volunteer, with no any monetary benefits and you keep wasting your time going on meetings. And to be honest, that's how I was judged and I felt bad when I was told that I was neglecting my family responsibilities by coming to meetings. And I tried continuously to explain them my viewpoint since what I was doing was important to me. I began not to be concerned about what others said or thought of me, I continued doing what I thought was right to me. My family trusted me that was important to me. Then this initiative turned out to be really helpful because I could prove how valuable my involvement was, or that my decisions in the past proved to be right.
"At the beginning when I started as a leader of IMPACT, my attempts to include girls in my activities was very difficult because they came from remote areas of Dibra. It took a lot of time to communicate with parents, showing them what we did, because at the time young people would have to move out of the area to exchange experience with other young people and it was very difficult to convince parents to grant permission. But later the young people started to adapt and they could tell their families about what they did in groups, and in fact the number of girls in groups began to rise and others would come and ask, when they could have the opportunity to join," she says.
Despite the mentality, Sadete and other young people were greatly involved and with commitment they managed to hold activities and project which aimed to inform and increase awareness of young people on matters concerning their daily lives.
"We would organise within groups, set roles and responsibilities, and would go to village schools, meet children and train them about their rights, healthy eating, environmentalism, children's protection. It was later that some more active young people were involved in the Year of the Family (initiative of the office in Dibra on family matters) where they would regularly meet families and discuss different topics with focus on the wellbeing of children and families. And of course, we learned a lot of skills in all of these activities," she adds.
Not much later, such skills brought her first work experience in a children's summer camp organized by World Vision. She started as a postgraduate, and then she became Director of the Dorm of the professional high school "Nazmi Rrushiti" and today she is a psychologist in the same school.
"At that time, it was hard, especially for a young girl with family commitments to go out every day or more often during the week to go to villages, meeting children and families," says Sadete's mom. "She would spend a lot of her day for something she wasn't being paid for. During that time, we noticed that Sadete was becoming more skilled, she had a group of friends for example, they would help many children and families, but especially when she managed to find a job on her own, with no help, and she was hired in that summer camp and was employed a couple of times with part time contracts by World Vision for various projects. We were very happy and we understood that we were wrong. We just told her, 'Well-done, you were right to insist on this thing.'"
Even though she was just a girl going door-to-door in villages to engage children in activities; she faced prejudice from the community many times. Despite all that, she insisted on what she wanted, she studied and took care of her family; however, she still lacked confidence when they would hold group meetings, because she felt that her opinions and feeling were not valuable.
"In my beginnings, I had great difficulties in sharing my opinion on matters that I was asked about. When I would go back home I would reflect with myself why in the moment the question was asked I didn't answer even though I studied psychology, and knew the answer," she says. "In time, not only did I participate more in discussions, I began taking on characteristics of a leader. Today I am the leader of an IMPACT group and see many young boys and girls that remind me of myself from back then and I try to push and motivate them in every moment to express their opinion, to be involved and give their best. That's why we have many cases of young people who have raised their voice in the city council and other institutions about many problems and they have collaborated with institutions in community projects, making themselves role models in their community."
Sadete says that during this time she has seen how many young people around her change over the years.
"I feel happy when I see that most of the young people I have met over the years have finished their studies and have managed to find a job. You can notice the difference in these young people from the way they communicate, how they participate in debates giving their arguments, from the way they raise concerns and their voice. These are basic things, but very meaningful for a responsible citizen, and such citizens are highly needed in our society," says Sadete.
When you ask Sadete about her most unforgettable moment from this whole decade of involvement in World Vision, she remembers her trainings, which have made her reflect on her value and abilities, and the strength she has to make a change. "I remember a training, where our coach assigned me some class work and after I finished it, he told me," 'Take it with you at home and reflect on those values you have and haven't illustrated yet,'" she says.
"It was very interesting and memorable because to this day, every time I feel something isn't going well, I take that assignment, I read it and I repeat what I is written in that letter," she says. "That way I remind myself of my abilities, who I am, and that if I believe strongly in myself, I will succeed and things will go well. That's what I told myself every day when I was in the youth group, and what I tell the new ones today," she says.
The need for youth to socialize, to be detached from technology, and to invest in improving their knowledge, life skills, to have more attention from their parents and from structures that identify problems in their community during the transitional process into adulthood, continue to be treated and addressed through IMPACT's model and the works of 230 young people who joined World Vision in Dibra.
Sadete believes strongly that the young people of Dibra and everywhere in Albania are a powerful voice of change, but they just need a push, just like she did in her beginnings. They need some pushing, motivation, and someone to help them understand themselves, and after that change come naturally.