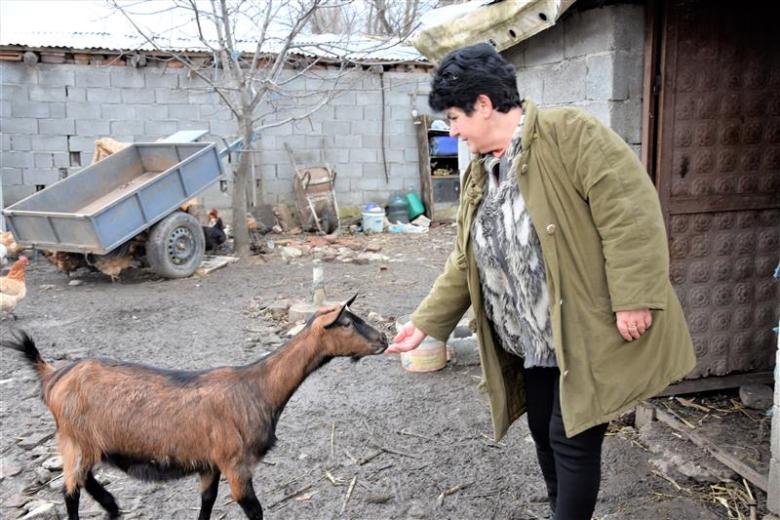 Ivana - a farmer and a source of inspiration for girls and women
Wednesday, February 2, 2022
For Ivana, nights are very short. She wakes up before dawn. The first morning light finds her at work—sometimes feeding the cattle and others working the land. At midnight she is still on her feet finishing the house chores.
These are the daily jobs for the farmer from Maliq who rejoices at the abundant income for her family. The 49-year-old has a strong bond to the land and nature. With her work and passion, she has managed to be not only a successful famer, but an inspiration for all the inhabitants of her community.
 "Work for me is sacred and no one in the world can convince me of the contrary," she says, talking about her endeavors in agriculture and livestock.
Today she relishes the fruits of her work, but her journey to this day has not been easy.
Ivana was only 3 years old when she lost her father, who was the backbone of the house for her. With the support of her family and her characteristic courage, Ivana found force to move forward.
Even though her mother encouraged her to act in a more traditionally female manner, Ivana's brothers never insisted she be reserved and she's thankful for that.
 "If I would have been more withdrawn, I would not have achieved what I have today," she says.
Ivana is courageous and optimistic, with a fighting spirit. Over the years she has been engaged in raising pigs, goats, and cows. She's also grown different crops, such as maize, beans, and alfalfa.
"I take challenges with a lot of ease. However, without the presence and involvement of World Vision I would not have had so much optimism about the future. I have learnt a lot from the trainings," she says. "I know how to look after the plants and animals, how to do a business plan, or how to apply for a loan and find buyers. The knowledge I have gained is endless." 
In 2015 Ivana joined the group of 200 farmers supported by World Vision in her community. Thanks to her commitment, learned knowledge, and the results she achieved, she's moved from being a simple farmer to being one of just 10 leaders of the group of farmers in Libonik village.
She participated in all the trainings organized on sustainable agriculture, value chains, and management of natural resources. Now Ivana trains the other farmers of her village on these same topics.
"There is nothing that can stop my passion for work. I am so attached to the land that I cannot explain," says Ivana, whose ardor was not thwarted even by the COVID-19 pandemic. "When all the world stopped, I would take my niece with me and drive to our lands." 
The land provides the main source of income for Ivana's family. Her husband fully supports her efforts. Casting aside stereotypes of what women can do, Ivana keeps her gaze towards the future.
"I don't regret anything in life. As a person I am not very much influenced by the words, gender barriers, financial hardships, lack of knowledge, or capacities," she says. "We can learn to make it. I have often run into prejudices, but I will continue forward."
Ivana emphasises women independence and empowerment as the key to improving a society. She calls on all women and girls to work hard, to take courage, to be engaged, and take initiative.
*Ivana is one of the 200 farmers and one of the 10 close circle of leaders World Vision works with in the area of Korca and Maliq.