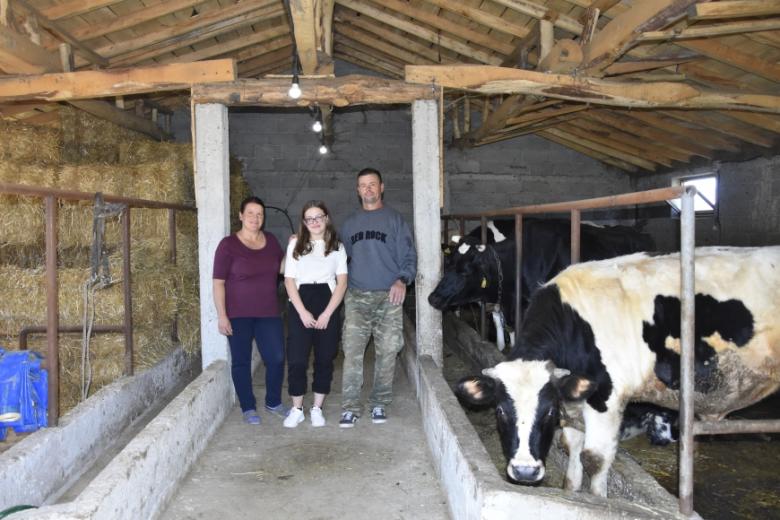 The Korça farmer fulfills his dream, he creates a farm in his own house
Monday, January 17, 2022
"Until two years ago I had only two cows. I had tried migrating three or four times but still wanted something of my own in order to provide my children a better future here. Now I have my stall, I have four cows and two calves. I have ducks, geese, as well as a plot of land that I cultivate with different crops,"- says Ardian from Pojan village in Korça.
Ardian, 51, is the father of three children. As a farmer, he, together with his wife and children has tended to the land around the house and the sheep. His old dream was to have his own stall that he could manage himself and provide income for the family, by seeing his future in Albania. But economic difficulties hampered him from expanding his work and setting up a business in his village.
Yet the desire to find a way to achieve his dream brought him to World Vision. Adrian initially became part of the farmers group with whom World Vision often held meetings within its farmer support and empowerment project. After the occasional meetings, it was the time to learn how to draw up business plans that encourage farmers to have a business of their own. Ardian managed to finalize a business plan to expand his capacities, and now he has set up his own farm.
"I never imagined of owning a business," he says. "Exchanging experiences with Kosovo farmers was of great help. We saw successful models. I still have in mind the farms that I saw there, and every time I remember them I want to add something to my family business."
Family has always been supportive of him and has played an important role in setting up the business by engaging everyone to give their contribution to move forward.
"We have supported my father from the beginning and we have tried to help with the cattle. We are quite happy that we have this stall. We are even more enthusiastic when we hear mom and dad's future plans. I often talk to my friends at school about the stall we have and some of them have come and visited it," says Denada, his 14-year-old daughter.
The new business has brought more opportunities for this family. They are enjoying the first fruits of their labor which are ever growing. They no longer have only two cows in the house, but already have a beautiful stall with cattle which provide not only food but income for the whole family.
"Since we built the stall, our lives have improved. The children never lack milk or butter, and our income has increased as well. We are selling the cows' milk and we are doing fine. Our farm has also influenced our eldest son who fondly tends to the animals and has even decided to study veterinary medicine," says Zhuljeta, Ardian's wife.
Dreams for their family are still big. They want to adapt the stall to contemporary modern conditions and add even more sheep and goats as they have now gained experience and are ever more committed to setting up their much desired business.