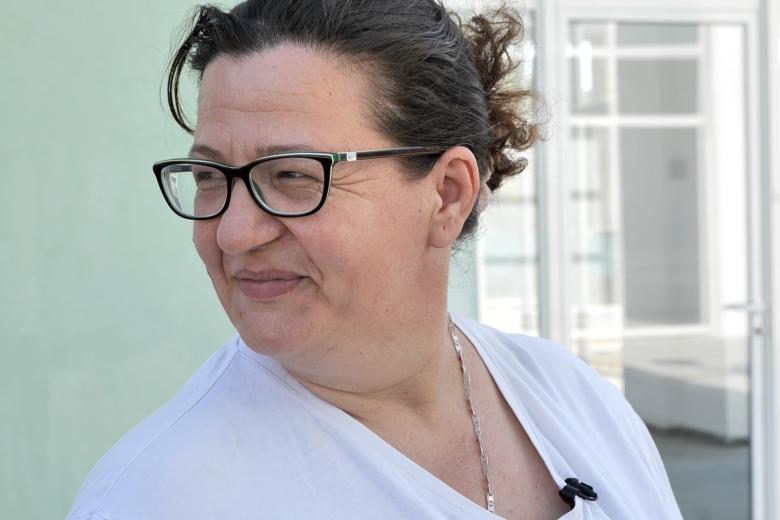 Recipes for a healthy family
Thursday, February 23, 2023
Maeda from Thumana is a dedicated mother. Her children are everything to her. Despite challenges, the 39-year-old woman puts a lot of efforts to raise her children healthy and educated.
Although Maeda is a parent for more than 22 years, this year she has learned new things about establishing healthy relationships with her spouse and children.
"People learn throughout their lives, as there is always room for improvement. It sounds strange, but I have started applying models with my children that I had never practiced in the first two decades of parenting," she says with a smile.
The mother of four daughters and one son used to live in a village in Thumana's suburbs, but she moved to one of the new apartments built in the center of Thumana Administrative Unit together with her family several months ago. The dwelling she lived in before was damaged by the tragic earthquake of November 26, 2019.
"It was traumatic. The children have not recovered emotionally yet. They often ask me to leave the bedroom door open out of fear," shares Maeda.
Several programmes were undertaken to assist those residents in the area, who also had faced the COVID-19 pandemic after being affected from the earthquake.
Since last year the "Improving the Family Capabilities to Respond to Emergency Situations" project has provided support to 115 households in Kruja Municipality. The project is implemented by World Vision Albania in Thumana, Bubq, and Fushë-Kruja Administrative Units. It supports to establish a foundation of stable economic development and assists families with trainings and counseling to equip them to better respond to the future emergency situations.
Maeda is one of the 57 parents who improved her skills to be able to nurture healthy parenting practices and gained necessary capabilities to better respond to emergency situations. 
"During the meetings held in the framework of "Let's Celebrate Family", we learned how to take care of ourselves and our children. We also learned about mental health and spousal relationships. We greatly benefitted from the experiences of other parents. Although I try my best to be a good mother, I recognised numerous mistakes I had made in relation to my children. I used to be unforgiving and, sometimes, quite harsh on them. We should not be harsh on our children, but we should treat them with kindness and respect," concludes Maeda.
Her greatest wish is for other parents to have the opportunity to participate in the Positive Parenting trainings. Maeda is already a contributor; she is also an agent of change in her community, as she is discussing the lessons learned with her colleagues at work, her friends and relatives. Her message is simple, but essential: be as loving as possible to your family.
"I would strongly recommend these meetings to mothers. I am a mother of four daughters and it is very difficult. There is only one way to have a healthy family: communication. I would suggest that all mothers and fathers regularly communicate with their children and with each other. They should ask about their needs and concerns. They should listen and encourage, as well as forgive them. Love is the key to everything," concludes Maeda.
In the framework of the "Improving families' abilities to cope with emergency situations" project, 57 parents in Kruja Municipality were provided with psychosocial activities and didactic materials to carry out activities with children in their families.
This initiative has been undertaken in the framework of "Earthquake Social Protection and Response" (ESPR), a project executed by UNDP Albania and funded by the Government of the United Kingdom, the Government of Finland, and the Government of Norway. The project supports the Albanian Government and three municipalities affected by the earthquake with the process of designing and translating policies aiming to initiate adequate local actions to ensure that men, women, girls, and boys living in poverty or in vulnerable situations, combined with post-earthquake conditions, will have access to quality and integrated social services.