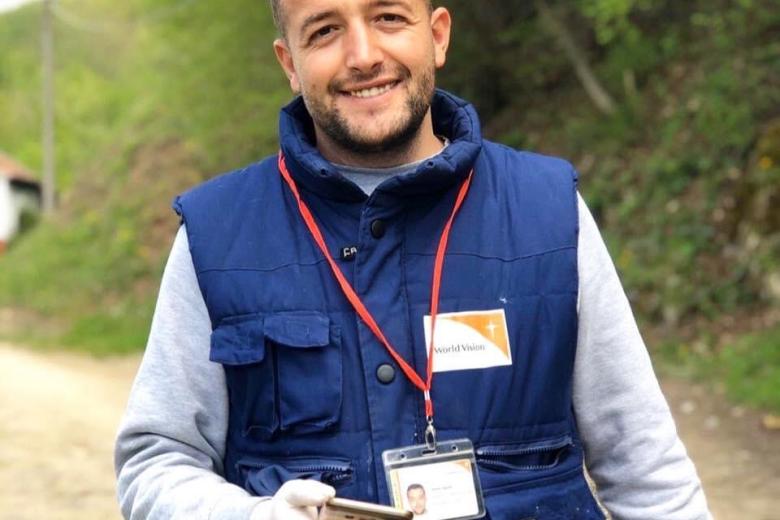 Return to genesis ...
Tuesday, February 15, 2022
By Vasilika Bargjo, Senior PR & Communications Officer, World Vision Albania & Kosovo
It is uncommon in Albania for a young person who graduated or has had work experience in the capital to return and settle in his/her hometown. Many of us may have contemplated the idea, but few have had the courage to take that step and make it a reality. Quite by chance, over a friendly conversation, I learned that one of my World Vision colleagues not only had returned, but also enjoys working every day among his Dibra compatriots. Samet Zagradi, a 28-year-old passionate about journalism, with a degree in psychology and sociology, five years ago took the plunge to return to his beginnings.
"We come from afar, amid countless difficulties, and we try to walk along with the rest of the society. We strive to demonstrate the values, virtues, and generosity that only a blessed region like Dibra offers. We are judged, but we hold our heads high with the pride and dignity that characterize our region. We live among sacrifices and poverty, but confident of a clear goal and a better future because we believe in hard work," he began recounting.
Labeled as "coming from far away" by someone waiting with him during his first job interview in a newspaper editorial office, Samet reveals that he tried not to let himself to be affected by such prejudice right before the meeting. At that moment, he kept telling himself that he was equal to the other candidates and had no reason to be ashamed, much less bullied. Apparently this internal mechanism worked because he managed to get that job. However, as he keeps recounting his story, he does not fail to mention that the ability for self-control and overcoming such prejudices and situations were the fruit of his participation in World Vision activities and initiatives. "
''The elementary school I attended, unlike big schools, was a small and remote school where activities were almost lacking. I was an introvert child and despite my knowledge, I shied away from speaking in large groups. The first activities with the organization gave me the opportunity to meet new people, which encouraged me to start integrating with peers. At that time I was finishing the 9th grade," he says.
Practically a teenager, full of energy and dreams, but with few opportunities to engage, Samet and about hundreds of young boys and girls broke several taboos of the regions where they lived and decided to volunteer. "Dibra girls and boys full of strength and potential had nowhere to demonstrate themselves. The organization's projects and initiatives attracted a significant number of youth so that they could develop their potential. I was 18 years old and quite often youth wasted their time. Someone who knew me suggested that I participate in the summer camps, which included about 3,000 children from all over Dibra. This required immense dedication. It was my second encounter with the organization. This time, as a grown up, I mostly observed the staff's behavior. It was a communication model different from what we were accustomed in that part of the country," he continues.
The more he narrates, the more curious I become to learn about his story, that after each word becomes even more inspiring.
"My passion for writing and being socially active kept growing. After leaving Dibra in 2016, I realized that the organization had given me so much during those four years that I was part of it. The trainings, the network I had created, the experience in management and communication with people became so valuable the moment I first stepped in the capital, Tirana. I came from Dibra, a poor region, with a harsh mentality, but also with rare natural beauties. I studied Psychology, a discipline I liked very much, which helps me pursue my passions to this day. During that time, I was organizing an activity called "The Book" in the Student Campus and I was constantly realizing how the engagement with World Vision had shaped me as an individual," Samet states.
Following several experiences with newspaper, and caught in the momentum of applications, he decided to apply for an open position at World Vision's Dibra local office. He wanted to contribute to his region, to the children and the community that, as he says, continue to suffer big wounds both within the family and society. His parents also lived in distant Dibra and he wanted to be closer to them. However, this was a difficult decision because in Tirana he had the job he had always dreamed of.
"My whole circle was shocked that I returned to Dibra because once youth leave they hardly return. In April 2022, it will be five years for me as a staff member of an extraordinary organization which has truly shaped me as an individual. The experience of working with children, youth, community and partners has made me confident as well as more productive. Thus, I created the first media portal in Dibra where today five journalism students from our region contribute voluntarily. The portal was a product of my passion and background, which is based on my family and World Vision," concludes the field coordinator of the Sponsorship project in Dibra, who hurries to end our conversation in order to attend the upcoming meeting with the IMPACT youth club.