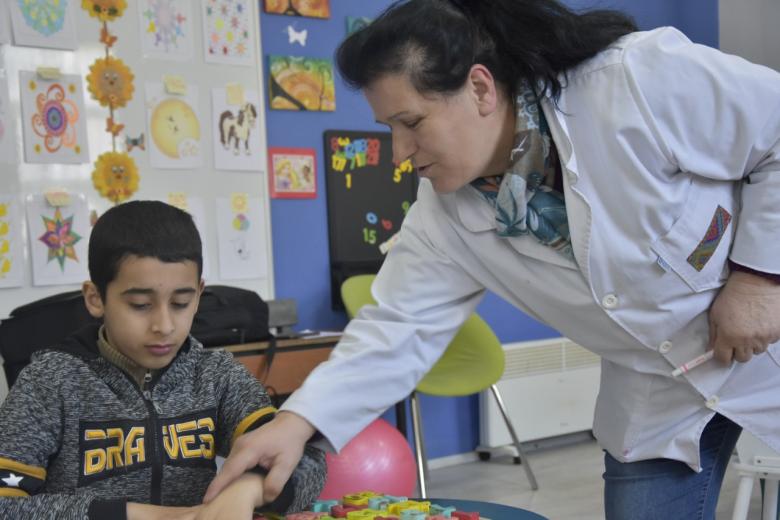 See you tomorrow for a book!
Wednesday, May 4, 2022
'See you tomorrow for a book!' This is a seemingly unusual phrase, since we are used to greeting: 'See you tomorrow at class, at school or around the neighborhood'. This is more than a greeting, this is like a 'password' demonstrating the strong bond between nine-year-old Erjon and his support teacher, Vilma, who managed to build a mutual relationship and friendship based on trust.
For more than four years, teacher Vilma has dedicated herself to children with disabilities who attend her school. She is strongly connected with  everyone, including Erjon, who is diagnosed with autism spectrum disorders. When he first came to the Development Space, he was hyperactive, scared and did not like to be guided by the staff and could not follow the instructions. 
Today teacher Vilma's eyes are beaming with light as she proudly shares the progress Erjon demonstrates.
"At first Erjon was aggressive, uncommunicative, could not stand other children. His mother had to stay with him in the classroom for two months," teacher Vilma explains.
''Slowly he began to show interest in toys. We then found out that he enjoys music and immediately made available for him a computer so that he could listen to music any time he wanted. Certainly, Erjon's biggest achievement was last year when he was able to articulate letters and write them with my help,'' she adds.
The journey towards inclusion of children who have a certain disability, or who suffer from various disorders, is long and tiring, and oftentimes characterised by progress and regress.
"It requires a lot of commitment and love," teacher Vilma shares, "otherwise one cannot be a support teacher. It requires a lot of patience and calmness," she explains.
But Erjon is lucky to have a fierce mother. She struggles not only with her son's autism but also other life challenges.
Full of dignity, courage, and strength, Marsida, Erjon's mother describes how she shares an area of only 50 m2 with eight other family members. She has accepted everything, however bitter, that life has thrown at her, and she always found a solution.
There is a certain strength that one notices in all parents of children with disabilities, a certain victorious sparkle, a passion to do the impossible and give them the courage to advance in life just like their peers.
"I did not know how strong I could be until I realised that it was my only choice. Recently my husband was diagnosed with lung lymphoma... doctors have given us very slim chances... these past two years we have been traveling to Tirana three times per month for the chemotherapy treatment. I have to think how I am going to solve the problems when he will no longer be with us."
As one listens to Marsida, wonders where this woman, mother of two, finds the source of her courage.
"A parent's mission is the most difficult and most important. If today I do not accompany Erjon in all his therapies, tomorrow it will be too late. I am so deeply grateful to World Vision for such classes because I would have never imagined that my son would advance this far; I had never imagined that the boy who would cover his ears and tremble at noises would one day imitate me and make scrambled eggs by himself. Beginnings are never easy, I fought a lot with myself and others' opinions on my son's disease, I went against everyone, and I did not care for the labeling and prejudices. I am focused on the mission, that is making Erjon independent," she proudly and optimistically states.
Teacher Vilma explains how working with children like Erjon is not easy, but not hopeless. The teachers, she explains, find strengths in every child and come up with a development model on how to work with them. She noticed that Erjon had excellent imitation and copying skills, therefore she gave him opportunities for imitation whereby she achieved great results. Now Erjon has been sitting in a classroom with his classmates for two hours every day and there is plenty of room for improvement.
World Vision piloted the Development Space for the first time as a model which responds to the context of disability in Albania. Support teachers have been instructed and qualified by World Vision on the entire behavior and teaching protocol that should be conducted with children with disabilities within the Development Space.
Currently in Korça, 18 children with disabilities receive direct service in two Development Spaces established by World Vision in two schools. They show us that the path towards inclusion is difficult but not impossible.
See you tomorrow for a book!