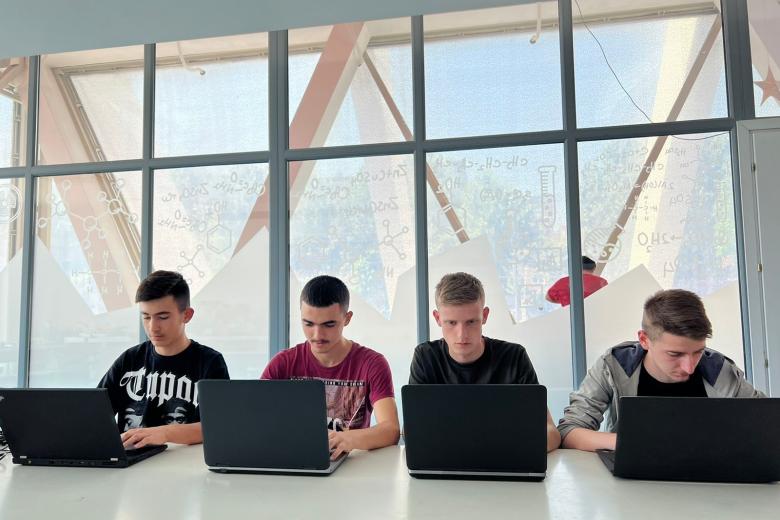 A step towards the future
Wednesday, August 24, 2022
Technology and the fourth industrial revolution fundamentally transforms the Albanian and international job markets. Experts state that most new jobs will be in the field requiring knowledge in advanced technologies, increasing the need for specialists with strong technological background. Redi from Kamëz has understood the importance of this shift in job market needs and shapes his skills to be demanded in the market.
He didn't miss an opportunity to take part in the Innovation and Technology Academy's "Code for Albania – Korça ICT Academy" programme. This knowledge gained in this programme complemented the passion and creativity of the 14-years-old boy.  He now seriously considers to build his future career in the field of coding and programming.
"I like technology and innovation. Understanding new technologies may assure promising job opportunities and will be important for years to come. Previously I used to be interested in photo and video editing, but here at the camp I've learned about things I had no clue. I want to expand my knowledge and work in the field of new technologies in the future," shares Redi, who is also an active member of Kamëz's IMPACT group.
Redi, alongside 109 other young people from across Albania, took part in an unforgettable two-week experience in Korçë, under the leadership of foreign instructors from the best technology hubs in the United States.
"We learned not only about technology, but we've also taken part in other cultural and artistic activities", continues Redi, telling about his experience.
Thanks to the cooperation between World Vision Albania and the municipality of Korçë, Redi and his peers learned to develop programmes in Python, React.js and Android. They also studied Human Centered Design, a concept used in the world of technology and innovation.
"I have a message for the readers of this article. No matter how old you are, you are a boy or a girl - be brave. Don't be afraid trying new things. Don't be afraid to take a step towards your dreams. Involve yourselves in technology related programmes. Don't stay out," says Redi.
Code for Albania is a three-year training course made up of summer camps and lectures throughout the year. As the two-week camp finishes, the Innovation Academy continues its online lessons, seeking to prepare youth for the national and global job markets, as well assuring their involvement in solving the problems in their communities through innovation. 
The best coding and programming curriculums, American experience and Albanian creativity guarantee that many successful start-ups will come out of this initiative.