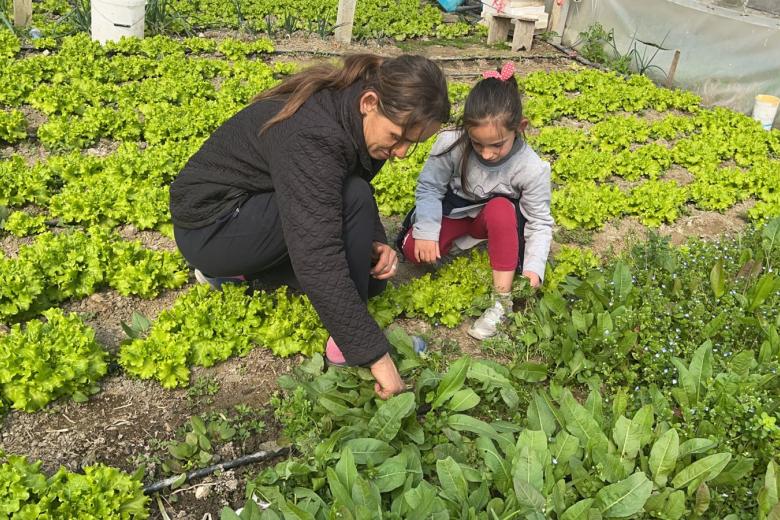 A strong woman like Liri
Wednesday, June 8, 2022
Liri, a farmer from Fushë-Krujë, spends the most part of the day in the greenhouse that she has built near to her home, it took a lot of efforts from her. She also takes great care for her  livestock. She spends there all her energy and all her concern is about this greenhouse, where she plans how to build a better future for her children.
The days of the 42-years-old woman are long and tiring, but this is her only possibility to secure income for her family. "I intend a better life for my children,"- says Liri while keeps working.  
Alesia, just six-years-old works together with her mother to take care of the plants. Liri is one of the 10 families that have been supported with watering pumps in the framework of the project "Improving family resilience in emergency situations". The project, financed by UNPD and implemented by World Vision Albania, helps vulnerable families to build the bases for more sustainable business, granting them agricultural and livestock inputs.
"Where I live there is no sufficient water. There is no irrigation system, therefore watering our agricultural land is a great problem. Now, the pump enables me to water all my land with water from the irrigation canal. We expect more production this year," she tells us, encouraged by the opportunity given to her.
Liri shoulders all the burden of supporting her family. Her husband is unable to do heavy physical work, as he had a motorcycle accident a few years ago and suffered severe injuries.
"I have to do everything myself. My son is 17 and since a few months he is in Italy, but he has had great difficulties to find a job and he is thinking to return back to Albania,"- explains she.
Next to the greenhouse, there is a small tent in the backyard. For three years, the four-member family is accommodated there because their home was damaged by the earthquake of 26 November 2019 and experts considered it uninhabitable.
To stand the winter colds, their relatives helped the family build a small room next to the livestock stable. They look forward to receiving a new dwelling in Fushë-Krujë from the government, but the land will still be Liri's "home". She emphasizes that she will continue to return to her land every day to care for it, because agriculture and livestock are the only way to feed her family.
"I have decided to plant five dunams of land with alfalfa and three other dunams with maize. The economic difficulties, rising prices for seeds, petroleum and fertilizer, make this a very difficult year for us but I will not stop," she tells.
Liri is a brave woman. Her husband's accident and earthquake that damaged the house where they have invested everything have been two strong setbacks for her and her family, but she doesn't surrender. Her inspiring example tells us that we can overcome challenges through work and perseverance.
The project "Improving family resilience in emergency situations" is being implemented in Fushë-Krujë, Bubq and Thumanë and supports 100 families. 65 of these families are supported with food and hygiene packages, while 35 other families with agriculture and livestock inputs.
In the same time, the project beneficiaries and the community around them are supported to build their skills to be able to face and resist future emergency situations. This intervention has been undertaken in the framework of "Earthquake Social Protection and Response (ESPR), a project executed by UNPD and funded by SDG Acceleration Fund.
The project supports the Albanian Government and three municipalities affected by the earthquake with the process of designing and translating policies aiming to initiate the adequate local actions to assure that men, women, girls and boys, living in poverty or in vulnerable situation combined with conditions after the earthquake, have access to quality and integrated social services.