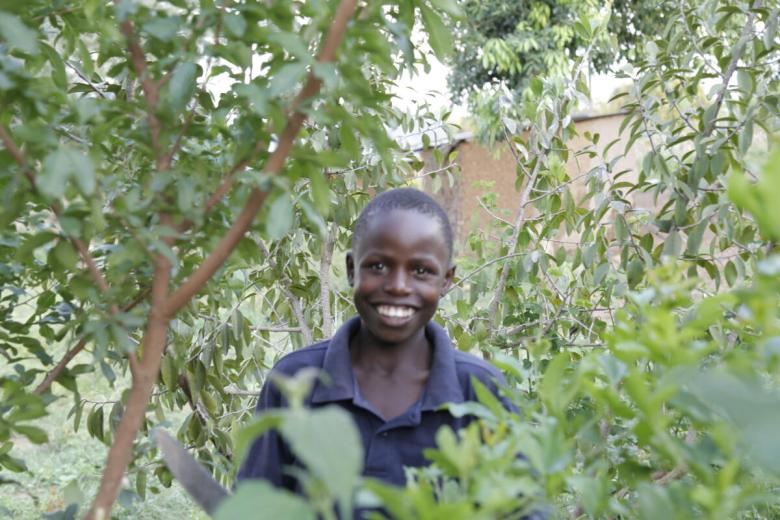 Passing on regreening skills from one generation to another
Thursday, October 28, 2021
A neighbour's flourishing trees and well-attended farm in Kenya attracted 13-year-old Naaman.
Armed with inquisitiveness and the backing of his mother, Naaman approached his elderly neighbour, Peter, to find out what he did differently on his farm.
Peter is a Farmer Managed Natural Regeneration (FMNR) champion in his village, after he was trained by World Vision Kenya through the Regreening Africa Project. The project seeks to reverse land degradation by incorporating trees into croplands, communal land and pastoral areas.
He has been practicing Farmer Managed Natural Regeneration (FMNR) techniques on his two-acre piece of land, with the aim of restoring original indigenous trees that have significantly reduced in the area due to charcoal burning, and clearing of previously forested land for agriculture.
Naaman expressed to Peter his desire to learn the FMNR techniques and practice them on their farm. Peter was happy to pass his skills onto him.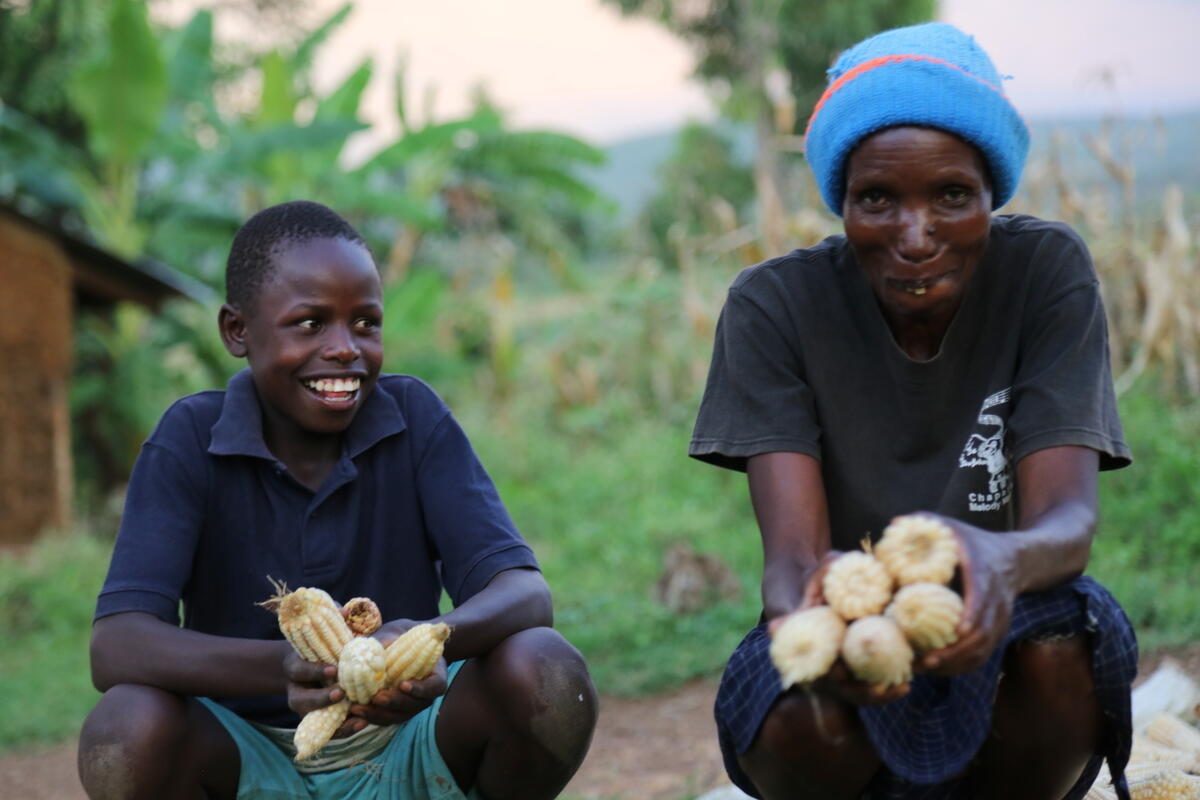 Naaman's mother, Pamela, says she questioned whether Naaman would have adequate time to do his school work and learn new skills at the same time, to which he answered affirmatively.
He then began to learn and practice FMNR after school and on weekends.
"I began practicing FMNR in August 2019 when I was in grade six and have continued doing so," says Naaman.
He explains the FMNR techniques with ease and even demonstrates how to prune trees on their farm, an activity that he enjoys.
"At home, after pruning trees, you can take the cut branches and use them as firewood for cooking or to make charcoal. Not cutting the whole tree," explains Naaman.
"I have seen our trees grow bigger and we also get fruit to eat such as guava, avocado and other local wild fruits," he adds.
Now, Pamela not only takes care of her usual maize and beans crops on the farm, but she also joins Naaman to take care of the trees by pruning them.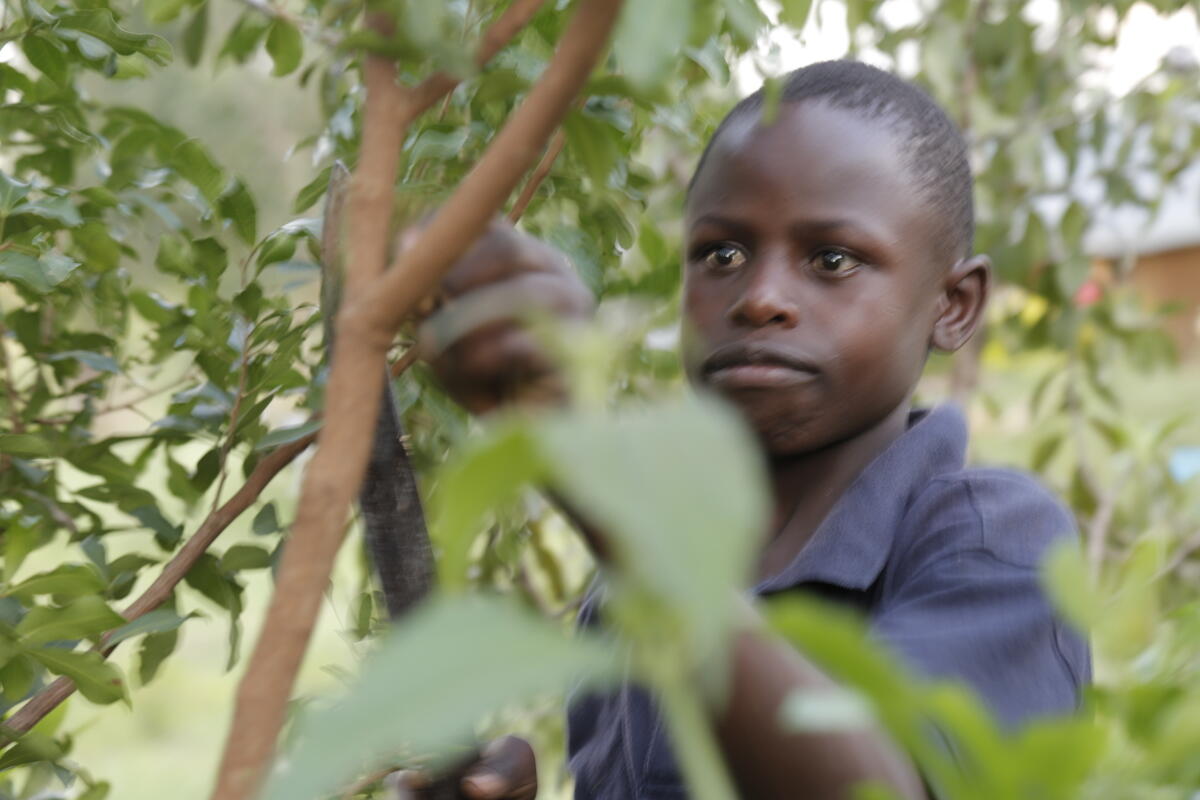 They also received an an increased yield of maize harvest compared to previous harvests. Pamela attributes this to better management of their farm.
She harvested three and a half 90-kilogramme bags of maize compared to the two bags they would usually get.
Pamela, who is a widow, says she will now be in a better position to feed her six children and ensure they all are able to go to school. She also receives additional income from selling the charcoal made from the offcuts of the pruned branches.
"I used to try and get casual jobs at the local gold mines, which are at times is not safe and have a lot of health hazards. But now, I work around my house joining Naaman in taking care of our trees," she says.
As Naaman and his mother work on the farm together, he reveals he has learnt more about different trees, including those that can be used for health purposes.
When children like Naaman are mentored and given opportunities to meaningfully participate in solutions, positive outcomes are experienced for their families and communities.
Passing on natural resource management skills such as FMNR from one generation to another, will contribute to the more people taking part in the region.
World Vision National National Technical Specialist Environment and Climate Change, Irene Ojuok, says children and women bear the brunt of negative climate change effects, hence these intensified efforts to minimise their exposure to such risks, requires everyone's involvement.
"The facts speak loud and clear: action is needed to tackle climate change, improve food security, fight poverty and minimise disasters. What better way to take action than to educate children like Naaman on how to be the cause for the required positive change in families," she concludes.
Find out more about how we are tackling climate change here.