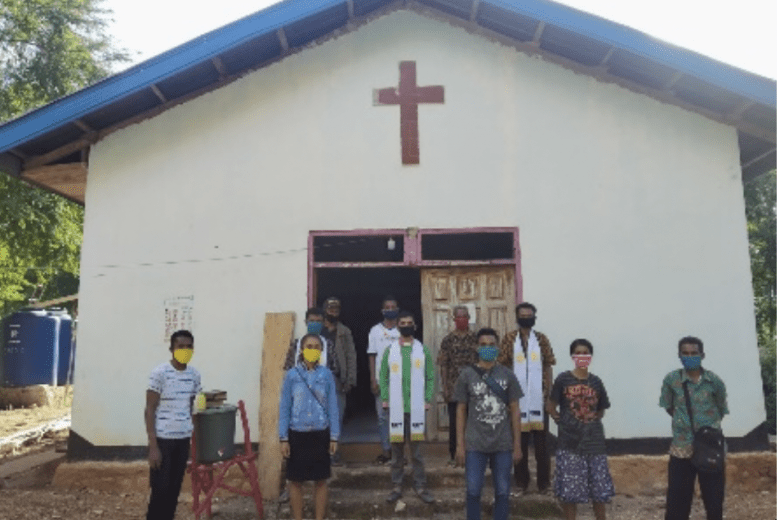 Rina engages with the church in the fight against COVID-19
Thursday, July 23, 2020
In Nekamese village, Timor Island, Indonesia, 14-year old Rina, is busy making handmade face masks for her church members who cannot afford to buy masks to protect themselves from the spread of the coronavirus. So far, she has sewn more than 50 masks for her community.
Studying in junior high school, Rina never thought that this outbreak would cause such a devastating pandemic. She recalls with sadness, "When the coronavirus hit our village, I could not go to school. At first, I was happy because I thought it would not last too long. After a week, I felt bored because I could not go anywhere not even to church or to the Children's club. I was confused and wondered what was happening. The leader of our church, Pastor Sepri Adnois, installed a loudspeaker in the village to inform the people about what COVID-19 is and how to avoid getting infected. I felt secure after I listened to the information shared by the church."
When the COVID 19 pandemic hit Rina's village, Pastor Sepri took the initiative to shut the church, stop Sunday services and encourage church members to observe Sunday worship in their homes.
Rina is among the children and youth members that Pastor Sepri had trained through the Children and Youth Clubs of his church. In 2017 Pastor Sepri attended a training programme organized by World Vision, which led him to form a Children's Club in his church. He says "One of the resources that I used is the Celebrating Families module that I was trained by Wahana Visi Indonesia. It was to help parents understand the behaviour of their children and how they can respond to their children in a positive way. With approval from the government, I have also provided the parents with information about COVID-19 that have been designed for children."
Rina witnessed that the initial challenge of Pastor Sepri was to provide his community members with masks. "We also saw that although the church members needed masks, they were not able to purchase them due to the high costs. We learnt from YouTube how to make cloth masks. We then identified church members who knew how to sew from their previous work experience in a doll factory and mobilized them to train the women's group from our church. We have already produced more than one thousand masks which we distributed to children, old people and women," recounts Pastor Sepri.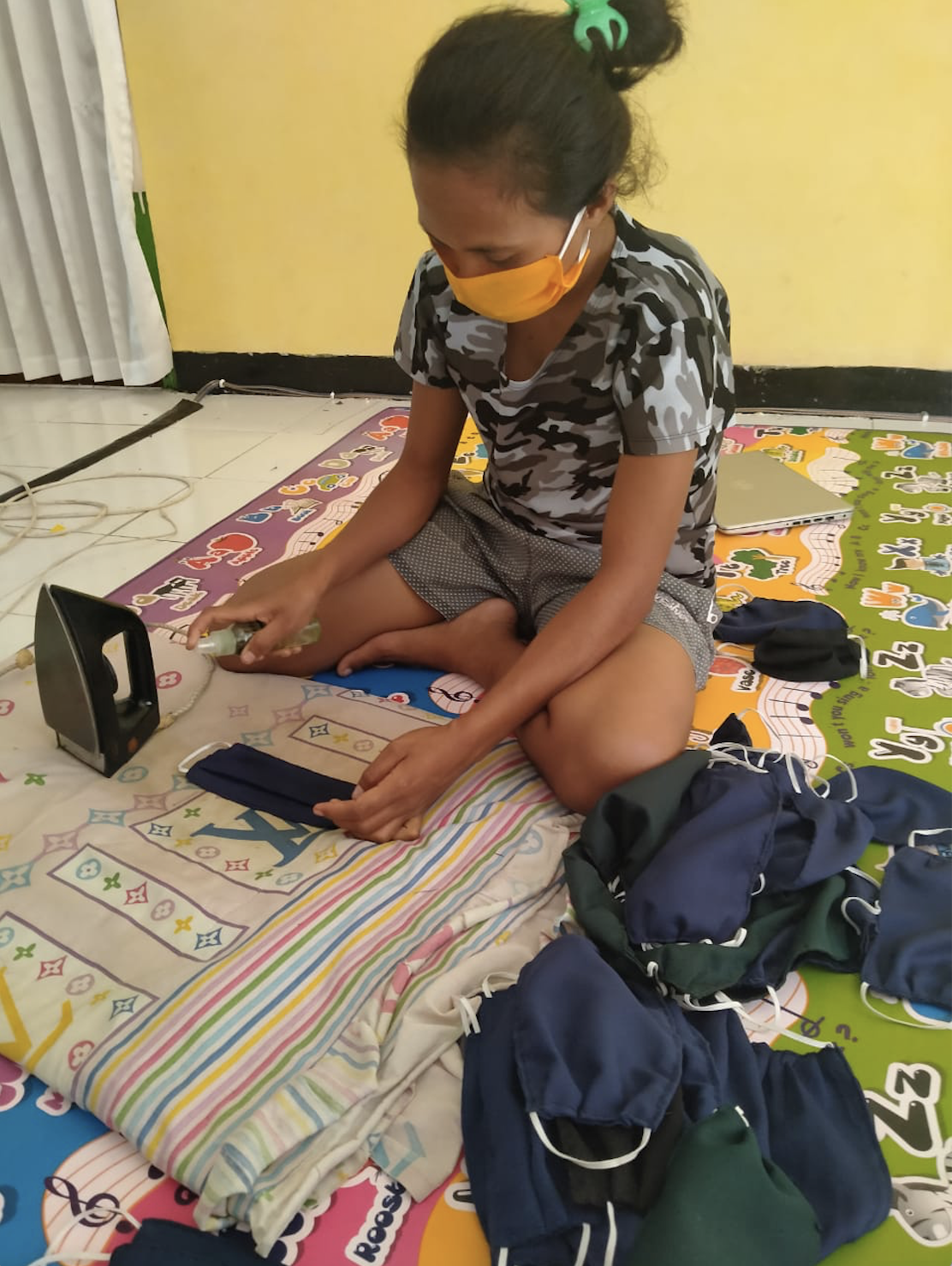 Pastor Sepri later mobilized the youth members in the church to sew masks. Rina was happy to volunteer. "I'm glad to join this training because it would help me do something in this situation.  It took me two days to learn how to make the masks. Day by day, my skills are getting better," she said.
Pastor Sepri has been working closely with the local authorities about the initiative in curbing the spread of COVID-19 in their community. "We are working with the village local government to offer our church as a place for quarantine for COVID-19 suspected cases. Currently, there are seven people who are quarantined. We provide food and psychosocial support while they are in quarantine. We have also been working with health workers to monitor their health status," shares Pastor Sepri.
 "I think my role is to strengthen our community as they face the challenges brought about by this pandemic and to encourage each to be a support and help to others in the community. I am often brought to tears as I pray for my community.  I want to walk with them. Together, we can help each other and bring hope to our community.  We believe we can face this situation with God, our hope and our provider," says Pastor Sepri.
Rina is excited to sew more face masks. "I am happy and proud when I see other people use the masks I have made. I am also happy that I can help others in this pandemic situation."
--ends--
As part of the COVID-19 response, Wahana Visi Indonesia conducted an online Psychosocial Training workshop to respond to the psychosocial welfare of the children impacted by COVID-19. Wahana Visi Indonesia continues to support faith leaders in responding to the needs of their communities impacted by the pandemic by providing a platform for learning and sharing of expertise.  To date, 600 faith leaders from across Indonesia have been trained. Many of the trained faith leaders have gone on to initiate a COVID-19 Task Force in their locality that seeks to identify needs in the community, especially the elderly and vulnerable, provide counselling and address stigmatisation of those infected by the virus.
Celebrating Families Module seeks to ensure that families, especially the most vulnerable ones, enjoy positive and loving relationships and are able to have hope and a vision for the future. The programme equips parents and caregivers, church and faith leaders, faith-based organisations, local agencies, communities, congregations, and World Vision staff with knowledge and skills to create a safe and nurturing environment for children's spiritual nurture in the family context.
To promote hygiene practices, the youth group in the church made simple handwashing facilities called "tipitap" made from available materials. Community members are taught to wash their hands with soap after any activity. They also plan to make their own hand soap with local materials in the community in order to save costs.