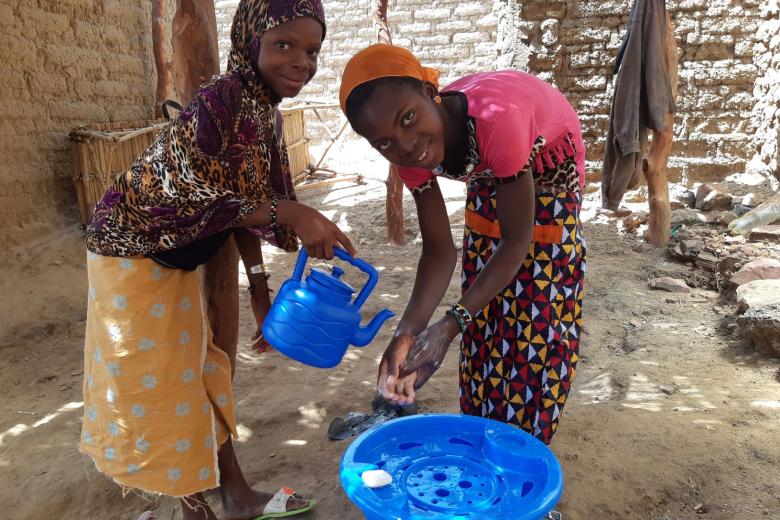 World Vision distributes prevention kits to protect children and families in Mali from COVID-19
Wednesday, July 1, 2020
Malian children and their families, vulnerable from COVID-19, have received prevention kits from World Vision to help protect them from the fast spreading pandemic. The donation included 766 hand-washing kits, 10 boxes of hydro-alcohol gel, 400 units of hydro-alcohol gel, 10 boxes of Madar liquid soap, 10 boxes of bleach, 1,000 protective masks and 50 bulk gloves; distributed to CSCOMs (Community Health Centres), rural maternity hospitals, mayors' offices, checkpoints for cluster programmes, S4T (Savings for Transformation) groups, and families.
The most recent distribution exercise was at Yiriwa AP, within Neguela cluster, where community members received COVID-19 prevention kits. Salimata, a thirteen-year-old World Vision sponsored child, in grade six says she is proud of the hand-washing kit her family received from World Vision.
"Since we received this hand-washing kit, I am responsible for cleaning and filling it with water," she proudly says. She informs us that the hand-washing kit ensures that all family members clean their hands frequently, which is one of the COVID-19 prevention requirements.
Fanse, who is head of his household and a beneficiary of a COVID-19 hand-washing kit says: ''My family uses the hand-washing kit every day. As soon as I received a kit, I gathered my family members together, encouraging them to wash hands regularly before and after eating, after visiting a toilet, after cleaning a child, before preparing a meal and even when we come back from the village."
He expresses his appreciation for the kit he received. He says it will help in fighting the pandemic, while also improving hygiene levels, already established by World Vision's Water, Sanitation and Hygiene (WASH) project: "Since outbreak of COVID-19, we now wash hands frequently with soap, as well as observing other measures by the authorities and supported by World Vision," Fanse says.
Learn more about and/or support World Vision's global work to limit the spread of COVID-19 and support the children impacted by it on our COVID-19 Emergency Response Page.