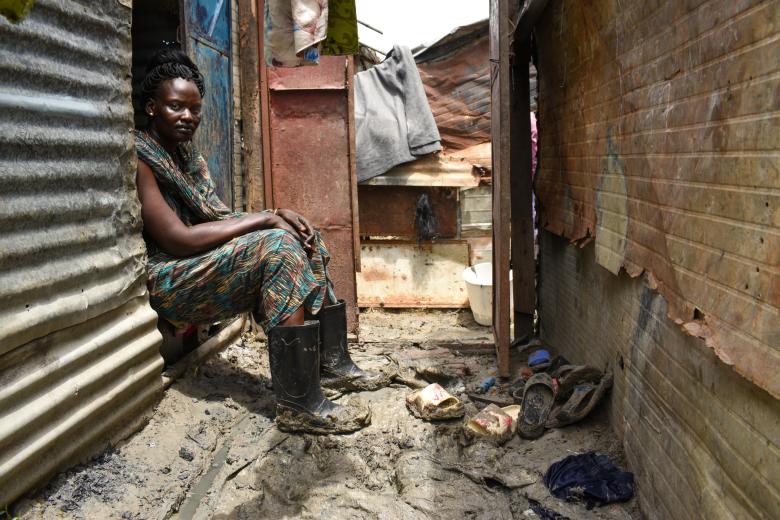 Church leaders in South Sudan help vulnerable women and children in the fight against hunger
Monday, August 22, 2022
Nyalual is a 33-year-old mother of five who has spent the last eight years on the move.  
Right now, she and her children live in a home made of plastic sheets at the Malakal Protection of Civilians (POC) in Upper Nile State of South Sudan. She arrived in July 2021, after reports of women and children being abducted swept through the Ethiopian refugee settlement she lived in with her family. 
Nyalual fled her South Sudan village when fighting erupted in 2015. 
"Homes were ablaze and people confused. To escape the raging fires, we fled to the forest for safety. We stayed there for four days without food or water," remembers Nyalual. "On the fifth day, we returned back home when all came to a standstill and, after a year, went to the camp." 
They stayed in Ethiopia as refugees for six years. At that point, Nyalual's husband abandoned the family. Nyalual, like many other women, was left to fend for herself as well as her children.  
"No news of him has been heard. We cannot tell if he is alive or dead but I believe he is alive," she says. 
Many women look at remarriage as a way of escaping the burden of taking care of their children but that is not the case with Nyalual.  
"I look at it as a problem rather than a solution. I do not want sorrows. I want to work hard to care for my children," she says.  
When COVID-19 negatively impacted the economy, Nyalual began begging for food. But soon enough she realised everyone was suffering and struggling to survive with the little they had. 
Desperate, and feeling ill, Nyalual decided to return to South Sudan, to the country she escaped years earlier. However, peace could not be found in her village and she arrived at the Malakal POC, a internally displaced camp where some 34,000 South Sudanese people have relocated due to ongoing insecurity concerns.  
Once at the POC, Nyalual was desperate to improve her family's situation and decided to ask for help from a nearby church. She was welcomed by a pastor named Yohanes. Pastor Yohanes connected Nyalual with the proper community support programmes and she began to receive food rations. 
"I didn't know him but the church made it possible," she says. 
With support from the World Food Programme (WFP), in July a total of 36,244 people benefitted from general food distribution in Malakal.   
However, because of funding shortfalls and a growing number of people requiring assistance, the amount of food a family receives a month has been reduced. Between April and July of 2022, the region had approximately 7.7 million people facing acute food insecurity. 
World Vision's Food Monitor Yohannes Akich says the reduction of food rations in Malakal POC makes life difficult for the people who are already hungry and even worse for those who are not registered within the system.  
"World Vision is engaging with partners to ensure that the unregistered families are registered so that they can be supported," he adds. 
A healthy supply of food will help Nyalual and her family build their immune system to avoid illnesses such as malaria and typhoid. 
"I got admitted to a hospital but not sure what I suffered," she says. "The doctor said I had malaria and typhoid but cautioned me against taking dirty water." 
World Vision has been providing assistance to displaced families in Malakal for eight years. Along with distributing food, World Vision provides education to children, organises training for women and men to improve income generation opportunities, offers capacity building opportunities for faith-based leaders, trains teachers, supports nutrition services for malnourished children and women through a kitchen gardening initiative and organises programming to help people build secure livelihoods.