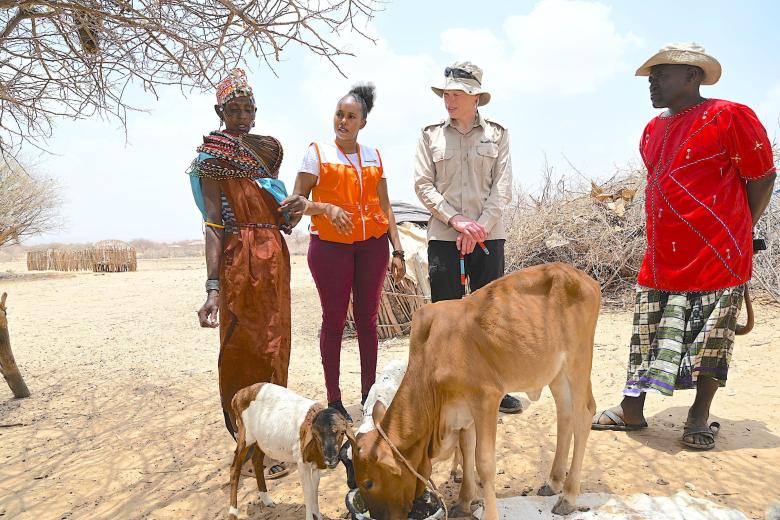 Feeling the pulse of my children for signs of life - the heartbreaking reality of East Africa's hunger crisis
Friday, March 25, 2022
By Lilian Dodzo - Regional Leader, World Vision East Africa Region
A silent but deadly and urgent hunger crisis is unfolding in northern Kenya, and across the East Africa Region. We often talk about this tragedy through data, but the heartbreaking reality is that every number is a person, and every statistic points to impact on a human life. This week, elders in Marsabit and Turkana Counties in northern Kenya said that the current drought was far worse than during the East Africa and Horn of Africa Hunger crisis of 2017. That tells us so much.
As East Africa Regional Leader I accompanied World Vision Kenya leadership with Andrew Morley, WVI President and CEO, on his visit to northern Kenya from 22-23 March. It was there that we met Mary. "I have to feel the pulse of my children every night as they go to bed on empty stomachs…to check if they are still alive", she heartbreakingly shared.
Mary lives in Civicon Village, Marsabit County. She spoke with us as she fed her four remaining animals (one calf and three goats) with ugali (maize meal) that she had cooked in a well-used pot. Mary divided the ugali in half - one half to feed her children, the other half to feed her remaining livestock. This was a desperate attempt to help both survive, as the livestock are a source of livelihood for the family.  It was the first time in my life I have seen livestock eating cooked maize meal.
We know that the hunger crisis is about so much more than food, and no-one could articulate this better than Mary, when she quietly shared the pain she and her husband feel at potentially having to watch their children die before their eyes, unable to do anything about it.  She followed this with a simple but humbling comment: "But I know God is with me and my family.  It's God who has brought you here today to help me."
This is the sadness, brokenness and desperation that the growing hunger crisis has brought to Kenya and across seven countries in East Africa where World Vision is responding to drought and food insecurity. Far too many children are on the verge of death from hunger, livestock carcasses litter villages, and families are broken as men struggle to deal with the mental trauma of losing livelihoods and an inability to provide for their families. Good rain has not fallen in the area where Mary lives for two years. All the grazing land is gone, thousands of livestock have died, and what remains are attempts to keep both children and livestock alive. This desperation cannot be articulated by numbers alone.
And Mary's family are one of many. We also met 16-year-old Hannah*. Her family has lost more than 200 livestock, with just 20 remaining. Her father used to pay her annual school fees using one bull per year.  Now, she is unable to go to school as her father is unwilling to give up the little livestock he has left – he  has to make a heartbreaking choice between feeding her younger siblings with the remaining livestock and helping them to survive, or send Hannah to school.
"I fear that pretty soon, I may be married off so that my family can survive", Hannah shared with tears in her eyes, with Andrew and our delegation.  "I do not want to get married. I want to go to school and become a doctor", she added.  This is how drought caused by climate change is contributing to school drop outs, early marriage and child vulnerability. This is how hunger not only takes lives but can also destroy families and steal dreams and brighter futures from children.  
The above are but two of the many stories that World Vision is hearing across the East Africa region as the hunger crisis continues.  As Andrew engaged and spoke to children, mothers and fathers across Marsabit and Turkana Counties this week, the stories were individual but the same, and equally as heartbreaking. As we returned to Nairobi we all vowed to amplify the voices we had heard, to fervently pray and to continue seeking bigger ways to respond and build the resilience of these communities.
Almost one year after World Vision declared a multi-country East Africa Hunger Emergency Response, which was re-declared on 24 February 2022 for another year,  the situation has gone from bad to worse. A deadly mix of conflict, the climate crisis and COVID-19 has pushed millions of people into an acute hunger crisis across seven countries, with an estimated 28.1 million in need of humanitarian assistance due to food insecurity.
According to UN reports, half a million people in East Africa are under catastrophic famine-conditions, - a phase marked by critical acute malnutrition, starvation, destitution and death – this phase is understood in the humanitarian sector as the highest and most urgent Integrated Food Insecurity Phase Classification (IPC) of level 5. A further 7.4 million – who have stories just like Mary and Hannah – are in IPC4. If the international community does not increase funding to meet urgent food needs in the region and other fragile contexts, thousands of children could die.
Time is running out and action must be taken now to prevent the needless deaths of tens of thousands of children. Read more on our East Africa Hunger Emergency Response here.
-
*Name changed for privacy reasons.