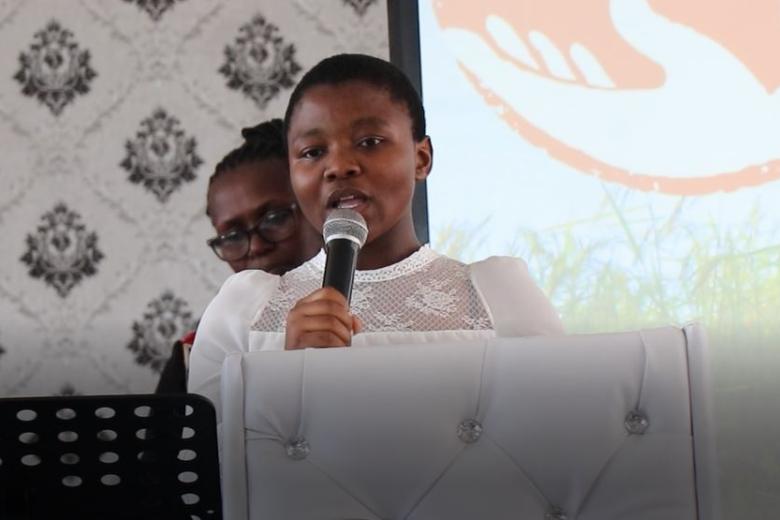 Excelling to academic success against all odds - Setsabile's story
Tuesday, October 11, 2022
From waking up in the wee hours of the morning, at 2 am, in order to walk the long distance to fetch water for a bath before school, to becoming one of the country's top students in the EGCSE Examination of 2021/22, one can only imagine the determination of this young girl. This is the story of 18-year-old Setsabile.
She becomes quite emotional as she recalls how, as a little girl in primary school at the time, she would be so terrified of the dark. She feared all forms of danger, including being violated in some way, as she walked with others to fetch water for her morning bath. ­
"I'm so grateful to World Vision for providing our community with clean water through a borehole, which allowed me to not live a life of constant fear and also get enough sleep so that I was not sleepy at school and could, therefore, concentrate on my studies," she states.
Setsabile narrates how her self-esteem suffered a huge dent when she had to wear a threadbare and torn uniform to school. With her father having passed away when she was only 8 years old, her mother could not afford to buy her a new uniform at the time.
She elaborates: "When I was in primary school, the state of my uniform made me have a very low self-esteem; however, I'm grateful that World Vision provided me with a new school uniform, which really improved my confidence."
Against all odds, this now very confident young lady, who lives with her loving aunt, managed to excel in her studies and was amongst the country's top performers. She attained first place, with an amazing aggregate of 6, in her EGCSE exams, whose results were released in March 2022. She is looking forward to furthering her studies and has applied for a Bachelor of Medicine in Surgery at the University of Zambia. This big dream of hers can become true, if the relevant resources are availed to her, in the form of a scholarship.
Setsabile's story is just one of many that the girl child faces in many parts of the world. As the world commemorates the International Day of the Girl Child today, 11th October 2022, World Vision is happy that it has, in a small way, contributed to easing the challenges the girl child faces.
Setsabile says the organisation's child protection awareness in schools and during spiritual nurturing sessions outside of school, hours helped her and many other children in her community, particularly girls, become aware of what constitutes sexual and other forms of abuse, as well as where to report if such should happen to them.
Watch as Setsabile shares her testimony of how she achieved academic excellence to become the top student in the country.
YouTube Link:  https://www.youtube.com/watch?v=Dq9bzDG3qqo