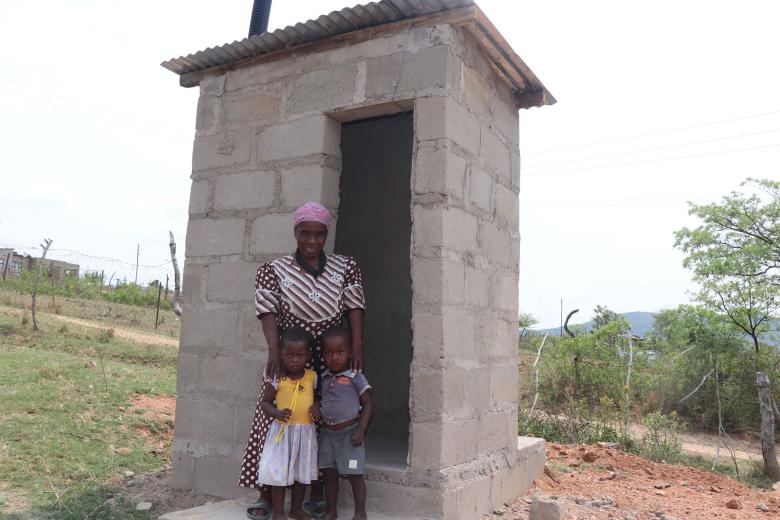 Food for Asset Unites the Zandondo Community
Monday, November 28, 2022
After the introduction of the Food for Asset (FFA) in the Zandondo community under the Madlangemphisi Area Programme, the community decided to put their differences aside and work on community projects to get food (rice) from World Vision Eswatini.
The Food for Asset (FFA) project was made possible by World Vision Taiwan in collaboration with the National Disaster Management Agency (NDMA). 
In Zandondo community, 32 households with an average of 160 people now own new well-ventilated toilets. People in this community would group themselves in their 20s and 10s and construct toilets in each of the 32 households. When it was month-end, each of the participants would receive a 60 kg bag of rice from World Vision. The material to construct the toilets were donated by the government.
Charles Boy Dlamini, who was the Chairperson of the project, believed that if in the future such projects continued, a lot would be achieved in the community.
"People came in their numbers both young adults and old people. The main reason is because most people needed food in this community. We would still be constructing the toilets if this project was not introduced since less people would have showed up. Even neighbours who were not in talking terms had to swallow their pride and start working together. This has united the community. Even the new households that we did not know now we know them. I loved the spirit that was created by the project," Dlamini said.
Since this community is very large, a total of 106 people registered and others were turned back. It was zoned into four parts. At most, each toilet will take about four days, from digging, construction of a slab and walls, and, after a few days, roofing the toilet.
This project came about after a health Inspector from the Ministry of Health visited the community and discovered that most toilets were no longer usable. Some were almost full, while others were slanted and were about to collapse.
Tfombi, one of the beneficiaries of the toilets, said her toilet was quite old and almost full. It was constructed before the Zandondo Water Project started.
"World Vision encouraged every family to have a toilet before starting the water project. We are very much grateful to World Vision for the food we got after the construction of the toilets. I have a new toilet. I want this new toilet to last longer," Tfombi said.
The 65-year-old woman also participated in the exercise and got her food ration—339 households with 1,775 beneficiaries.
World Vision Eswatini has been implementing this project in eight constituencies benefiting almost 50,000 people.