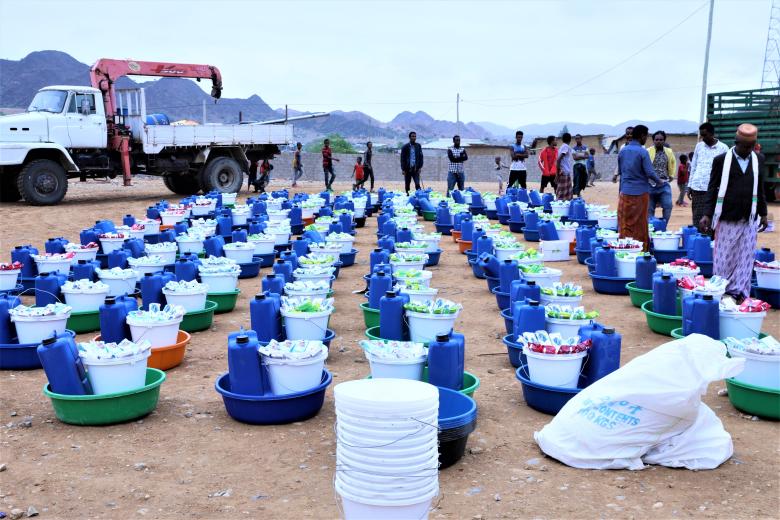 Emergency WASH items provide relief to internally displaced persons in Afar
Monday, January 17, 2022
On 3 January 2022, World Vision distributed water, sanitation, and hygiene (WASH) items (jerrycans, buckets, soaps) to 6,000 Internally Displaced People (IDPs) sheltered at Erebit Primary School in Erebit District in Afar Regional State.
According to Abala town mayor Tahir Hassen, more than 40,000 people have fled from different towns to shelter at Erebti Primary School.
Hussien Tahir, Afar Regional State Risk, and Disaster Management Delegate, noted "We appreciate World Vision's support to our people. The people were in dire need and we were worried about how to get such important items." 
The distributed items were donated by the USAID Bureau of Humanitarian Assistance (USAID-BHA) and Japan Platform (JPF), to benefit 1,000 targeted households (6,000 people). World Vision is the first organisation to donate the much-needed items to beneficiaries in this area.
 "When we fled from our home, we left everything we had. Having these items in this critical situation means a lot to my family. Now, I can wash my children and their clothes at any time with no worry", Said Seida Nur, 23, a mother of two.
World Vision allotted US$941,287 (ETB 46,961,287) for integrated, multi-sector response to conflict-affected vulnerable communities in Chifira and Digdiga districts of Afar Regional State through grants obtained from USAID-BHA and JPF to benefit 119,629 targeted people in the areas of Health, Nutrition, WASH, and Protection.