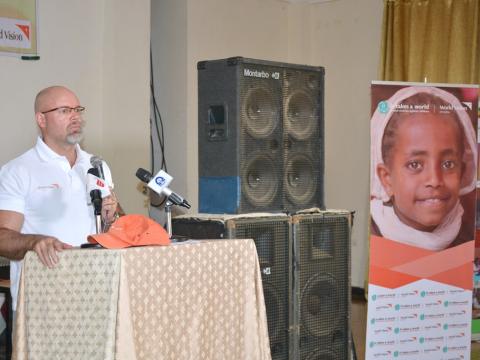 World Vision Launches a Campaign to End Marriage in Tigray Region
Wednesday, November 27, 2019
In collaboration with the Tigray Regional State Bureau of Women Affairs, World Vision in Ethiopia launched the "Ending Child Marriage Campaign" on 25 November 2019 in Mekele City.
Speaking at the campaign launch,Tigray Region Women Affairs Bureau Head, Dr. Yetimwork Gebremeskel said "World Vision is the first humanitarian organisation to come to the Tigray region. It has carried out tremendous development activities and brought about significant changes in the lives and livelihoods of the community. In places where World Vision intervened, the level of violence against children and child marriage has reduced significantly, compared to other areas. We will continue working closely with World Vision to expedite the campaign to end child marriage in the region."
In Ethiopia, World Vision has established existing structures and systems, such as the child parliament, which empowers children to exercise their rights and hold accountable responsible bodies. It is believed that the campaign would bear fruit shortly. Hewan Gebretensaie is a grade-10 student and member of the child parliament at Kuhea Secondary School in Enderta District. "We have rich experience in ending child marriage. Our approach is preventive. When there is a sign of arranged marriage, we exchange information among ourselves, approach people involved in this affair and try to convince. If we fail to succeed then we report to police," Hewan explains.
Globally, violence against children affects more than 1.7 billion children each year – in every community, city, and country – with devastating impacts on individual children's development, health, education and income potential.
"In Ethiopia, child marriage stands at 40.3% out of which 16% of girls are married under 15 years of age. Even more shocking is that 70% of Ethiopian girls are sexually abused and harassed and 30% of girls were raped at least one time in their life before reaching the age of eighteen," said Edward Brown, National Director of World Vision Ethiopia.
"Women and children are at the centre of all our development strategies. We believe that our development strategies are nothing if they don't empower women and benefit women and children," said Dr. Abraham Tekeste Vice President of Tigray Regional State.
The campaign to Ending Child Marriage in Ethiopia is part of World Vision's global flagship campaign, It takes a world to end violence against children, which aims to ensure a bright future for the most vulnerable children.
Learn more about the work that World Vision is doing to protect children in Ethiopia here.