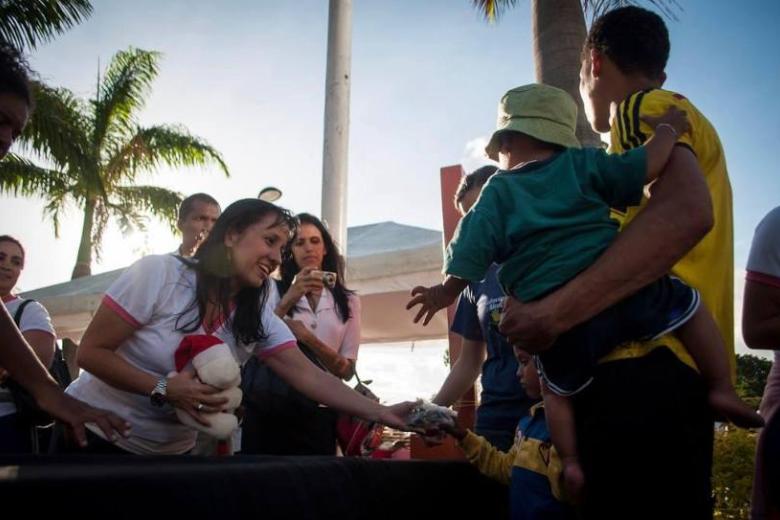 Strengthening leaders to transform realities
Wednesday, December 8, 2021
María Eugenia Morales is from Caracas, Venezuela. She is 48 years old and belongs to the Seventh-day Adventist Church. She is one of 54 church leaders who have received training through the Churches in Action project, which is carried out by World Vision's Hope Without Borders Network (RESF in Spanish).
Since 2015, María Eugenia has been running the Hands that Leave a Mark Foundation, together with her 28-year-old daughter Anlly Katherine. They help the most vulnerable people in Miranda state. At that time, 75.6% of Venezuelans were experiencing poverty, according to the National Survey of Living Conditions (ENCOVI 2015). Today, 94.5% of people are living in extreme poverty, according to the latest ENCOVI update, presented in October 2021.
Together with her team of more than 50 people, María Eugenia is in charge of developing programs and projects that improve the quality of life and well-being of children, young people and the elderly who are going through a difficult situation in the country. They do it through visits to communities where they provide clothing, shoes, non-perishable food and recreational activities for the little ones.
They also lead activities and support the families at a children's oncology center and other health centers in Caracas. In those places they celebrate special dates and birthdays and hold workshops for parents.
"I consider that God has blessed me so much that we have to emanate it outwards," María Eugenia says.
The World Vision Connection
She first heard about World Vision in 2020 through a friend, but it was through the RESF that she received an invitation to participate in the Churches in Action project. The project currently serves 16 churches in 7 states of Venezuela and trains members in the areas of protection, food security, nutrition and livelihoods, in order to reduce the impact of the crisis in the country.
During 2021, María Eugenia received training on child protection, psychosocial care, and COVID-19 prevention, among other themes.
"If I had known this before, I would have implemented it, because they are very valuable tools," she says. She takes lots of notes in each of the workshops. And she is working hard to apply what she's learning  to her ministry and with the team she leads. "This should not be shelved, you have to replicate this information."
These new tools have allowed her to be more aware and efficient with the children with whom she works.
"I do not regret what I have done, but I have received new knowledge in these workshops that have impacted me," María Eugenia says. "I am delving into childhood much more, because there is a reality that often we do not know. We must improve as leaders in order to really help," she says.
The impact of training on her work
After participating in the workshops, María Eugenia spoke with her team and suggested that they do a reorganisation to be more efficient.
"If the children's needs are of a certain nature, we need to organise much more to be able to respond in time and in any emergency situation," she says. "I saw that in the training."
Now her foundation runs a workshop in Caracas, where they have replicated the awareness and biosafety training. Likewise, in the Adventist Church, they have trained in topics like violence against women and gender violence. They have even created a vacation Bible school for kids to attend during school holidays.
"The needs continue," María Eugenia says. "There will always be something to do. With little or much we continue working."
In the trainings, she also learned about World Vision's security policies.
"From there, we started researching how to adopt the policies into our foundation," she says.
This will allow them to systematise a set of rules and procedures so that all staff can do a better job with and for the people they serve, and above all protect the rights of children.
Currently, María Eugenia and the foundation staff are coordinating to bring clothes to children and serve the population in the states of Miranda, Monagas, Anzoátegui and the Capital District.
"We are trying to expand our reach," she says. "We are also organising ourselves to continue replicating what we are learning."