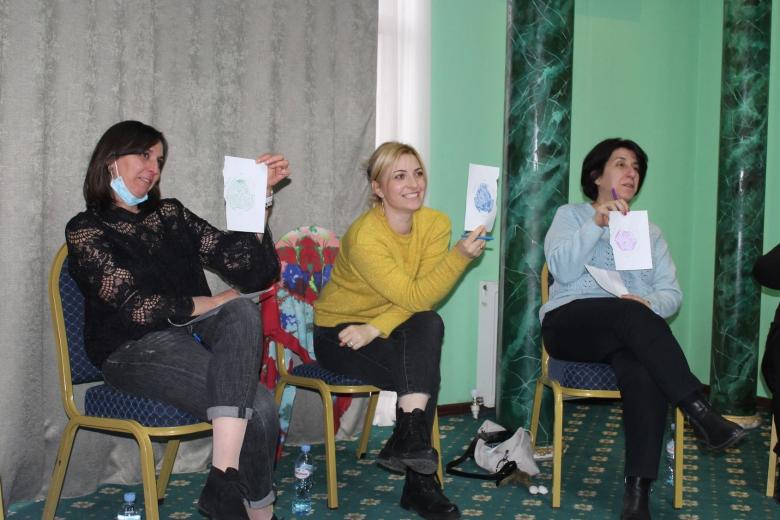 Empowered women for community well-being
Thursday, April 7, 2022
Highlighting the role of women at the community level is a priority of our programmes. Significant projects have been implemented over the years to develop and empower women personally and professionally. One of the major successes has been the creation of local NGOs at the community level, led by women.
In Kvemo-Khodasheni and Pshaveli, World Vision Georgia has been operating parent clubs for many years within the Early Childhood Development Programme. The clubs focused on the capacity building of facilitators on positive parenting, child development methods and effective approaches. Subsequently, already trained parents held meetings and sessions for other parents living in their communities. During the process, these women were able to develop their  skills in  leadership, teambuilding, community mobilization, time management and  other. 
The Successful operation of Parent Clubs was transformed to the local NGOs with the aim to address local needs at the community level. In 2019, the Kakheti Area Development Programme team facilitated the process of registering Parent Clubs as local organizations.
In order to ensure the sustainability and success of the community organizations, regular trainings have been carried out for leader women covering such topics as organizational management, grant proposal writing and management, fundraising, finance management and administration.

Through our initiatives, we try to bring relief in the lives of most vulnerable and respond to the challenges caused by the social-economic crisis, extreme poverty and COVID-19 pandemic,
- says Tamar Khalichashvili, head of the Khodasheni village initiative group. Since its establishment, the organisation has implemented around 70 initiatives within the community.
These local NGOs participate in small grant projects competition every year and implement community-based initiatives with raised funds. Due to the difficulties caused by the pandemic, women-led community organisations made a significant contribution to the process of promoting distance learning in rural areas. They assisted students and their parents in learning and developing digital skills, thus helping them gain knowledge in the new reality.
Nowadays these women are already considered as strong community leaders, who gained trust and appreciation in their region. The women from newly registered organizations have built strong partnerships with various donors to raise funds locally. They have created gathering spaces in villages and provide various services that help parents, children, young people and families to improve their lives. 
The initiative implemented by World Vision Georgia is the best example of how the role of women can be strengthened at the community level and how women can be involved in decision-making and other processes. Today, women involved in the organisation use the knowledge and experience they gained in order to take care of the other members of the community - children, women, men, and families.