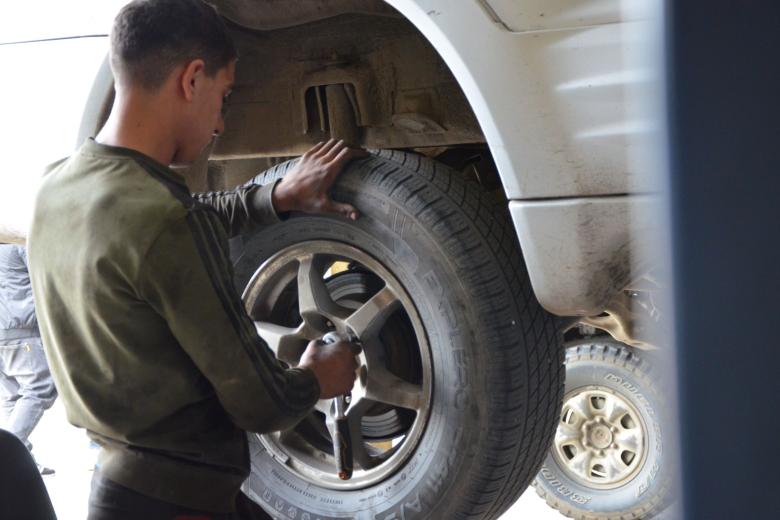 Transforming the lives of disadvantaged youth
Wednesday, July 7, 2021
With low education and skill levels, limited resources and inadequate social and business networks, deprived youth in Georgia face particularly difficult challenges in securing safe and rewarding jobs.
 Vulnerable youth like 17-year-old Vakhtang had few prospects beyond low-paying day labor in the informal sector, but due to the efforts of World Vision Georgia Imereti Development Center today  Vakhtang works at the major Automotive Service Centre Mate Motors and supports his family.
Vakhtang lives in Kutaisi, west Georgia, in a poor settlement mainly occupied by the Roma population. According to official data, there are 1,500 Roma registered in Georgia, they are considered one of the most impoverished ethnic groups. Many Roma children are excluded from the services and support enjoyed by others. This was the case with Vakhtang and his 4 siblings before. Vakhtang himself studied at school only for few years, mainly he was supporting his family to fight poverty.
 The relationship between Vakhtang and our organization has begun several years ago when World Vision Georgia mobile groups that search vulnerable children in the streets of Tbilisi and Kutaisi and provide them with direct assistance and appropriate services, met him.
Social worker Maya Qamushadze explains that Vakhtang and his siblings, lived in very poor conditions, they did not have access to health care services, due to the lack of needed documentation. World Vision Georgia Imereti Development Center provided the family with all the needed support to access appropriate services.  Family members underwent personal hygiene training and they were provided with needed furniture. As long as the family did not have a stable income it was decided to work on the enhancement of employment opportunities of Vakhtang.  "First he received 6 months of on-the-job training, for that time we could see how motivated he was. Even during the pandemic when there was no traffic,  Vakhtang would walk or come to work by bicycle, he has never missed a class. It was one of the reasons why he was offered the job later" says Miranda Managadze, Imereti Development Centre Employment Specialist. She supports impoverished youth to become successful, self-reliant adults, Vakhtang is one of them. Together with on-the-job training, he received training on financial literacy and good saving practices.
Today, the income received from the job is making a difference in Vakhtang's and his family's life. As Vakhtang says he enjoys the work and feels happy that it gives him the chance to improve living conditions.
"From my childhood, I was very interested in vehicles, I would help my neighbor to repair his car. When I was given the opportunity to receive on-the-job training I was very glad, at that time I was not even sure that I would be employed " says Vakhtang.
He works hard and even started to make small savings, as he hopes that one day he will open an auto service and employ youth like him.
Since 2013 World Vision Georgia has been working with disadvantaged youth helping them to enhance their employability and quality of life. On a daily basis, more than 100 children and youth receive different kinds of services through our daycare centers and 24-hour shelters.