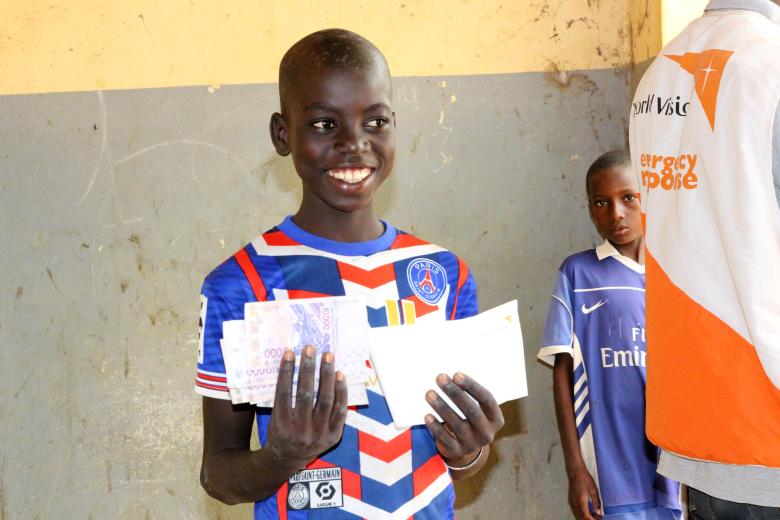 Nouhoum, displaced student is happy to have received cash
Wednesday, August 30, 2023
Armed conflict continues to affect the displaced people in Mali. They rely on humanitarian aid to meet their health, education and food needs. It is therefore, an imperative for humanitarian organizations to help them regain their smiles and hope for a better future.
For this reason, World Vision Mali is implementing a Fragile Context Programming Approach (FCPA) project to reduce the suffering of vulnerable households, particularly children, women, and displaced persons in the Djenne circle in Mopti region.
Nouhoum, 13, displaced by the conflict, is a direct beneficiary of the cash assistance provided by the FCPA project. This little boy, who has lost his father, has been living with his mother in an IDP site for more than two years. He fled his village with his mother because they no longer felt safe there, due to insecurity, he said.
Today, he is happy to have ended up on this site for displaced persons
"We came here by cart. When we [me and my mother] arrived, they gave us tents for shelter, but we didn't have much to eat," he says.
According to the little boy, his mother is his hero, for all she did for him after his father's death.
"I don't have anyone else in my life to support me other than my mother; she does everything for me. She takes care of all my needs, unfortunately, she has no income-generating activity".
Nouhoum told us that, although his mother has not yet found an incoming generating activity since their arrival at the IDP site, they can count on people and humanitarian organizations's help such as World Vision.
"I was very happy when my mother told me that I was one of the children selected by World Vision to receive financial aid. They gave me XOF 60,000 to buy food, school supplies and clothes. I gave it all to her; she will use it to meet my needs and those of our family," he said.
Taking the discussion further, the little boy told us that before the conflict forced them to flee their village, he had attended the Koranic school, and that when they arrived in Djenne, his mother asked someone to help him enroll in school.
" Now, I'm happy to go to school. Next year, I will be doing the 3rd grade. My mother will buy my school supplies with the money I received. I would like to warmly thank World Vision for the support they have given us." He added before concluding "I hope that World Vision will continue to support us in this way and that my mother will soon have an income-generating activity so that we can get through this difficult period."
Like this 13-year-old boy, cash distributions from our FCPA project, funded by World Vision Canada, have reached 165 internal displaced pupils in the Djenne and Fakala communes in central Mali, enabling them to meet their immediate needs in terms of food, health and education.