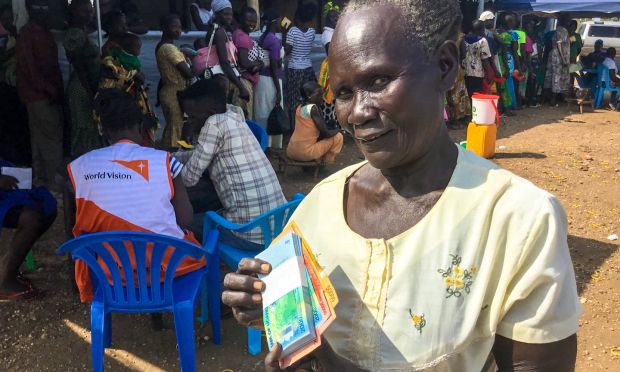 By Moses Mukitale, Communication Coordinator, West Nile Refugee Response
Dream businesses are soon to be reality for hundreds of refugee families taking care of foster children.
In December, 463 refugee foster homes and child-headed households living in Imvepi settlement received start-up capital to set up an income generating activity of their choice.
This follows a one-off cash grant of USD$235 that has been given to selected vulnerable refugee households to improve living conditions and boost household incomes.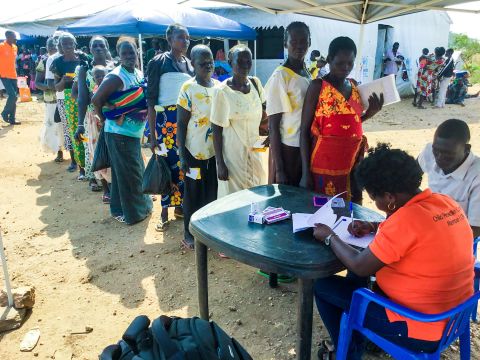 ''This is my answered prayer. I've been wanting to set up a small business since I got here. People who have some capital have already managed to set up small income generating activities," said 62-year-old Yavu Victoria, a foster mother of four.
The cash grants, provided by World Vision with funding from UNHCR, were distributed in two instalments; USD$100 for a family to acquire desired household items and USD$135 as capital to set up an income generating activity.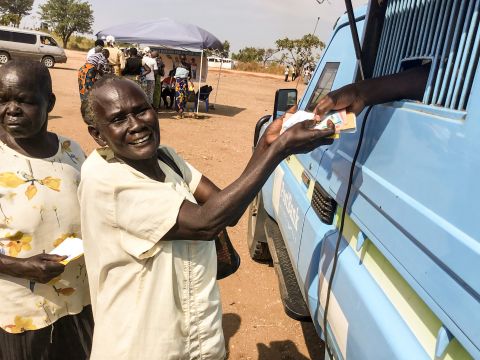 Prior to receiving the cash, beneficiaries were trained in enterprise selection and business management for better utilization of the fund. Yavu Victoria said the cash grant will allow her to open up a vegetable grocery on her 30x30 metre plot of land. She has already identified a dealer who will supply her weekly with vegetables.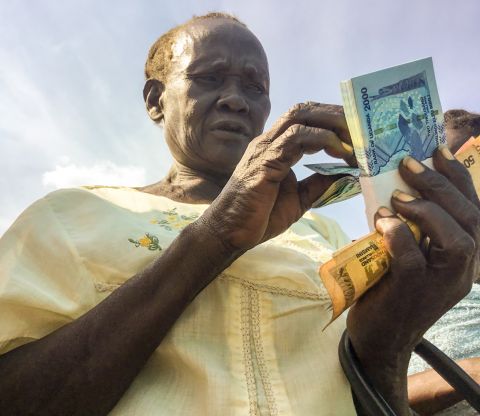 52-year old Besta Awadiya, a foster mother of 21 separated children was reeling with joy about the prospect of running her own business. Besta planned to deal in snacks and household items.
''I have five biological children, plus eight belonging to my brother who is caught up in South Sudan. In addition to these am also taking care of 11 unaccompanied children, who don't know where their parents are. These children love staying with me because we speak the same tribe and they feel at home'' Besta stated.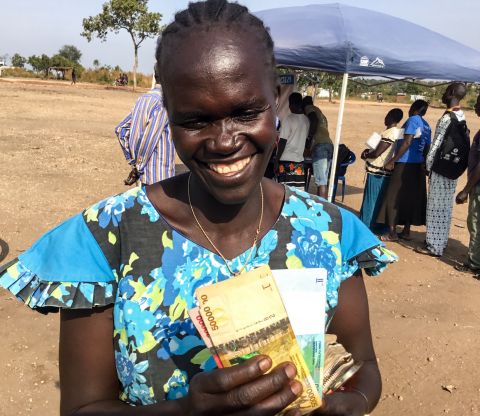 She will set up a grocery stall by the roadside.
62-year-old Bethuel Minga is taking care of 14 children, 10 are his biological and four are from a relative who could not make it to Uganda.
Bethuel, a former farmer in South Sudan plans to rent some farming land from host community and open up a big commercial garden.
''I've already found the land I want to rent for at least three years. I want to grow maize, vegetables, and sweet potatoes. I can see there is a ready market for food and fresh vegetable around here. If am not able to sell the items at the refugee market, I will transport it to Yumbe and Arua markets'' said the joyful 62-year-old.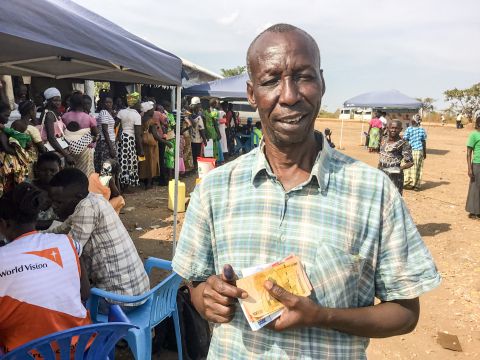 There are currently 1,331 unaccompanied/ separated refugee children placed under foster care arrangement in 472 foster homes at Imvepi refugee settlement. World Vision case workers are also closely monitoring 64 child-headed households in Imvepi.
Decisions made for cash grant beneficiaries were made on the number of children fostered, families with more than four foster children in their care were prioritised.
"The grant is benefiting both the fostered and biological children in each home.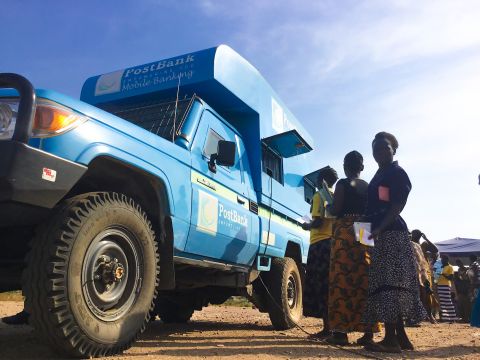 We also had special consideration for foster homes headed by refugee mothers Plus homes with extremely vulnerable individuals like child mothers, child headed households, sick children, children abused on the way. We are going to monitor each of these homes to make sure they start up income generating activities and that they buy basic needs for especially for the children'' said Evelyn Atim, World Vision's child protection coordinator at Imvepi.
World Vision is also doing monthly cash distribution for over 6,000 refugees at Rhino camp and 4000 other refugees in Koboko district. This in partnership with the World Food Program (WFP).