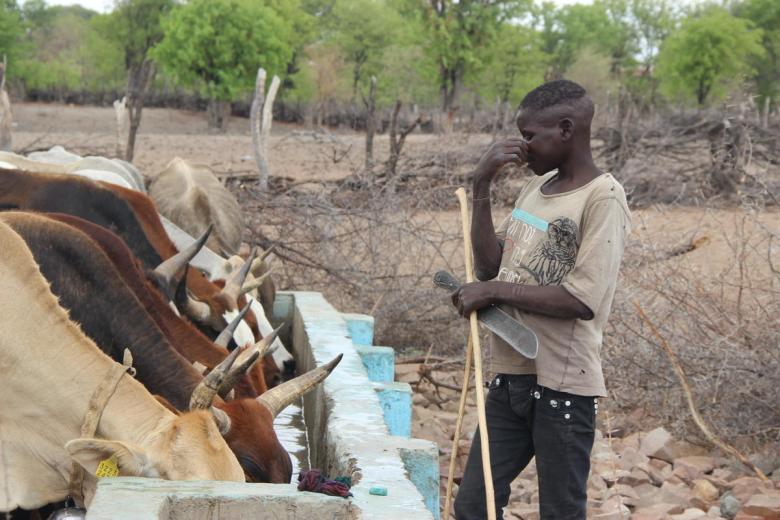 Drought dries up dreams in Angola as families struggle to survive
Monday, January 27, 2020
By Antonio Matimbe, World Vision Communications Officer
Ndjiole, 16, should be at school. Instead, he was forced to drop out and leave home looking from green pasture and water for the cattle, the only means his family of 17 has to survive. He has been away from home for six months now.
"We are farmers and we could not harvest since last cropping season. We only have our cattle left. If we lose them, we will die of hunger," Ndjiole explains.
Surrounding his home there was no water or pasture the and cattle were dying every day, as a consequence of the severe drought affecting the South part of Angola. Experts and community members say this is the worst drought in three decades.
Without rains, the crops died and harvests have failed, leaving 2.3 million people in four affected provinces without enough healthy or nutritious food to eat, including 500,000 children according to United Nations Children's Fund (UNICEF) data. 
Short terms migrations looking for green pasture and water for livestock are known to be common during the peak of the dry season in Cunene, even during ordinary years, but the severe drought since last year has worsened the situation.
Away from home and the comfort of his parents and siblings, Ndjiole was forced to sleep in the bush for days at a time to take care of the cattle.  "I am no longer afraid of the darkness in the bush, I am used to it," he says.
"When we find water and pasture, we stay there. When the pastures are scarce, we move to other places," Ndjiole explains.
The efforts are not paying off though. The young shepherd left home with more than 80 head of cattle and even with all his efforts and sacrifices, more than half of them have died.
Ndjiole prays that God will make it rain so that he can go back home to the comfort of his family and friends.
"All I wish is to go back home to find my friends and my family," he confesses.
"I would like to be at school now, but I am here," he explains. In fact, Ndjiole dreams of becoming a doctor and taking care of sick children, but his vision for the future is now uncertain due to severe drought. 
World Vision is supporting those affected by the drought by drilling and rehabilitating water sources to provide clean and safe water for affected people. In Cunene alone, our teams have rehabilitated 10 water sources providing clean and safe water to about 11,000 people, thanks to support from The United Nations Children's Fund (UNICEF) .  We have also been screening children to provide counselling on nutritious meals for children and providing therapeutic food for malnutrition treatment.