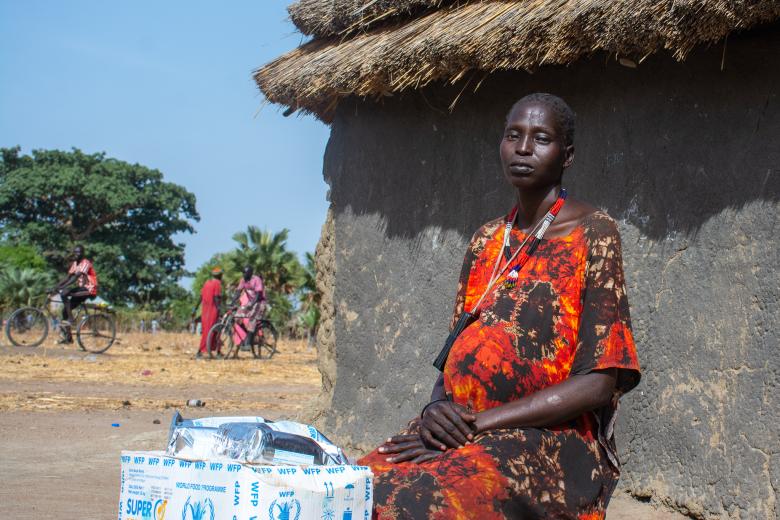 Food aid the only means of survival as South Sudan's hunger crisis deepens
Friday, April 16, 2021
The food aid has helped me a lot and has saved my family from hunger", says Monica Nyanut, a 32- year-old mother of five, adding, "Last year in June, inter-communal clashes started in Tonj North County. Many people were driven out from their homes and sought refuge in the neighbouring  Warrap State."
"The situation left us helpless. We could not do much since our farmlands were destroyed by floods. We thank World Vision for the food aid because it enabled us to survive hunger."
With support from the World Food Programme (WFP), World Vision's Food Assistance Project distributed maize, vegetable oil, beans, salt, CSB++ and plumpy nuts to the internally displaced people in Tonj North. In March 2021, over 64,000 people, 42,579 of them children, were supported through general food distribution, school feeding and supplementary feeding programmes.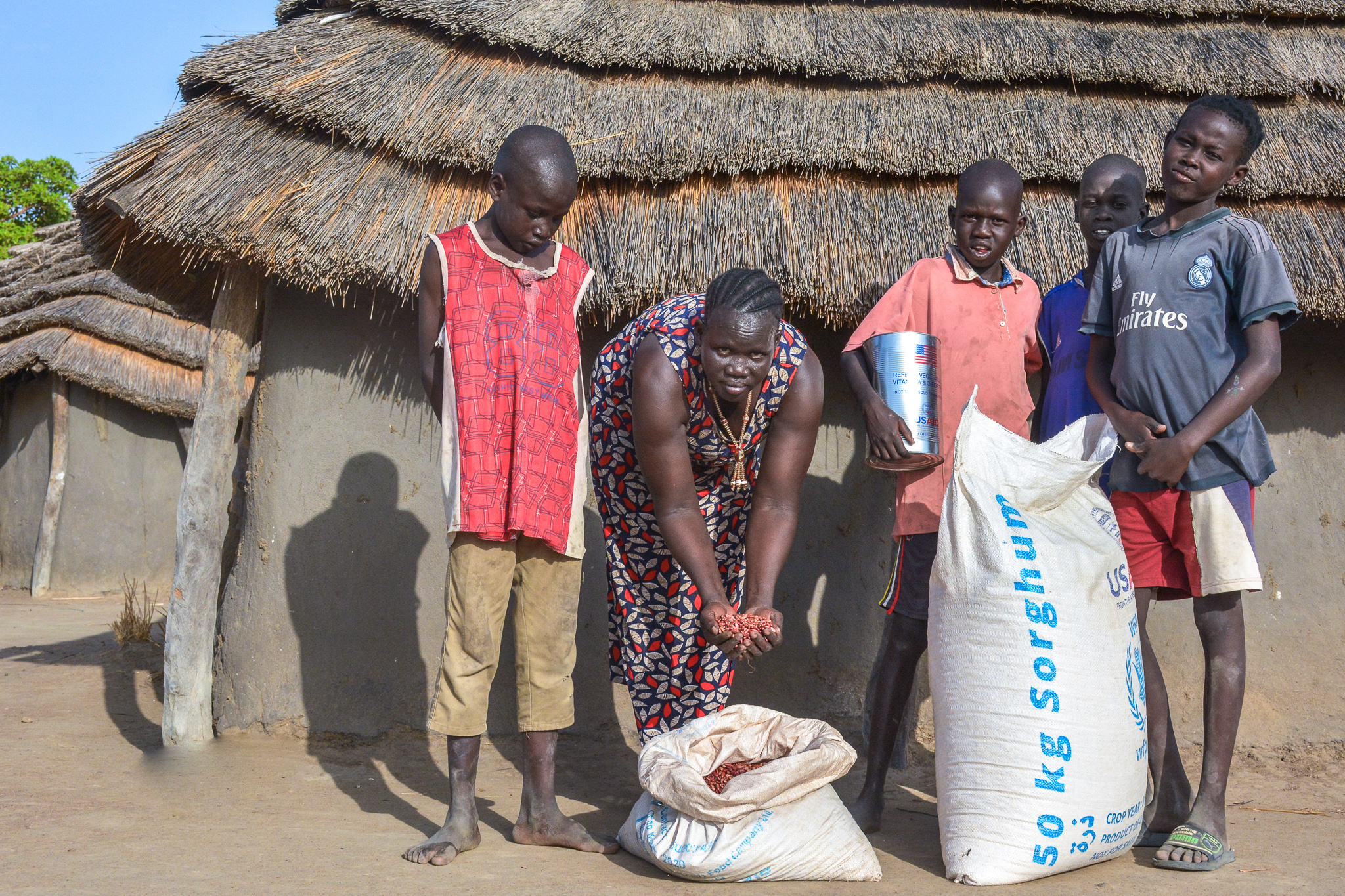 Monica says, "Before the clashes, I lived and supported my family well. I have a food shop in Warrap market that provided the family with a regular income for the needs of my family. Our farm also supplemented us with food.  But the recent circumstances have robbed us of a good life. Flooding also damaged most of their crops."
"Life is more difficult and we often eat once a day. My shop was not doing well since most of the customers have fled for safety in other parts of the country. Without this food aid, many people in Tonj North would die of hunger", she adds.
According to Monica, she earns SSP200-300 (less than $1) per day nowadays. She used to earn SSP1000 ($3). She is not happy about it but keeps on because it helps feed her children. She shares, "It hurts me when my family sleeps hungry. As a mother, I can sacrifice everything to see that they live a healthy life."
The recent South Sudan Integrated Phase Classification (IPC) on Food Security Report has projected that starting April 2021, an estimated 7.4 million people in the country, or 60 percent of its total population, will face severe acute food insecurity and warned of the need for urgent action. 
It hurts me when my family sleeps hungry. As a mother, I can sacrifice everything to see that they live a healthy life.
At least 13,000 people were identified by the IPC Report from Tonj North County, with Warrap State as among the most insecure along with Jonglei, Unity, Upper Nile, Lakes and Northern Bahr El Ghazal. Alarmingly, over 1.3 million 6-59 months old children are projected to need treatment from acute malnutrition, as well as 483,382 pregnant or lactating mothers.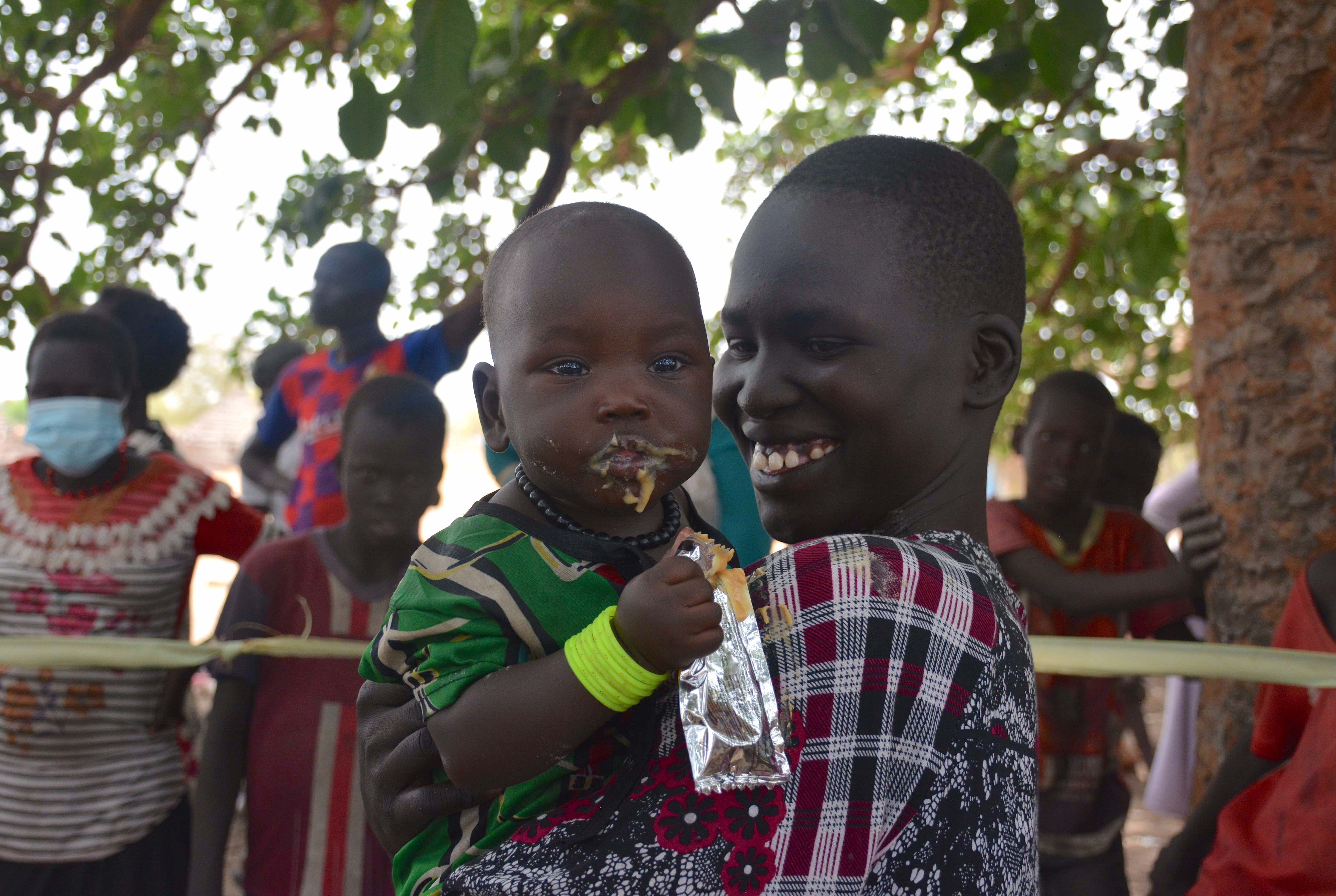 Nyalat Deng, a mother of two, shared that since the birth of her first child she fed her children with plumpy nuts. "My first child was malnourished but after six months in the program last year, she became healthy and strong." Nyalat was among the few mothers whose babies benefited from the plumpy nuts when the World Vision project implemented in Warrap State.
Before the conflict started in her county, she also used to sell tea and make a profit of SSP1000 ($3) daily But now she closed her shop for lack of customers and she stays at home. Nyalat explains, "If not for the food aid, we will subsist with moringa leaves and die. As a parent, I complain about the situation and feel helpless as I look at many families struggle with malnutrition."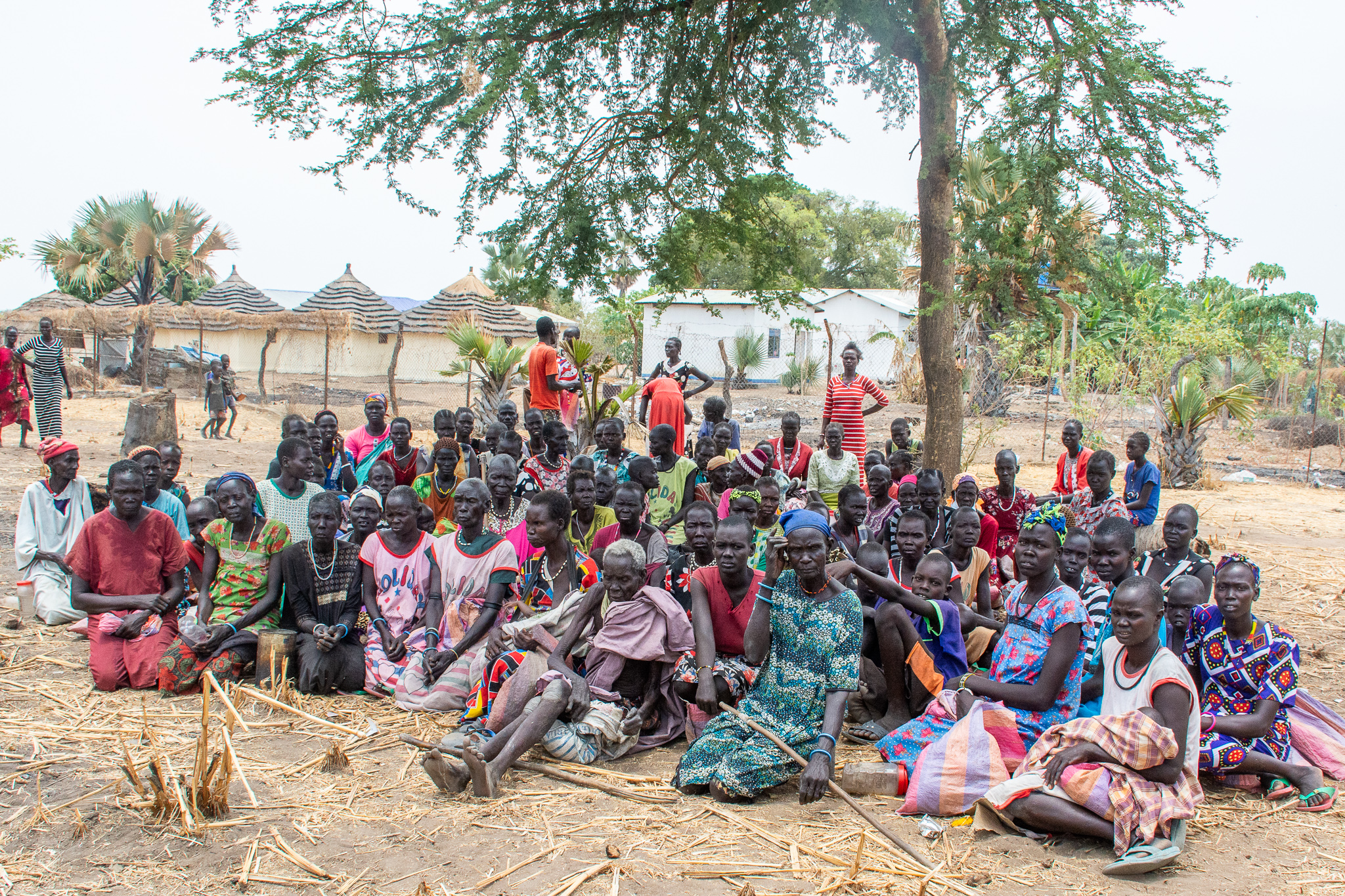 Akech Gar Malek, a 60-year-old from Achol-Akoud village said that when the neighbouring two villages of Manyliel and Mabior Atok were involved in an intercommunal conflict in January 2021, they fled for their safety. "I came to Tonj North we were the most targeted in the conflict, often as revenge killing for the women and children they lost during the conflict. We have sought refuge at Warrap Hospital, ate moringa leaves and beg for food from the people in the community. We would be happy if given food aid since we cannot afford to feed ourselves."
World Vision South Sudan Greater Bahr El Ghazal Program, in partnership with WFP, implements life-saving interventions reaching out to the most vulnerable and hard-to-reach communities affected by emergencies such as inter-communal conflict and natural disasters, assisting them recover through food-for-assets and other livelihood rehabilitation interventions.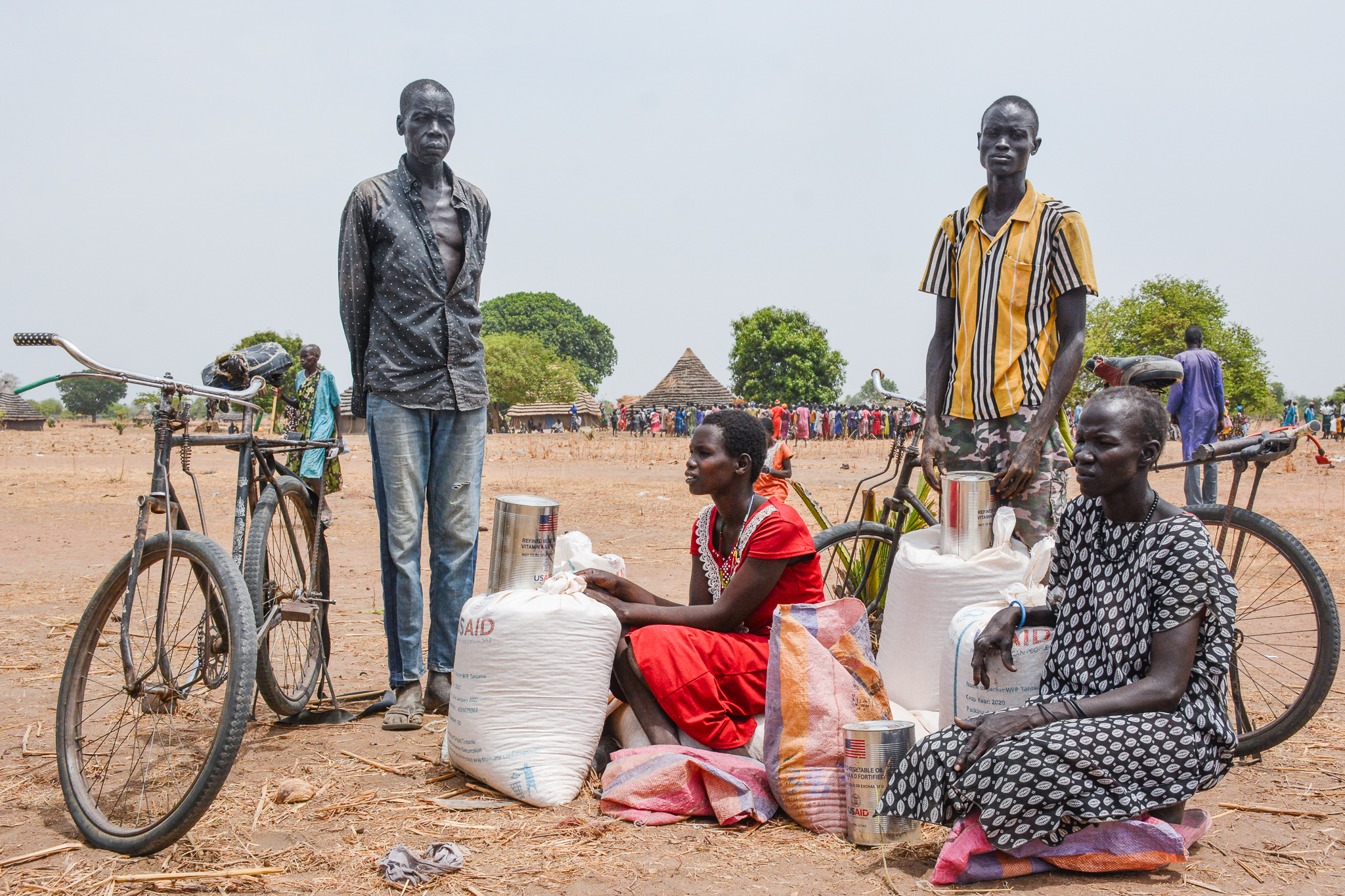 Related story: SSHF, World Vision and CCM launch emergency response in Greater Tonj counties
Story and photos by Jemima Tumalu with inputs from the Greater Bahr El Ghazal (GBeG) Zonal Team