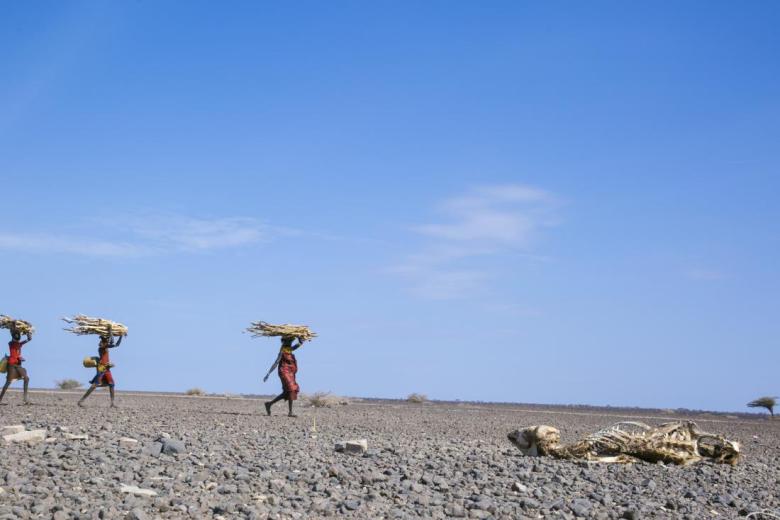 The reality of Kenya's hunger crisis: Choosing between saving your dying livestock and your children's education
Friday, January 27, 2023
Can you imagine standing in this line just for a sip of clean water?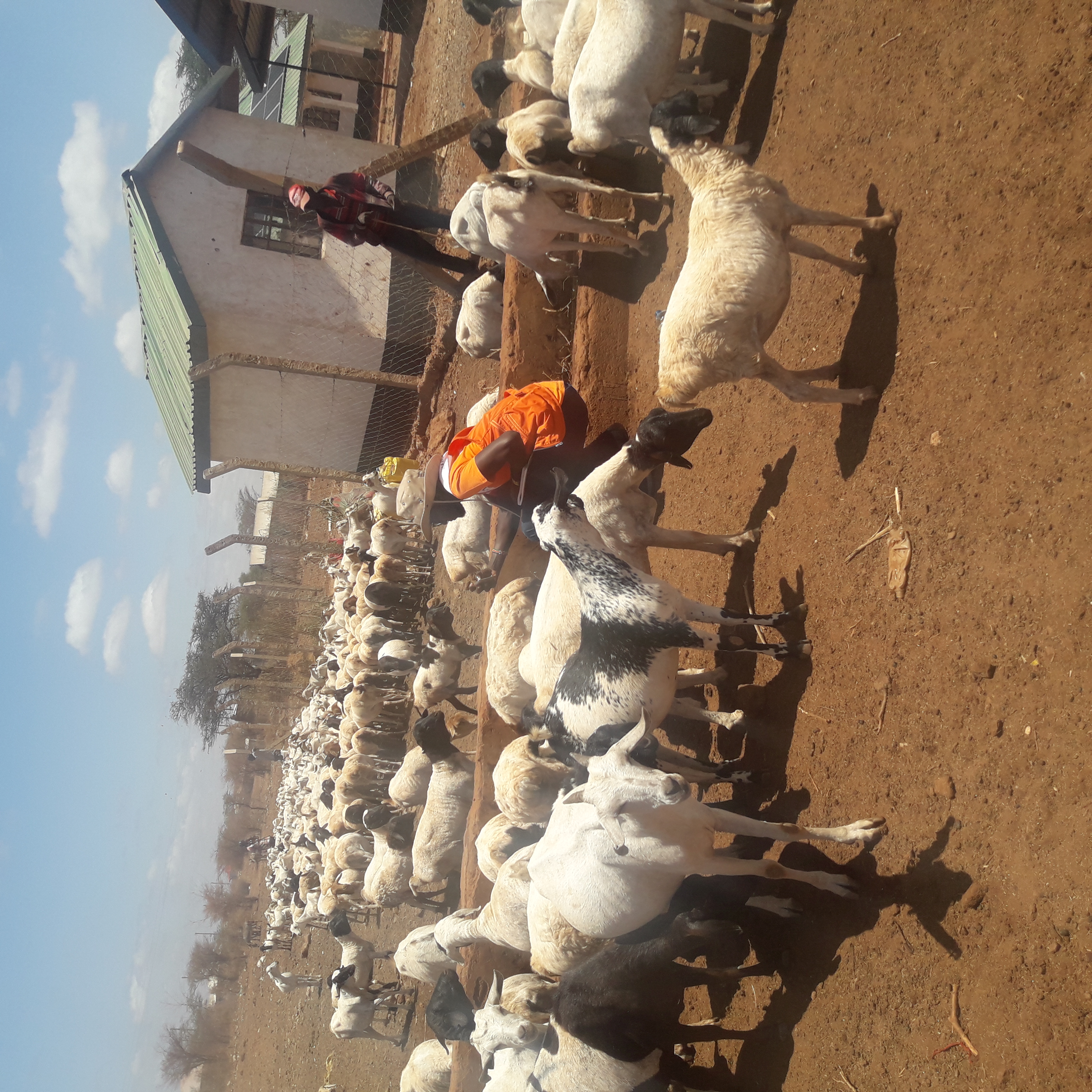 Most of us stand in long checkout lines at supermarkets to buy foodstuffs or bottled water for our families. However, when I visited Kulamawe village in Isiolo county, Kenya, I found women and children standing in long lines alongside goats and other livestock to collect clean water from the village's only borehole.
Kulamawe echoes of countless sights and sounds of despair. Isiolo is one of the 23 counties in Kenya that are drought stricken, with catastrophic levels of food insecurity – a situation that is worsening every day.
A vast expanse of dusty and rocky rangeland spans the area, with countless dry riverbeds that have not held a drop of water in many months. Such a terrain cannot support the remaining herds, hence triggering migration.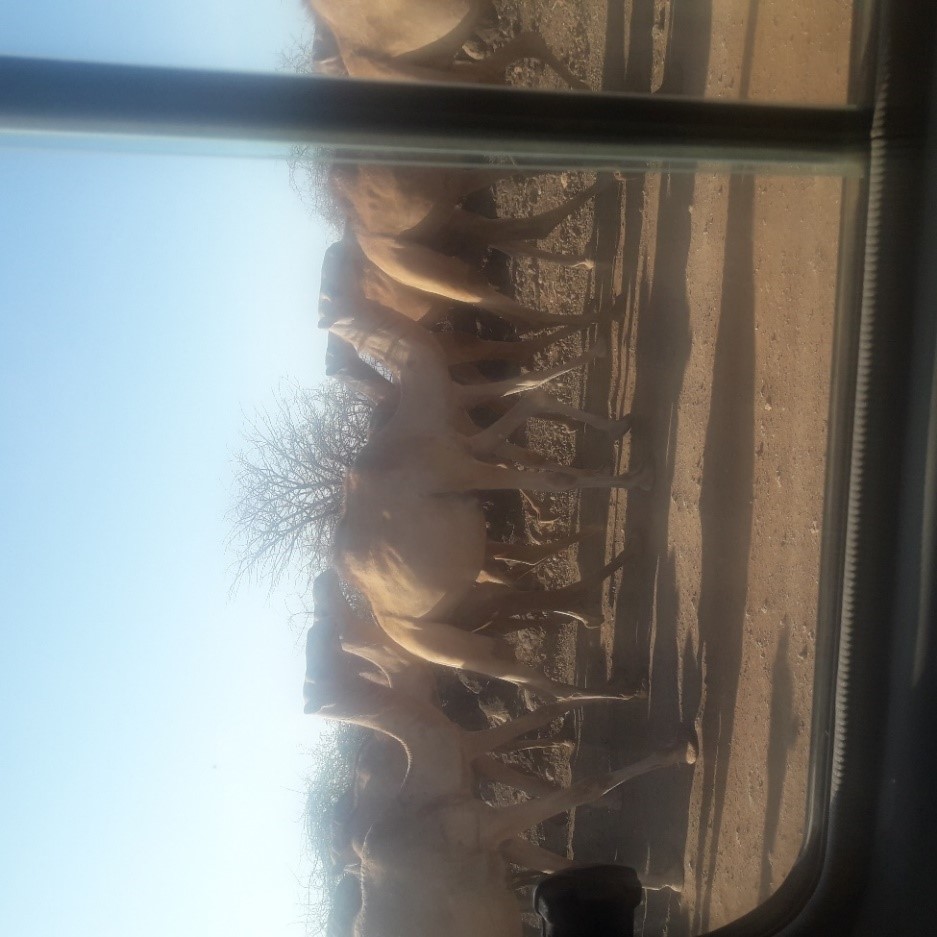 Pastoralist families who had been settled are now being forced into a nomadic lifestyle. They must trek with their remaining livestock to far away parts of the county or into neighbouring counties in the hope of discovering some pasture and water for their dying animals. This migration, however, often causes conflict between the displaced and host communities as there are very little resources to share, even where they are going.
Countless boys and girls are forced to uproot their lives and follow their families on these treks while their peers in fairer counties remain settled and in school. These children are now school drop outs, not of their own volition but forced out by their circumstances. Parents just have no choice if they hope to save the lives of their children and their livelihood.
According to the head teacher at Kulamawe's primary school, as of September 2022, close to 20% of the pupils had dropped out to migrate with their families in search of pastures and clean water sources. They said they expected this number to rise in the wake of the failure of the short rainy season.
In a meeting with community leaders and women, tales of dying herds are told alongside stories of poverty and desperation. Cattle, too weak to move, have to share the very little available food with the children at home. On the roads, camels that are too weak to keep up with the herd are left behind to die as herders are forced to make hard choices to save the rest of the herd. Graveyards have had to be dug just to dispose of the remains of the livestock.  
'We should have had this discussion months ago before our livestock began dying.' – Chairman, Kulamawe village
Tough questions are being asked by community leaders, wondering why it has taken them so long before they can receive support from anywhere. Now with a fifth consecutive below-average rainy season, this drought is worse than those in recent memory, mainly because of four complex issues:
the lingering socioeconomic impacts of the COVID-19 pandemic
the 2019 locust invasion that decimated the rangeland
climate change that has led to increased frequency and magnitude of drought, as well as constant conflicts within the region
rising costs and prices due to the compounded effects of the ongoing war in Ukraine.
Community members are clear about what they need urgently in order to survive: livestock feed, an extra borehole, and more food, both for school children and households. But they realise this is just a temporary fix, they also wish for support for interventions that can address the causes of droughts, rather than just relieving its symptoms.
Mr Wario Halake, the Senior Chief of Kulamawe village, explains, 'There is a need for community members to be sensitised on the need to change from [the practise of] keeping huge herds of local cattle breeds to instead keeping a few improved breeds that are more productive. They also need to embrace other livelihood activities that will help them withstand the frequent droughts.'
Families are now having to do with one meal, usually at midday. The effect of which can be seen in the number of children suffering from malnutrition. According to Amina, the nurse in charge of Kulamawe's dispensary, she admitted 11 cases of moderate acute malnutrition and one case of severe acute malnutrition, in one month alone, this past September. She fears that if there is no urgent intervention at the household level, children who are currently suffering moderately will slip into more severe malnutrition, while many more in the community will be added to the numbers of those suffering.
World Vision serves communities through an 'area programme' approach – a long-term engagement in a geographical area that plans activities, in collaboration with community members, that aim to develop towns and villages within the region in order to transform children's and their families' lives. World Vision Canada supports Isiolo's area programme, known as Garba Tulla, which, in the Borana language, loosely translates to 'a place of inexhaustible waters'. Unfortunately, this is not the case any longer. This area programme has provided support ranging from agricultural training on agronomic best practises; children's school fees; as well as water, sanitation, and hygiene interventions over the years. However, due to the ongoing drought throughout the area, Garba Tulla was recently able to redirect funds initially planned for ongoing development activities to provide much needed immediate life-saving support to the most vulnerable households. They worked with community leaders to identify 200 households (40 of them in Kulamawe village) to receive two cash transfers worth KSh7,400 (approximately US$60) in September and October 2022.
Nevertheless, more emergency relief is needed in order to provide immediate assistance that can reach all community members in need of this life-saving support as well as disaster risk reduction interventions that can help community members to build their resilience if they are to survive this hard period and be better prepared for future climate shocks.