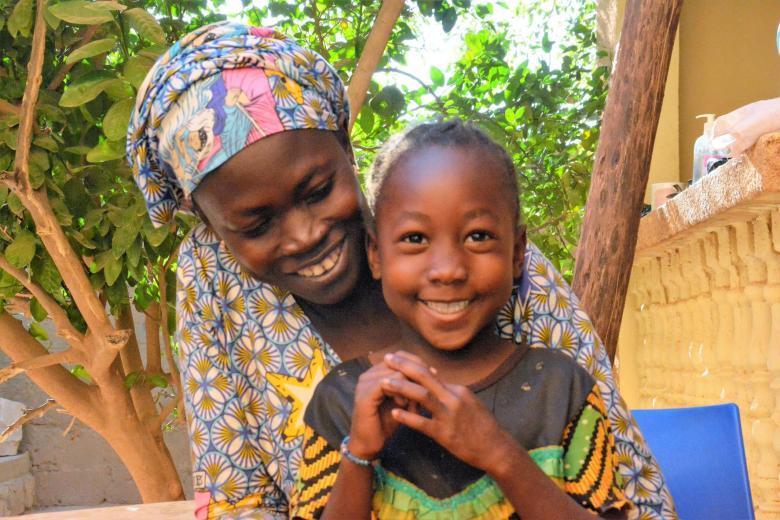 Little Bintou loved the food ration her mother received from World Vision
Thursday, December 22, 2022
In central Mali, efforts are being made to improve the living conditions of people affected by conflict or other social problems that typically affect women and children. Today, the armed conflict, coupled with social challenges there in this part of the country, continues to worsen the already fragile living conditions of thousands of women and children.
Women are particularly vulnerable, especially when they are widows, as this young mother of three reminds us, who has gone through a difficult period since the death of her husband. 
Benedicte, 34 years old and mother of 3 children, lost her husband 3 years ago in a road accident, leaving her alone with the children. With no stable activity for her, this courageous mother had to rely on the support of World Vision's ASV project to be able to provide for her children's food needs for 6 months. She tells us.
"He was a caregiver. He meant everything to me and the children.  His death affected us a lot. It changed our whole life. Since then, I am the only one to take care of the children. Working to feed and educate the children has become a challenge for me."
"I don't have any significant income-generating activity. I am mainly engaged in pounding the mile and rice for the neighbors. I also do lucrative laundry to earn some money to support the children."
"They are all in school. The oldest is already in 7th grade, the second in 4th grade and the youngest in 1st grade.  I take care of all their schooling. On top of that, I struggle every day to feed and care for them."
What does World Vision contribute to the lives of this woman's children in terms of food? Benedicte tells us more in her own words. "When World Vision arrived with its food assistance project, I was happy to be among the first beneficiaries. It gave me a lot of comfort for a good period of time. " She says
"World Vision helped me for six months by providing food. Every month they gave us rice, sugar, oil, spaghetti and magic cubes. This was a great relief to me throughout the project."
"When I received my food ration, I could look at my children and smile (I am proud of myself). They were eating their fill. The lack of food was the last thing on our minds. The only thing I was worried about was finding money for their school. I was very relieved physically and mentally."
At the end of the six months of assistance, what does this woman, a World Vision food assistance beneficiary, hope to receive in order to continue to meet her three children's needs? 
" Now the assistance is over, but I want to thank World Vision wholeheartedly for their support. I will always be grateful to them. I wish they were always there for me.
"I always wish I had their help because the small activities I do not allow me to meet the multiple needs of the children. I manage to do the best I can until I have a somewhat stable generating activity."
"I am beyond grateful to World Vision for all they do for us in difficult situations. The support they give us is very comforting."
Benedicte is not the only member of her small family who shares with us the joy of being World Vision's food assistance beneficiary. Her 5-year-old little girl, Bintou, also spoke out.
"When mom received rice and spaghetti, I ate a lot. I could eat more than five times a day. Now, mom herself sometimes buys it for us. It's not every week she does it. I really like spaghetti and rice. I am very grateful to the people who gave us this. I love my mother, who does everything for us." Testifies little Bintou.