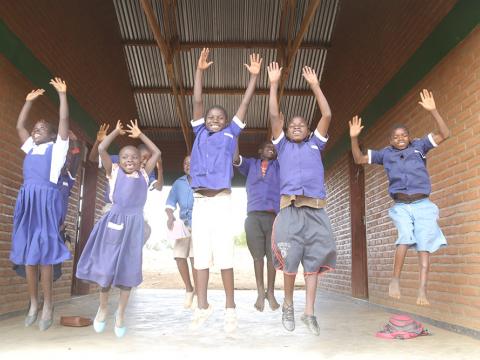 The beauty in Kanamwali's new face
Wednesday, May 15, 2019
Just two years ago, a visit to Kanamwali Primary School in Tchesa Community in Dedza would leave you with two things; shock and sympathy.
On the old Kanamwali hill, a grass shelter for standard one and two stood facing the flat plains of the village. While they may have been grass thatched shelters, to Lajabu these were their classrooms. These were symbols of a community, so determined to give its children a great start in life.
When it opened its doors in 2011, the schools had 314 learners. For the community, it was a new dawn. Today, Kanamwali has 580 learners from 13 villages that surround it.
"I started my standard one here", Lajabu, 12, says as he points at a stone a few meters from where he stood. "That was the teacher's chair when I was in Standard three. For Lajabu and all other learners of his age, this was the only school they had ever known.
"It was difficult to learn", went on Lajabu.  Each time it started to rain, classes would be called off" said Lajabu before adding that every student would just start off running towards their homes.
On a floor that had no cement at all, every day, they returned home with dirty uniforms. For an Agri-based economy that could not even give families enough food to eat, no child could afford two uniforms to be switching each and every day.
"When it was windy we did not attend classes as well", says Esther, aged 11 now in Standard five at Kanamwali. Just like Lajabu, she started her education here.
A few years ago, World Vision Staff members visited Kanamwali upon hearing that there was a new school in the village. He says after discussions held between the school management committee and World Vision officials, two school blocks of two classrooms each have been constructed, thereby enabling four classes to have proper rooms for learning.
In addition to the classrooms, the organization has also built one teacher's house that is being occupied by the head teacher, Mr Abdul Juma.
Lajabu, one of the pioneer learners at the school is happy with the spacious and beautiful classrooms that have made his learning easy. "We don't have problems such as our clothes getting dirty due to dust," he said before disappearing in the direction of other pupils who were playing football.
What started as junior Primary School is now edging towards becoming a full primary school. With classes now going up to Standard Seven, one more short of being a full primary school, pressure for space still exists.
"We have three other classes learning on the verandas of the two school blocks instead of staying under the tree where rains affect them", says Teacher Abdul.
He is however excited that parents around the school are working very hard to put up another school block if any partner comes along.
"The community has already molded bricks and gathered sand to ensure that if any help comes, they should be able to build additional classes as soon as possible", added Abdul.
Kanamwali is one of the many primary schools in Tchesa community that have benefited from World Vision's interventions aimed at uplifting the learning and teaching environment in the area.
In Fiscal year 2017 alone, World Vision's education and literacy programmes reached 429,730 children in primary schools and Early Childhood Development centres around Malawi.