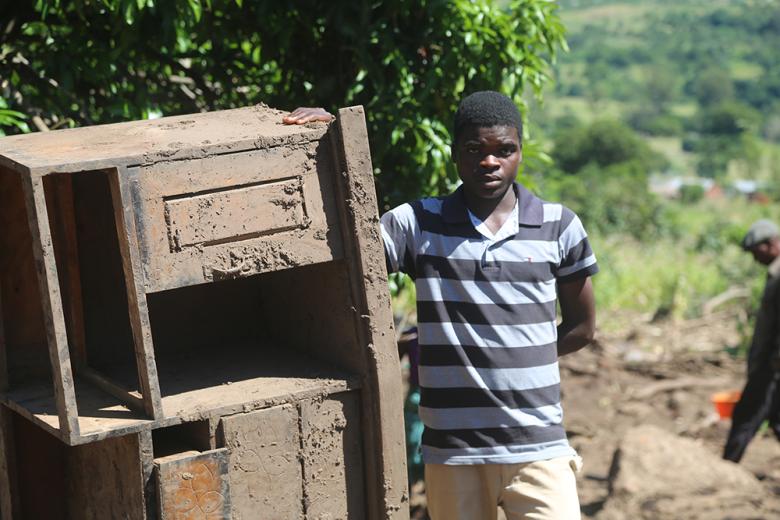 Cyclone Idai left children traumatized and hungry in Malawi
Friday, May 17, 2019
Malawi: In Chikwawa district, southern Malawi, one of the communities that borders with Mozambique in the south, the flood waters have receded. The roads are instead now full of growing piles of broken furniture, destroyed household utensils, dead goats and clothing, thousands of residents can't yet return to the places they once called homes which still lay in destruction following floods.
Malawi is among countries in Southern Africa that were visited by cyclone Idai and the results have been bad. But Ellen Hedimani suffered even worse.
Many survivors are telling their stories of terror as they tried to escape with their lives intact when a torrent of flood waters that came as a culmination of constant rainfall for over four days caused flush flooding in Malawi.
Some climbed onto rooftops, others got on to treetops and held on to tree branches for their dear lives, waiting for help.
"I was home with this one at the back", she said, pointing at her second born son Timothy on her back who will be turning 2 in June.
"And all of a sudden we saw water coming and it was a lot. Everyone was running in every direction trying to take what they could", recalls Ellen, as she tried to replay the disaster scene of Mwalija, her village which became the worst scene of the disaster in Malawi.
By then, her husband and firstborn son Amos had gone to their millet garden.
"Most of our land in the village was to be installed with an irrigation scheme by the government so we did not farm it. Instead, we farmed on some plot, a bit far from the village", went on Ellen.
In a space of minutes, the community was trapped. As they tried to run east of their village for dry land, there a village they were meant to cross had busted its banks and was throwing all its water in their direction.
It was a desperate situation. They were caught between Shire and Mwanza Rivers and there was nowhere to run as they could not tell the depth of waters in the direction they were running to.
This community with abundant sweltering sunshine in summer boasts of hosting Shire River, the sole outlet of Africa's third largest freshwater lake. But for three days on the trot, the sun had disappeared. The largest river in Malawi is home to turbines that generate 98 percent of electricity which supplies just a tenth of the country's population. Consequently, immediately the flood hit, the country was in a blackout.
"Other people began climbing trees while others went on rooftops", said Ellen, adding that she was afraid of her rooftop. "Our bricks are not burnt so I was afraid the house would fall while I was on top". So she decided to keep standing, several yards from her yard.
At that moment, all she did was pray that rescue would come in time, she said. Unfortunately, at the Boma, the district centre, the man who uses the region's rescue boat had gone for a seminar in Mangochi, eastern Malawi. He had to be called back.
As the wait for rescue took longer, things were getting worse. From the knees, water kept rising, to the waist and kept getting up. Ellen became restless in the water. She was afraid of dropping her child in the water.
"I had to tighten him as much as I could", she said, demonstrating the process with utmost care. When water levels went over her waist, Ellen decided to carry Timothy on her head like some luggage. And it was not easy.
By this time, the sun was nowhere to be seen. She did not know where her son had gone, nor the safety of her husband in the garden.
By the fall of dusk, she saw torches approaching in the distance. It was a rescue team. Now, soldiers had come on a boat, rescuing trapped people.
Together with other people, she was immediately ferried to a place where they waited for a car to get them to one of the safe havens that had been set up.
On the way to the camp, Ellen saw how other villages and roads were turned into ravines, as the rivers burst their banks, sweeping up houses, and anything that stood in its way as it went into Zambezi River and the Indian Ocean.
She survived a flood to face a brutal challenge of survival in a community that is new, with no friends or relations.
"Since I got here, I've had no food. At least my baby had porridge with one of my friends from the village who had arrived here earlier". Said Ellen whose concern is still on the whereabouts of her son and husband.
Apart from Ellen and her child, there are over 840, 000 Malawians affected by the disaster who need help.
"Many children are traumatized after the flooding. They are scared, hungry and living without proper sanitary facilities in camps for displaced people. It is heart-breaking", said Hazel Nyathi, World Vision's National Director in Malawi.
"All over the country, the needs are just too huge. Over 840,000 people have been affected and in need of urgent support. Therefore as an organization we appeal for immediate support to meet the food and nutrition, shelter and sanitation needs of all people affected by Cyclone Idai", added Nyathi.
Since the flood occurred, World Vision has reached out to 90,000 people with services in WASH, food and shelter. Cyclone Idai may have left, but behind it, children and mothers have been left homeless and somehow hopeless.