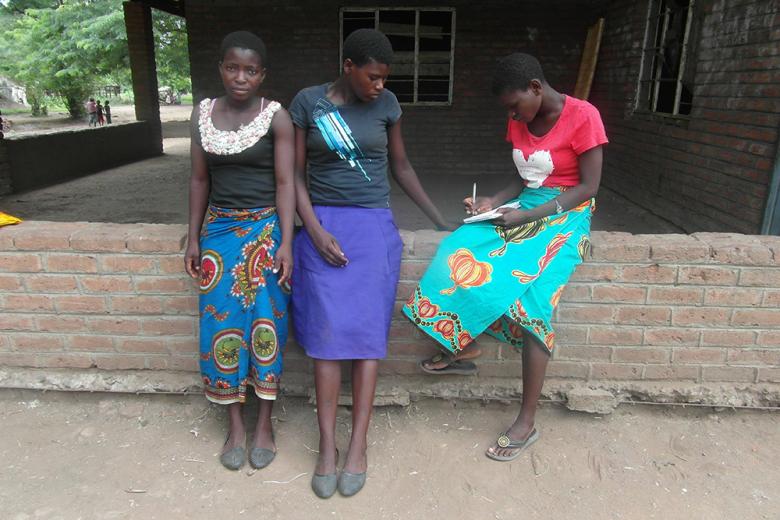 Dorothy falls in love with school after a hopeless marriage
Thursday, May 16, 2019
By Solister Mogha
At the age of 13 in 2013, Dorothy Joseph of Lombe Village Traditional Authority (TA) Masache in Chikwawa enticed by the blind love got pregnant. At this time, she had only sat for Primary School Leaving Certificate examination (PSLC) and waiting for the results.
When results were out, she got favored, passed the exams and got selected to Phanda Community Day Secondary School in Chikwawa.
However, pregnancy forced her to drop out of school and her dreams to be a medical doctor were completely shut down.
 "I loved school so much but because I was pregnant, I had no choice than to quit. Furthermore, the same year I got pregnant, my dad passed on and this became another big blow for me.      
"Due to this, the only solution I was left with was to get married," she explains.
Dorothy now 18, together with her husband who was a mere young farmer agreed to get married so that they take care of the unborn child and of course start a new life.
Parents from each sides endorsed their marriage and her husband paid "Machila" in Sena but commonly known as Lobola.
 All was rosy she says and in 2014 she gave birth to a baby girl. But soon after the birth of their first born, things started to change as running the affairs of the family became a hustle. It was difficult for the new family to find food and provide the child with all what she required.
Fade up with the creepy situation, Dorothy says her husband decided to go to South Africa and chase for every possible and available opportunity, a thought that was bought by everyone.
 As the baby was three months old, the husband bid farewell and left for the xenophobic land. Hopes for a better future piled up but little did Dorothy and the baby know that the split between her and the 'head of the family' would lead to a permanent and life time separation between the three.
"Just a month after my husband left, the situation totally changed, my mother and father in-law refused to offer me and the baby the support we needed most and they started pouring a lot of insults on me something which I could not understand why.
"Day by day, the situation got from worse to worse and my in-laws started calling me all sorts of names to the extent of saying I am a prostitute. I could not remember any single day that I accepted a man's proposal or invited a man into their son's house. Honestly, I never engaged myself in any extra marital relationship because I was satisfied with the man I had," she narrates.
Dorothy adds, "When I tried to complain to my husband, he encouraged me to stay at his father's home and never mind his parents. But two months without my husband at home, it was hell and I then told myself enough is enough, I had taken more insults.
"I told my husband that I will be leaving his home, he insisted I stay but it had reached to an extreme and what pained me most was that he never showed interest to talk to his parents."
She persisted for some time and when her in-laws told her to leave the house, because she was already fade up, Dorothy says she disobeyed her husband and packed her stuff and left the house.
"My parents welcomed me back home because I had already informed them what I was going through. Straight-away, I revealed my plans to return to school," she explains.
It was a hard pill for the parents to swallow she says and they never believed her having been disappointed in the first place. Later, Dorothy's mother full of the motherly love accepted her daughters' decision and also to take care of the baby while she is in school.
In September 2014, Dorothy went back to Phanda Community Day Secondary school where she was selected to .The baby was, at this time, only 7 months old.
Fortunately enough, she was accepted back into class and her love for school rekindled. In 2016, Dorothy sat for Junior School Certificate of Education (JCE) which she passed.
Today, she is in form four and she works hard to pass the exams and proceed to College of Medicine to study Medicine.
"The reason why I work hard is because, for the few years I was in marriage, I learnt   a lot and I don't even dream of going back to marriage before I complete my carrier.
"I am determined and come rain or sun shine, I will pass the Malawi School Certificate of Examinations (MSCE) which are due this June with good results" the courageous Dorothy promises.
Reaching this far, the lower shire girl has, not only been encouraged by what she faced in marriage, but also the moral support from fellow youth under Lombe youth club.
Lombe youth club is one of the 15 youth clubs under Traditional Authority Masache that are supported by World Vison Malawi through its Action for Adolescents and youth Development project.
The project has four thematic areas and these are; Early Child Education (ECD) where it is supporting the establishment of ECD centers and train care givers how they can take care of children and impart in them the rightful knowledge, literacy boost where it encourages reading camps and adult literacy centers.
The project's third and fourth thematic areas are youth ready and entrepreneurship.
 Under youth ready, Mostly, World Vison Malawi advocates for the need for the youth who dropped out of school especially girls under whatever circumstances to go back to school and improve on their future while for entrepreneurship, the focus is on encouraging the youth to engage in various activities that would help them generate permanent financial income.
Among many, under this thematic area, Village Saving Loans commonly known as VSL among the youth are highly encouraged as that way the youth are able to develop a saving culture.
Dorothy has since gathered a durable courage ready to face anything and never ever get weakened of her love for school.
Fryton Bishop, Chairperson of Lombe youth club hails Dorothy for her determination and passion for school. Bishop says with the help of the club, Dorothy has been able to sharpen her dreams and stay focused.
"In our club we discuss quite a number of issues and education tops it all. We are happy that Dorothy is one of the many girls who once dropped out of school and are now chasing their dreams," he explains.
Bishop has since hailed World Vison Malawi for bringing the youth together and offer them an opportunity to discuss issues affecting them and together encourage each other on what to do in life and better their future.
"Without the Support from World Vision, we don't know what type of stories we could have be saying today. Many youth in our area have opened up and everyone is working to better his or her destiny," he says.
Frolence Pwele, World Vision Techincal Programs Manager for Education said the aim of the project is to empower adolescents, especially young girls who dropped out of school because of marriages and pregnancies by giving them a second chance in school.
Furthermore Pwele said the project also offers an opportunity for the youth to unveil their potentials of becoming productive citizens and by that way contribute to national development.
"As World Vison Malawi, we are impressed with the progress so far. The project has gone a long way in transforming the lives of youths," said Pwele.
She added, "How we wished the project was extended to five years."
 Pwele hailed Dorothy for her determination thereby calling other girls to emulate.
"There is always a second chance, pregnancy or marriage do not mean that the future is blinded. What Dorothy is doing is commendable and they should keep on," she explained.
According to Chigonjetso Chiromo, Chikwawa District Youth Officer (DYO) there are about 350,000 youth in the district but only 15 percent of them are either in school or doing some entrepreneurship activities.
Chiromo said many, particularly girls because of culture, are forced to get married at a tender age. He says the bad side of it is that not many of these (girls forced into marriage) enjoy or complete the marriage journey.
"The situation is however improving with the support from World Vison Malawi through its various interventions under the Action for Adolescents and youth Development Project.
"We can a see a great change of mindset and many youth have started to think seriously about their life and future," Chiromo explains.
 He commends Dorothy for her steadiness and ever ending passion for school.
"As of last year, about 51 girls who dropped out school for either being pregnant or forced marriage returned back to school. However, let me commend Dorothy for living up the dream," Chiromo says.
In 1993, the Ministry of Education Science and Technology adopted the readmission policy that give girls a second chance and go back to school and pursue their studies.
According to the ministry's Public Relations Officer, Lindiwe Chide since the adoption of the policy, many girls have been able to return back to class.
"It is very encouraging to see many girls opting for schools after getting through their different traps. As government, we will continue to provide conducive environment to girls so that, just as men, they too become economically empowered and live an independent life once they finish their education," she said.
In addition, Chide said the ministry has a number of bursary schemes and girls who have returned back to school have a high a high chance to be considered.
"We know that when girls drop out of school there are a number of reasons and as one way of helping them, we attach them to scholarship programs," the publicist said.
Action for adolescents and Youth development project is being implemented in fourteen districts (32 TAS) including Nsanje, Chikwawa, Thyolo, Machinga and Mangochi.
 The project which was for eighteen months phases out March 30, 2017 and a total of   2.6million was injected for its smooth implementation
World Vison Malawi is implementing the project with financial support from UNICEF