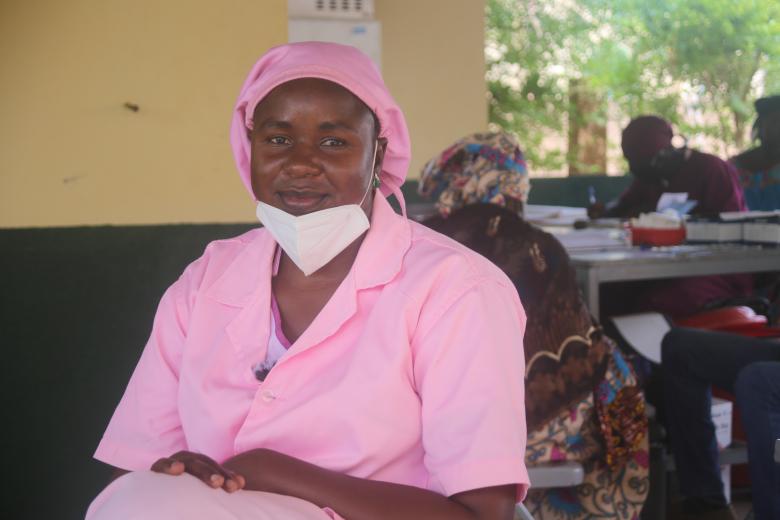 Heroes of our times
Friday, August 21, 2020
Who is a hero? What defines a hero?  What makes a hero? When we ask ourselves these questions, acts of bravery and unusual or famous characters often come to mind.  
During the COVID-19 outbreak over these past months, we have come to discover that the real meaning of the word 'hero' is ordinary people, leaving their comfort zone and putting themselves on the front line to give hope to fellow human beings who are overwhelmed by fear, uncertainty, and despair.
These heroes have marked our history as an organisation in Mali and around the world. They are average people who have always stepped in to help during critical moments; overcoming difficult situations and alleviating the suffering of others. We recently met and sat down with one of these hidden heroes.
A Midwife and the Technical Director of the Community Health Center of Kolokani (one of the intervention zones of World Vision Mali in the Koulikoro Region), Mrs. Diarra Assitan Sidibe has been working since 2013 in this part of the country; saving the lives of mothers and their babies. She is a genuine example of a heroic midwife who dedicates her time to serving others, often in rural and remote areas. Even in challenges and dire situations, she shows empathy, courage, and determination to ensure healthy lives and promote the well-being of mothers, their newborns, and children in her community.
With the COVID-19 outbreak, Mrs. Diarra is even more than ever on the front line; informing and sensitising members of her community –namely pregnant women, mothers, and children. Furthermore, she often travels to villages and hamlets serviced by her Community Health Center, which World Vision supported with preventive and protective medical materials to assist in response to COVID-19.
In this rural part of Mali, Mrs. Diarra also leverages radio –which is often the first source of information for many people– to get her awareness messages across, and ensure that she reaches all populations. 
She says: "I chose to be a Midwife so that I could help women like me, especially women who have problems [during childbirth], and to save lives"; thus, contributing to the reduction of maternal, newborn and child mortality."
With the support of World Vision and other partners, the heroine remains committed to helping and empowering others. Relentless and determined, she continues to work in a rural area that is very conservative and protective of its traditions; a noble cause reflected in her commitment to encourage and support pregnant women and nursing mothers in this particular context of COVID-19.
Hidden heroes like Mrs. Diarra have always been at the heart of World Vision's work in Mali and around the world. They work mostly behind the scenes to give hope and comfort in difficult and uncertain times; making extraordinary impact in the lives of others –especially children.
It takes all of us to end COVID-19 and rebuild a better world for children! Know a hidden hero? Share their story! Learn more: https://www.wvi.org/hidden-hero/share-your-story