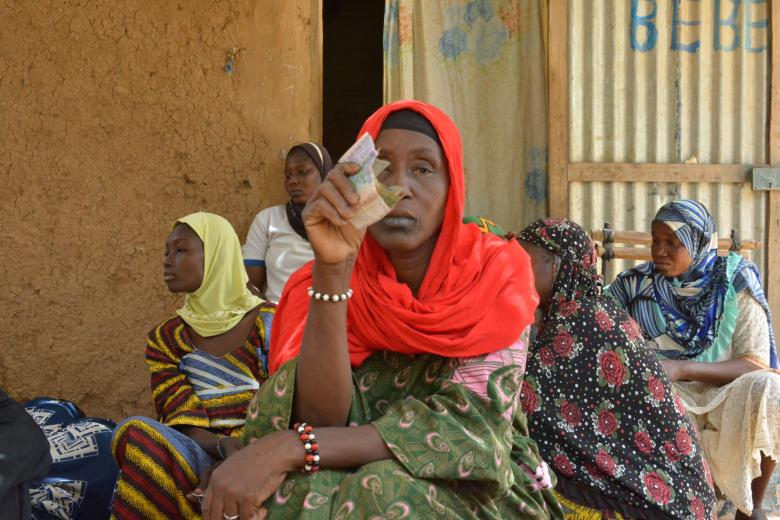 Savings for Transformation: A new light for Sanata
Wednesday, May 18, 2022
Combined with insecurity, climate change continues to increase poverty among vulnerable communities in Mali. This context sometimes leads to food insecurity and other hardships, especially for women living in conflict zones in the centre and north of the country who require urgent steps.
So, what urgent steps should be taken to help these women?
It is now becoming very urgent to assist these communities, especially these vulnerable women, through initiatives aimed at creating income-generating activities that will enable them to meet the food and other needs of their children.
Thus, through the Savings for Transformation (S4T) initiative, World Vision's resilience programme has settled and trained 17 groups comprising 475 women divided into 25 people per group in three villages in the commune of Sio in the Mopti region in central Mali.
A courageous mother who benefited from the programme's initiative tells us about her experience.
We were able to meet her during the sharing of funds from her savings group "Sabuyuma II" in her village a few kilometres from Mopti. For her, S4T is now a source of income because it allows her to earn money to cover her needs and those of her family.
Sanata (50) is mother of five children and lives with her husband. She shared with us the difficulties she has faced before.
"Here, the harvests are not always good. In recent years, we have not had enough rain. This has had an impact on our crops (Bad harvest)." She said. "Before, I used to earn some money from collecting gravel that I sold to masons. Unfortunately, due to the current insecurity, I practice this income activity less."  According to her, with insecurity, there are times when it becomes difficult for her to find some money to cover the needs of her children.
"As a mother, it is sad to live without money because at any time the children may want you to support them financially. Unfortunately, when that happens and you cannot meet their needs, then you start running to your neighbours for loans."
When Sanata shared with us these heartbreaking words, we followed up by asking if it was always easy for her to get loans from neighbours. Her answer was not pleasant. 
"Of course not, you know... it's often hard to get a loan with friends, because everyone has problems since people do not have enough income activity right now here", she said. 
How did S4T help Sanata get over all those daily worries?
She said, "I started to forget my small financial demands such as buying clothes for my children since I joined this savings group (Sabuyuma II). The group consists of 25 participants and we save for 52 weeks. Each week, every participant makes a contribution of at least 500 XOF."
For Sanata, the savings activities are very important, because of their many benefits.
"At the beginning, during our savings meetings, it was agreed that loans are possible. Thus, participants are free to make loans when needed, but they are repaid with an interest of 250 XOF on each 5,000 XOF loan that lasts one month. I like to take loans because it allows me to meet very urgent financial needs. In the past, I took a loan of 50,000 XOF which I used to buy a sheep to fatten." She congratulates herself.
Does the initiative bring more than money to Sanata?
The answer could be quite positive as she continues to reveal her story in her words.
"For me, conflicts are a very bad thing. When you live in such a situation, you cannot only pray for it to stop but you have also to work for it. I think we need to increase our cohesive actions to achieve the desired change."
It is from these words that we understood that S4T not only allows Sanata to earn money but also gives her the opportunity to work on consolidating her bonds of friendship and peace in the community. 
Mali has been experiencing a very deep and multidimensional crisis since 2012. This situation, especially in the centre, has its origin in the deterioration of social cohesion between communities. Unfortunately, it has generated bad memories and could still cause multiple negative consequences for the people concerned if nothing is done for them.