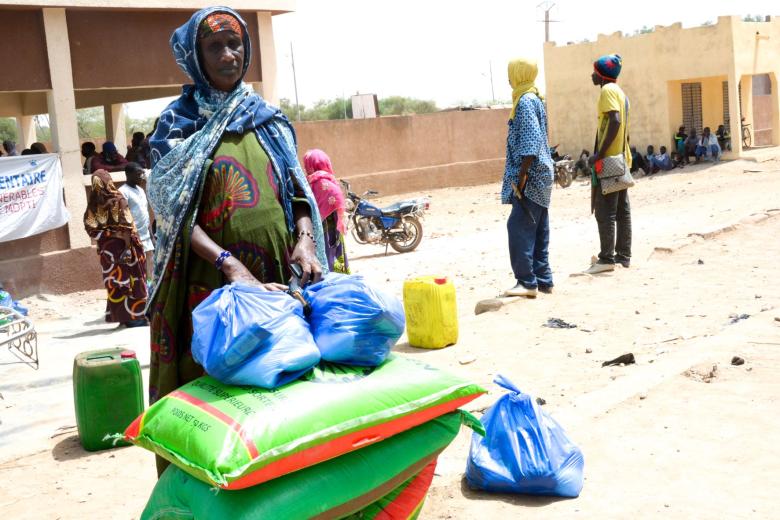 World Vision's food assistance project helps sustain Dicko and her family
Wednesday, April 27, 2022
In Central and Northern Mali, the deteriorating security situation continues to scar thousands of families with very bad memories. Between 2019 and 2021, entire families have been displaced by the expansion of attacks that have targeted their villages. This unprecedented situation has exacerbated food and nutrition insecurity.
As far humanitarian assistance is concerned, World Vision's ASV project has reached 910 beneficiaries, all of whom are displaced persons in three communes in the Djenné circle in central Mali. Having left their homes, families had to abandon their fields or even be victims of livestock kidnapping, as was the case for Mrs. Dicko.
She is a brave mother; you could say she is brave even though her life has been shattered by the conflict, as she shares with us. "Before the insecurity hit us, I was enjoying life so much. I was living off of livestock, with 47 head of cattle, and I was saving to provide for my children", she narrates.
Mrs. Dicko is originally from a village in Djenné circle. This brave 60-year-old woman is a mother of six children; four girls and two boys. Some time ago, she had to flee with her family to escape the insecurity and injustices she faced in her native village.
"Life was becoming more and more difficult in our village; we were intimidated and threatened every day. To save my life and the lives of my children, we felt it necessary to leave the village", she confides.
For Dicko, leaving her home was not pleasant because the path to survival was difficult and excruciating.
"I still remember that moment as if it were today. It was a beautiful morning; we left in groups, leaving everything behind. With the children, we made our way. We could not take anything with us. We suffered too much just to reach our destination".
Dicko and others in her situation had only one destination in mind: to get as far away from the village as possible.
During our meeting with her, we understood that leaving the village did not solve their whole problem because the displacement led them to a need for humanitarian assistance in terms of food as well as in non-food items (NFI).
"When we were able to reach our destination (Djenné Town), we were faced first with the need for shelter and food for our children. We had no place to sleep", narrates Dicko. "Personally, I was happy to have been hosted by an acquaintance here. Unfortunately, the concern was that this person did not have enough income to cover the needs of her own family, leave alone mine. Therefore, after spending a few weeks with her, my family and I had to look for another place to live."
How to pay the rent and cover the needs of a family with no income?
This is what Dicko was confronted with.
In Dicko's words, this was an embarrassing situation which she says she was only lucky to get out of thanks to the financial support she received from an NGO and an adventurous relative.
"After we left my guardian's house, an NGO helped us with monetary assistance", she narrates. "This assistance allowed us to pay for the house for a while. Unfortunately, after this monetary assistance ended, I had to rely on the help of a relative who went on an adventure to pay for the house."
However, despite this financial support, Dicko and her family sometimes would sometimes have to sleep on an empty stomach, as the little she received was spent on ensuring they got to keep a house to sleep in.
For the past four months, Dicko has been benefiting from World Vision's food assistance project for vulnerable people, which operates in central and northern Mali. According to her, this assistance has been very important enough to allow her to cover the food needs of her family.
"We arrived here five months ago. Life is not easy here for us because we are not used to it", she tells us.
We are happy that World Vision has selected us to receive food for six months. Every month we receive rice, cooking oil, sugar and many other things. I am grateful to World Vision; thanks to them, my family has enough to eat. I hope they will continue to support us even beyond the six months initially planned."