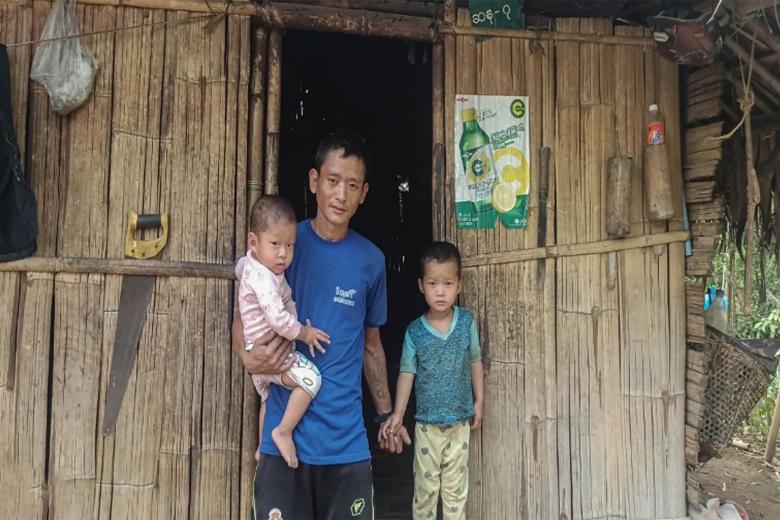 Life free from the chains of open defecation in Kachin State
Thursday, December 15, 2022
Lum Zawng lives with his family in one of the villages in Kachin State, the northern part of Myanmar. He has two sons. He makes his living as a farmer and that is the only source of income for the family. The family was barely able to make ends meet. Building a toilet in the house was a luxury that Lum Zawng couldn't afford.
"I don't earn much and didn't have the means to build a home with a toilet. I also didn't pay attention to my personal hygiene and environmental cleanliness. I was more focused on just the basic need of having a roof over our heads," shares Lum Zawng.
The families and communities where Lum Zawng lives had limited access to clean drinking water. The families had to get water from the mountain areas which poses protection risks to the women and children. Open defecation practice was widespread which further exacerbated the health situation amongst the most vulnerable families such as high risks of diarrhoea and water-borne diseases and skin infection.
"The worse is that we didn't have a good latrine in our house. We had used the toilet with pit holes for many years. When we used the pit latrine, our pets fell into the Latrine frequently. Since the pit hole was not covered properly, I was afraid my children would fall into the pit while running and playing near the latrine. During the rainy season, there were lots of mosquitoes and flies. Having diarrhoea was common at home, especially during the rainy season." Lum Zawng recalls.
Sanitation and hygiene act not only as barriers to quality education for girls and boys in the region but are among the main contributing factors to high child mortality and undernutrition. Pneumonia and diarrhoea, are two of the biggest killers of children under five years old in the region.
Children under the age of five, in fragile countries such as Myanmar, are 20 times more likely to die due to diarrhoeal diseases, often related to unsafe water rather than in violent conflict.
Since 2018, World Vision Myanmar has their Water and Sanitation project in Kachin state that targets 22 villages including Lum Zawng 's village. The project has supported the communities to construct household latrines and improve the community water systems, shallow tube wells, and hand-dug wells. Water and purification devices, LifeStraw, have also been provided for families to access safe drinking water. Moreover, soft skills such as personal and environmental hygiene education, and the capacity on building and maintaining fly-proof latrines for the community members were provided along with the provision of the hardware.
Since the families have their own latrines, children and women no longer practice open defecation but get safe access at home. Children also get the good practice of using toilets from a young. Families become aware of the importance of using safe and clean water, especially for children's health.
"Now, we have a fly-proof latrine at home. Since it is properly built, it is safe. We don't have to worry about our children and the animals falling in the pit. It is very beneficial for the families and our community. I am very glad to have such kind of latrine. Due to hygiene awareness, we now know how to maintain good hygiene. Our children are also protected from illnesses caused by poor hygiene. We are grateful for the provision of latrines as well as hygiene awareness for our community, organized by World Vision. I will maintain the latrine so that we can use it for a long time," Lum Zawng shares.
As of September 2022, the project has provided 13 hand-dug wells and 2 shallow tube wells, 5 gravity flows and a 2,000-gal water tank, 476 fly-proof family latrines and 11 institutional latrines, 1,577 water storage containers, and 26 LifeStraw for the families and the communities covering 4,336 people living in 869 households.