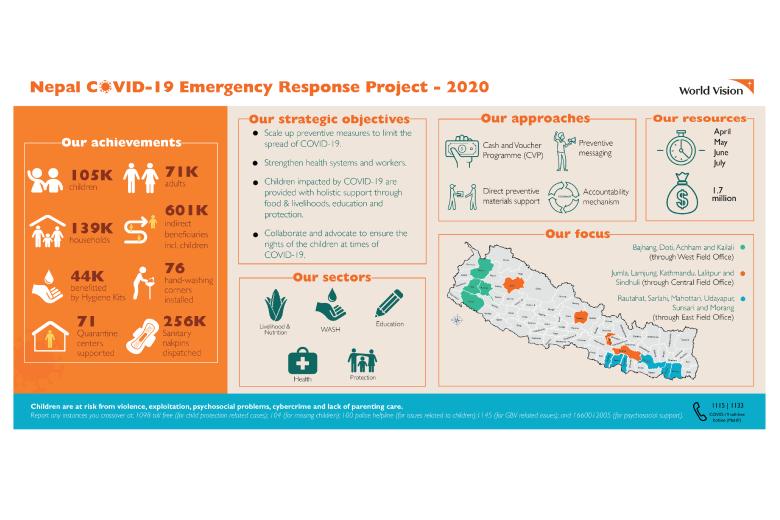 Providing life-saving assistance to the vulnerable children and communities impacted by COVID-19
Friday, August 21, 2020
After Nepal witnessed an increasing number of coronavirus cases, an early COVID-19 response was launched in April 2020 focusing mainly on scaling up the Government of Nepal's (GoN) preventive measures to limit the spread of the coronavirus and educating public on proper hygiene practice, signs and symptoms of COVID-19 and mapping the services available. Read more about the early response HERE.
Informed by Rapid Need Assessment: Cohesive Response to COVID-19 in Nepal conducted jointly by ADRA and CBM Nepal in 12 districts of three provinces (Province 2, Province 5 and Karnali Province)[1], comprehensive response (Nepal COVID-19 Emergency Response Project) was subsequently launched in May 2020 to provide holistic support to children impacted through food and livelihoods, education and protection interventions; strengthen health systems and workers, and backstop the government contain the coronavirus.
Implemented through 29 partners across 15 districts (Bajhang,  Achham, Doti, Kailali, Jumla, Lamjung, Lalitpur, Kathmandu, Sindhuli, Udayapur, Rautahat, Mahottari, Sarlahi, Sunsari and Morang), the project directly reached 105,000 children, 71,000 adults and 139,000 households through the aforementioned interventions until the end of the project in July 2020. Additionally, 601,000 people including children indirectly benefitted from the project initiatives. This brief IMPACT VIDEO summarises overall achievements of the project.
Although all response activities have been concluded, World Vision will continue to address the needs of the vulnerable children and communities through adaptation of its regular programming. With the government partially lifting the restriction on people movement and operations of most public services/facilities, it is expected that the number of people entering the country from overseas will rise in the coming days, which will spike the COVID-19 case graph. The adaptation of regular programmes in the coming days will continue to address the changing needs of the population that may vary from nutrition to recovery of livelihoods of the most vulnerable communities.
Learn more about Nepal COVID-19 Emergency Response Project.
[1] Rapid Need Assessment: Cohesive Response to COVID-19 in Nepal