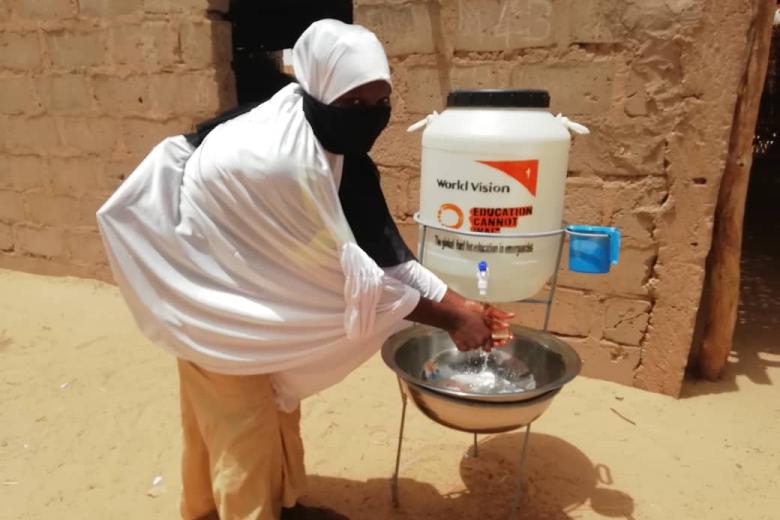 Fighting COVID-19 in Maradi schools
Friday, July 10, 2020
In partnership with Education Cannot Wait, World Vision is supporting communities in Maradi on the prevention of COVID-19 and the establishment of an alternative education system. About 306,687 adults and children have so far been reached through three local radio channels, which are located in Guidan Roumdji, an urban commune of Maradi and Chadakori.
This six-month-long joint project between World Vision's Niger office and UNICEF targets 20 elementary schools and five middle schools. Through the joint actions, beneficiaries have received 1,000 booklets about COVID-19. In addition, 900 boxes of soap and 300 hand-washing devices have been distributed to those schools. 70 thermo lasers have also been made available to schools and reading camps, and 35 metal cabinets for the storage of books were distributed in reading camps.
In collaboration with the Ministry of Primary Education, 1,415 annals of mathematics and French are being made available to schools in the three localities involved in this project. The capacities of 80 reading camp leaders have been strengthened in order to increase support for children's learning.
It is worth noting that the beneficiaries come from five municipalities of Maradi (Chadakori Guidan Roumdji, Tibiri, Sae Saboa, Guidan Sori). About 17 villages were served and 11,030 children aged from six to 18 years benefited from this support during the ongoing health crisis.
Learn more about World Vision's global work to limit the spread of COVID-19 and support the children impacted by it on our COVID-19 Emergency Response Page.