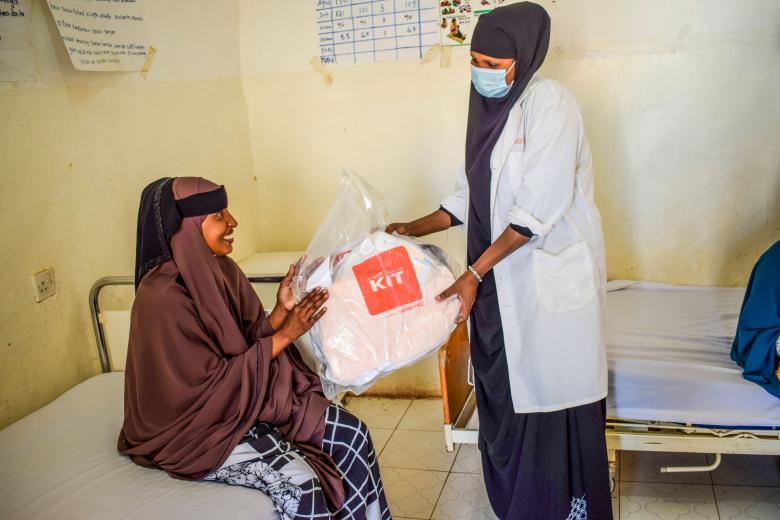 Baby kits giving newborns a healthy start
Friday, February 5, 2021
When a child is born, their first weeks are crucial for their health and growth, and it is easier if they have the right items to help them pull through this period without hurdles.
Through our health project, World Vision sought to address challenges that vulnerable Somali expectant mothers face which pause a risk to the life of both the mother and their newborn babies due to lack of awareness on health and medical care during pregnancy and after delivery.
With support from Finland, World Vision started an initiative in Burtinle District of Nugal region in Puntland, to support expectant mothers get safe, clean birthing kits along with baby items that enable them to have essential things they need to start motherhood.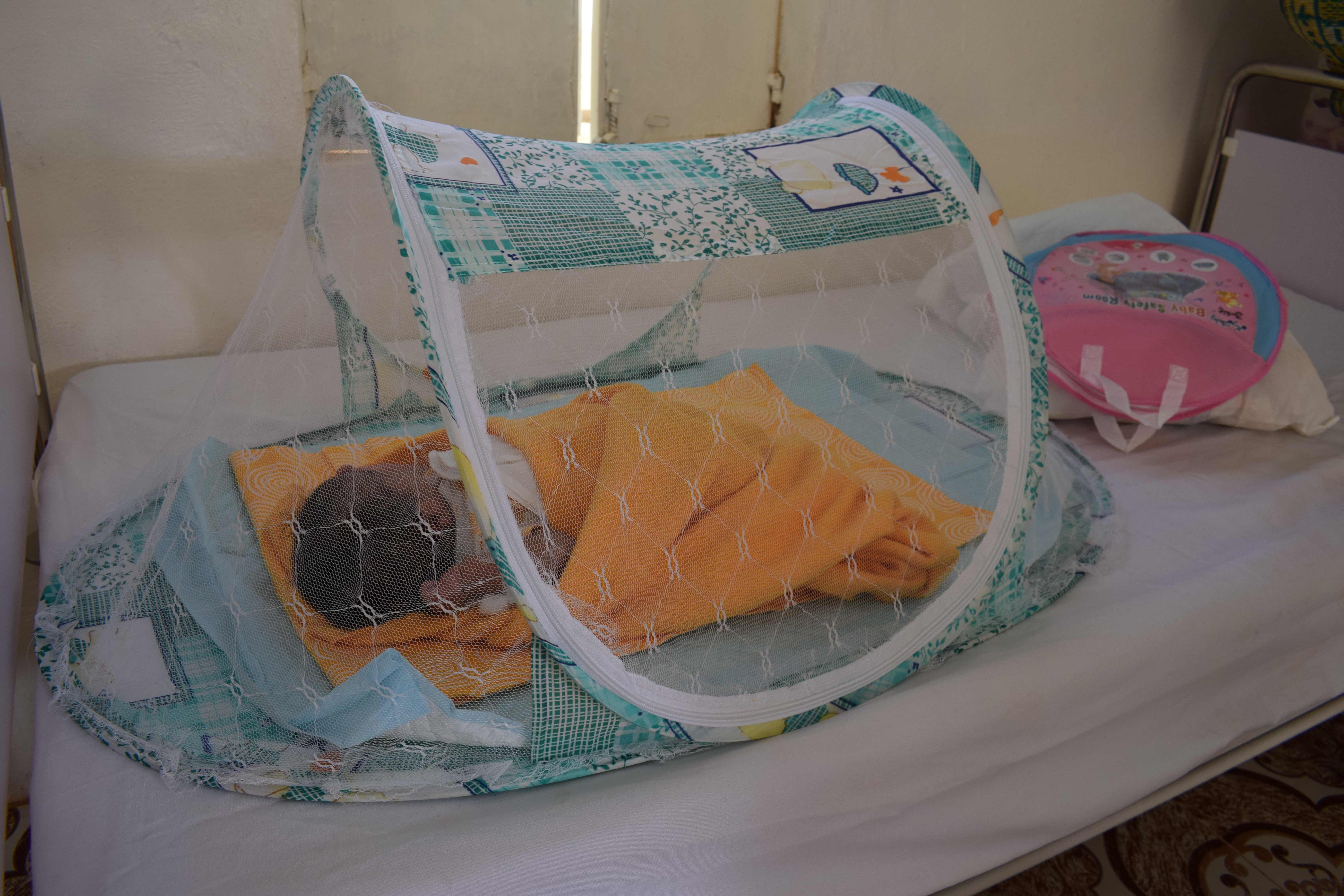 The kits comprise of two packages; one for the mother and the other for the baby. The mother's kits contain five pieces of antiseptic wipes, a scalpel, two pairs of surgical gloves, a pair of umbilical cord clamps and one protective plastic mat. The baby kit contains baby clothes, baby care products and hygienic care items.
Every expectant mother who delivers at the health facility is provided with these kits. In addition, mothers who complete ante-natal care visits and deliver their babies at the facility are provided with both the kit and other Gifts -in-Kind items such as shoes and clothes.
Layla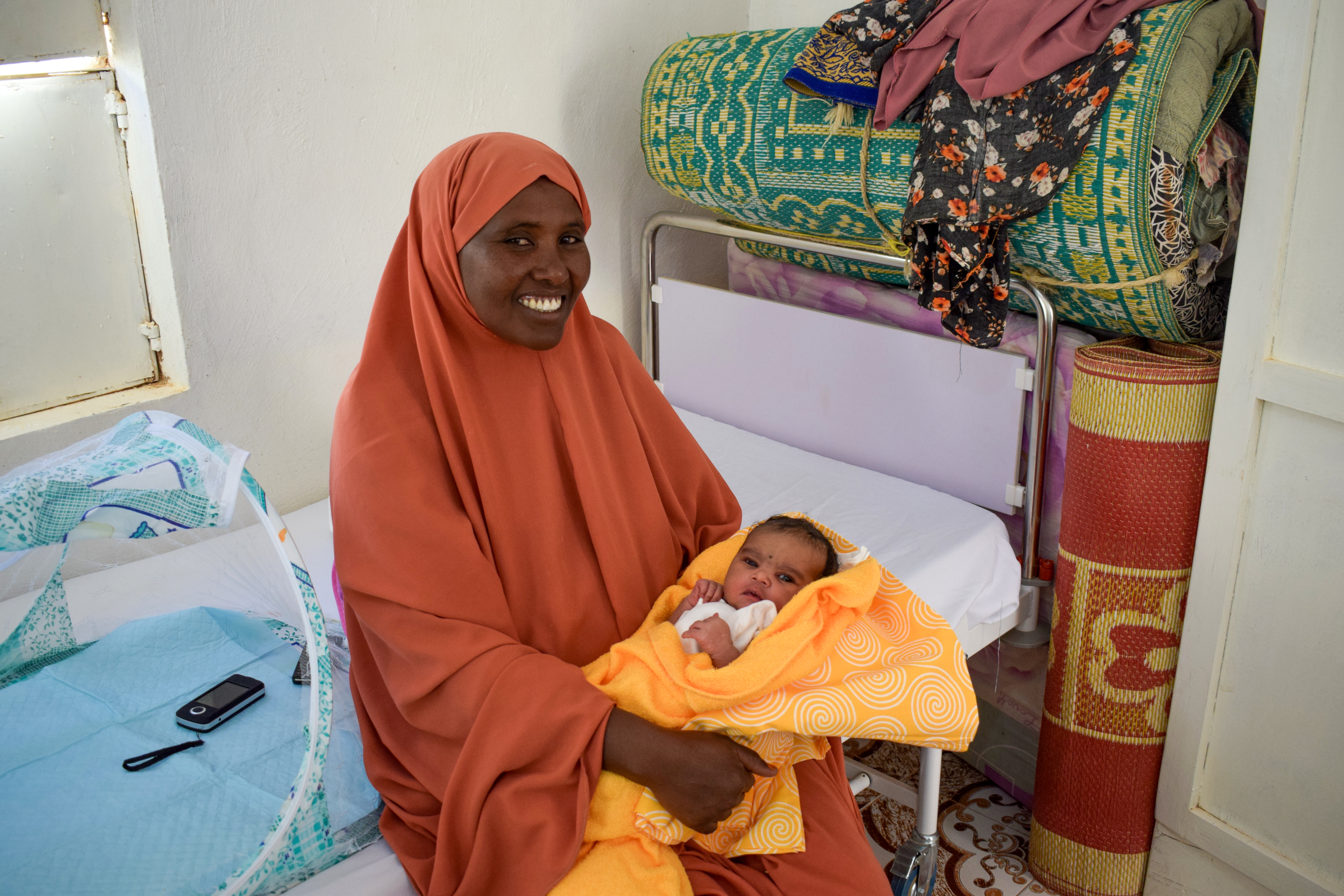 Layla, one of the beneficiaries of this initiative delivered her baby girl at one of World Vision's supported health facilities in Puntland in December 2020. Layla has five children, including the newborn.
It was the first time Layla delivered in a health facility. Previously, she delivered all her first four children at home with the help of a traditional birth attendant.
In many rural communities, especially in fragile contexts, many mothers would deliver their children at home with the help of traditional birth attendants due to either lack of awareness or no health facilities. This would cause health complications later.
When Layla was asked why she chose to deliver at the facility, she said that she wanted to utilise the free health services and get the kit that was being distributed at the health facility.
"I am happy to receive these kits for my newborn child. Before, I would not have been able to get them and I would have a hard time buying the items because I cannot afford," she says. Layla was excited because all the items were things she needed to buy, but could not afford because they were expensive.
Ayan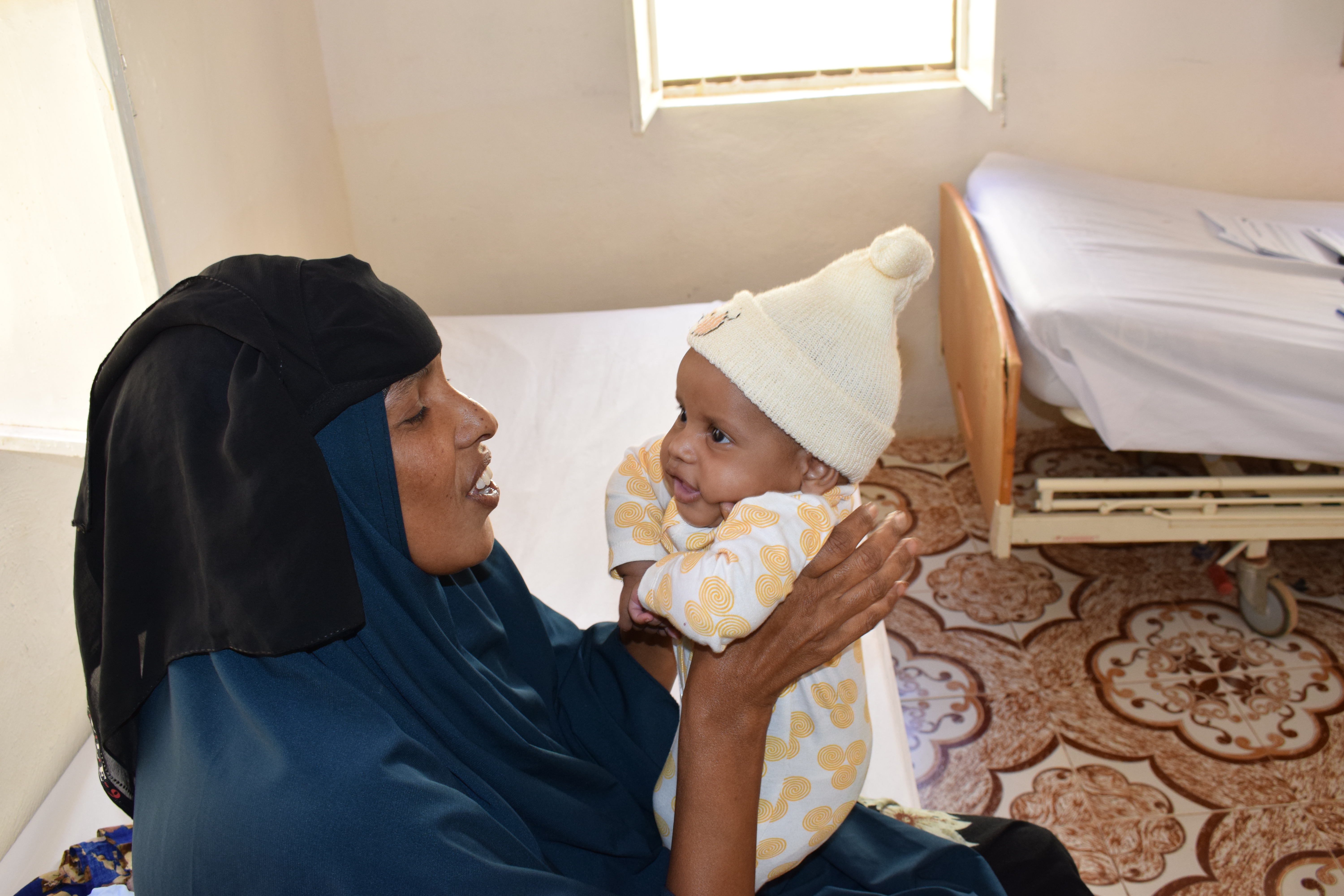 Ayan Abdullahi, a mother of two, lives in Burtinle town with her family. She is among the mothers who have  benefited from the baby kit distribution after delivering her children at the health facility. Like many others, Ayan has gained from diverse services such as health and nutrition and awareness on different topics including health-related prevalent issues ranging from Acute Watery Diarrhoea in children to pregnancy complications.
At the health facility, Ayan and other mothers receive quality services and they are attended to by skilled nurses and doctors during their pregnancy journey. "I am happy because both my child and myself received these kits. My child can now sleep under a mosquito net which I didn't have money to buy from the market. The torch I received also helps to give light at night when am breastfeeding," Ayan says.
Maryan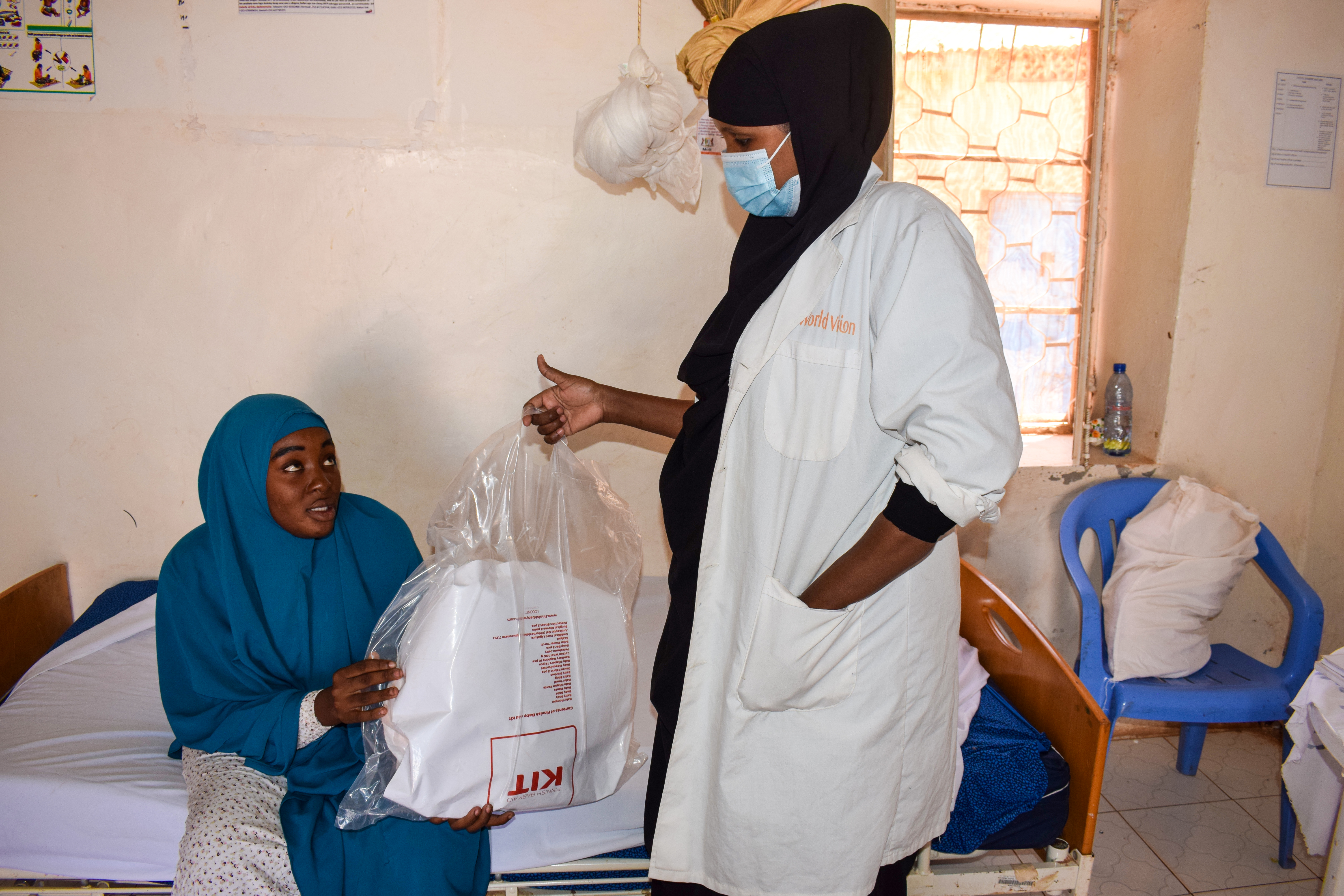 Maryan Mohamud also delivered her first child at the health facility with the assistance of skilled birth attendants. She lives with her husband, her parents and other siblings in one house.
Being her first pregnancy, as a new mother, Maryan was worried about what would happen at the end of her nine-month journey of expectancy. But after listening to the advice given her whilst attending ante-natal care sessions at the facility, she stopped worrying and her hope was to have a safe delivery.
After completing ante-natal care visits and delivery, Maryan was enrolled on the list of beneficiaries that received baby kits and other items such as shoes and fabric that she can use to tailor other clothes for the baby.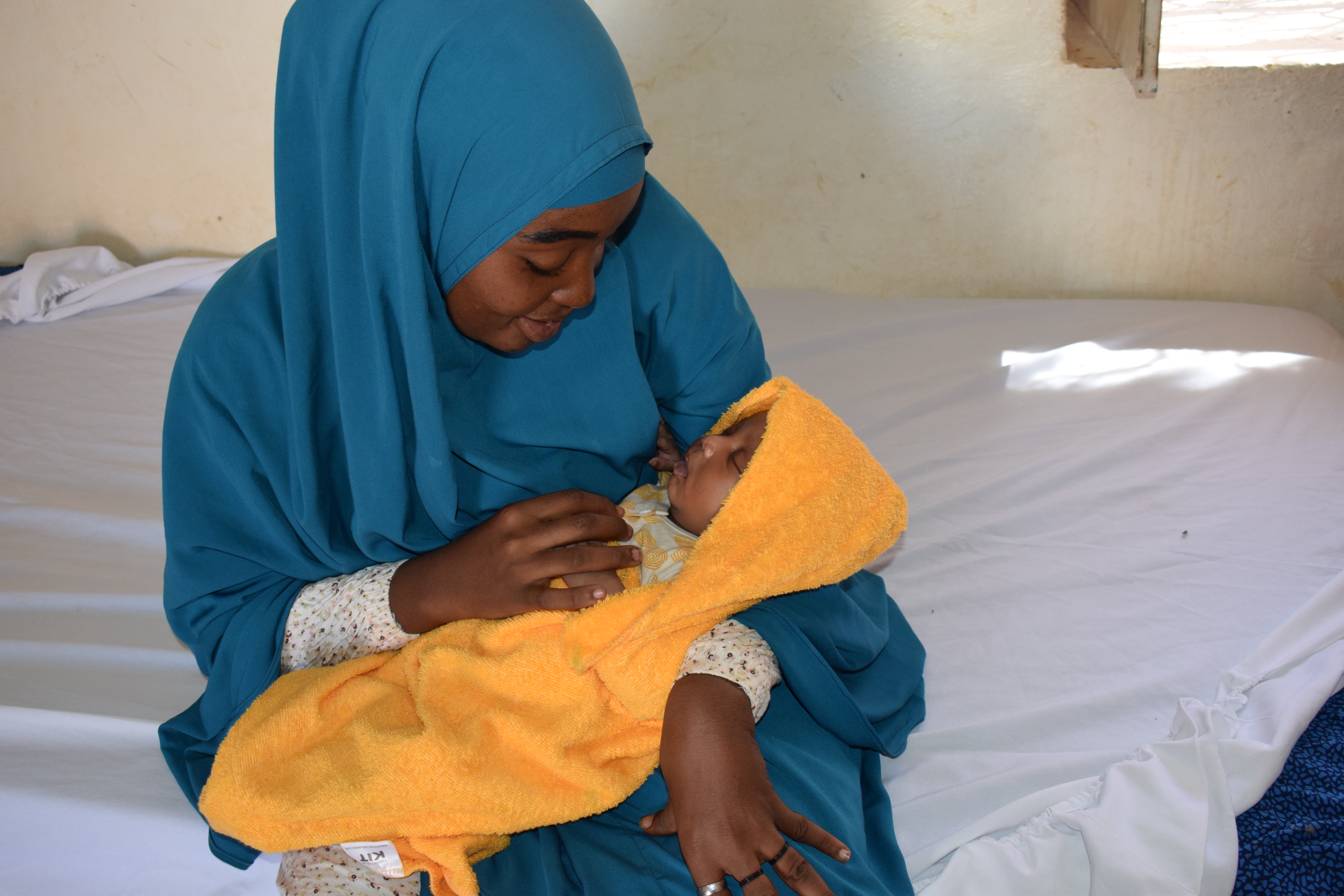 "This was the first time I was having a baby and I did not know all the things that I would need. These kits have been useful to me and my child and I have been able to use them well. I am really happy with the mother kit because as a first time mother there are things you don't really know how to approach. They have helped me to get started on what I need and my child now has brand new clothes that are of good quality," says Maryan.
The little money Maryan had, she would use to buy other items for the baby.
Nimo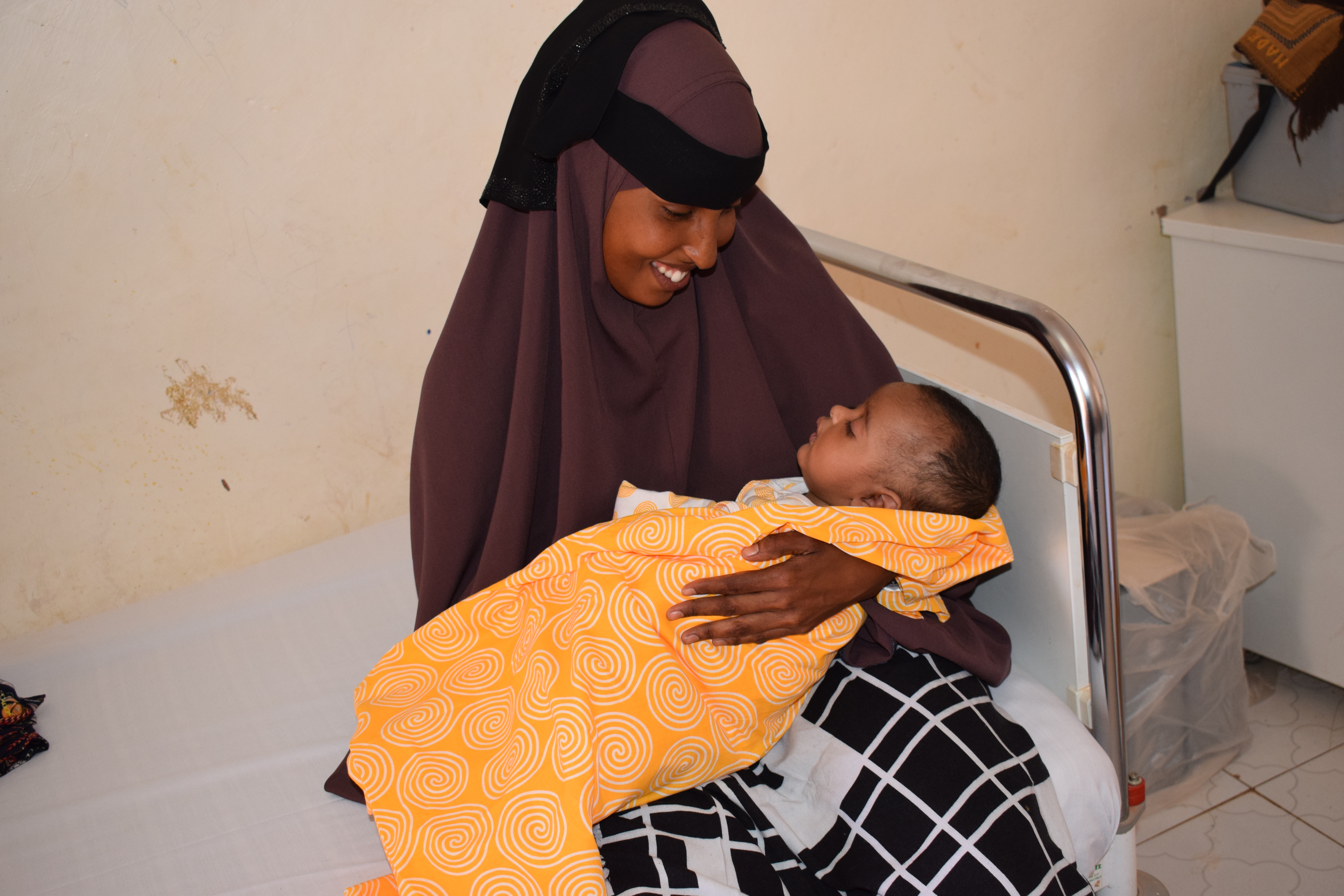 For Nimo Abdirisaq, it's a little different. She delivered all her three children at health facilities. Nimo could not hide her joy too. "I was lucky to be given these items for my child because it was my first time to receive such a gift from a health centre. I am happy that diapers and other hygiene items were part of the kits and clothes for my child."