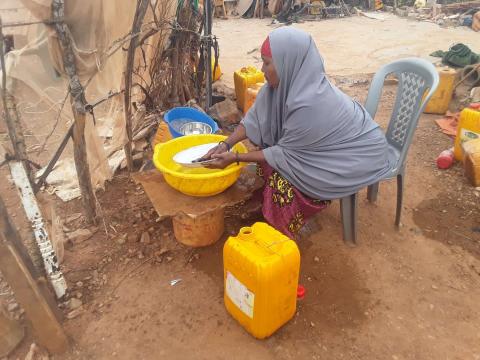 Clean water gives girls and women hope
Saturday, October 10, 2020
The combined effects of recurrent droughts, insecurity due to on-going political instability and the COVID-19 pandemic have had a negative impact on economic stability and livelihoods, leading to a chronic humanitarian situation and major displacements of people throughout Somalia. Following recurrent droughts, a lot of people have moved from drought affected areas in rural to urban centres to seek for humanitarian assistance. Bay Region is among the worst affected areas in Somalia, and this has caused an influx of internally displaced persons (IDPs) and an increase of IDP sites in Baidoa town, the capital of Bay Region.
Most IDP sites in Baidoa have no safe and clean drinking water. Women and children walk long distances to collect water. Waterborne diseases including frequent cholera outbreaks contribute to the high prevalence of acute malnutrition and stunting amongst children under five. This has contributed to Somalia having the highest under-five mortality rate in the world which stands at a daunting 122 deaths per 1,000 live births. Due to long treks to collect water, women, girls and young boys face multiple risks, such as sexual and physical abuse, as well as sexual gender-based violence (SGBV) related risks.
Nuria Hussein Hajji, a mother of 4 children (2 girls and 2 boys) has been living in Awal Barwaqo IDP camp since 2014. She fled her rural home because of drought that caused the loss of their livestock. Her husband was the breadwinner. His main economic activity was selling charcoal to earn a living. Currently, he is not selling charcoal. Nuria took over the responsibility and started selling firewood. Apart from reduced income, she says that one of the biggest challenges they faced upon relocating to Baidoa town was a shortage of water.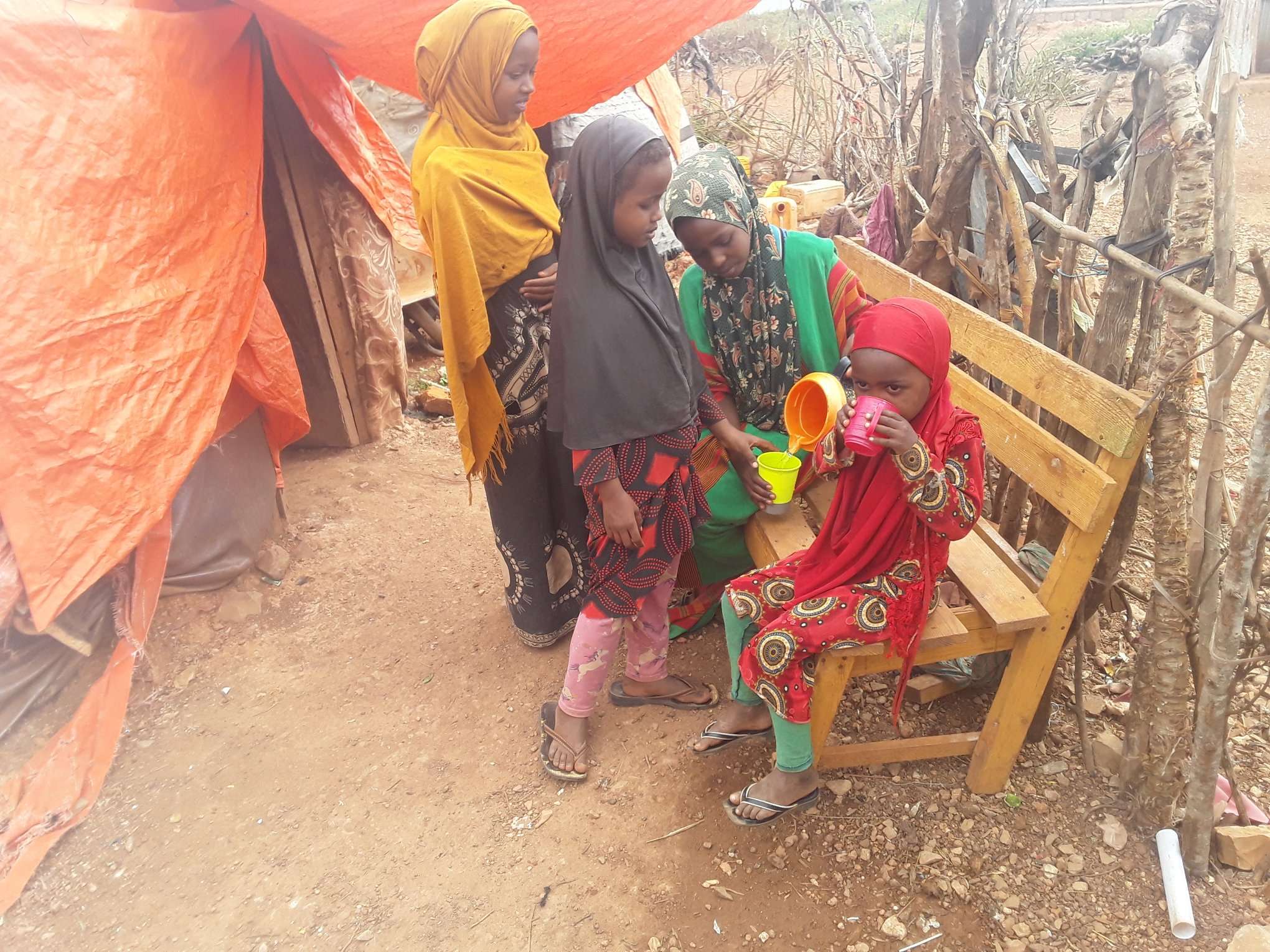 "For us to get clean and safe drinking water, it often requires long, arduous hours of walking to the nearest water source," Nuria explains. "Due to insecurity and the amount of time we need to reach clean water, many women are sexually harassed on the way," she adds.
She also had to pay for the water. "We spent a lot of time to fetch water and we didn't get time for other productive activities such as farming and small trade. Our daughters could not go to school because they assist us to take care of the other children and running the business while we're away fetching water," narrates Nuria.
World Vision responded to the crisis to address the scarcity of clean water in the IDP camps by connecting water to an elevated tank in Awil-barwaqo. The tank was constructed with support from funding by Global Affairs Canada (GAC) in 2019.  In addition, World Vision rehabilitated a water kiosk and connected it to water. Those living in the IDP settlements are now able to access clean and safe drinking water from the borehole in Hanano on a daily basis.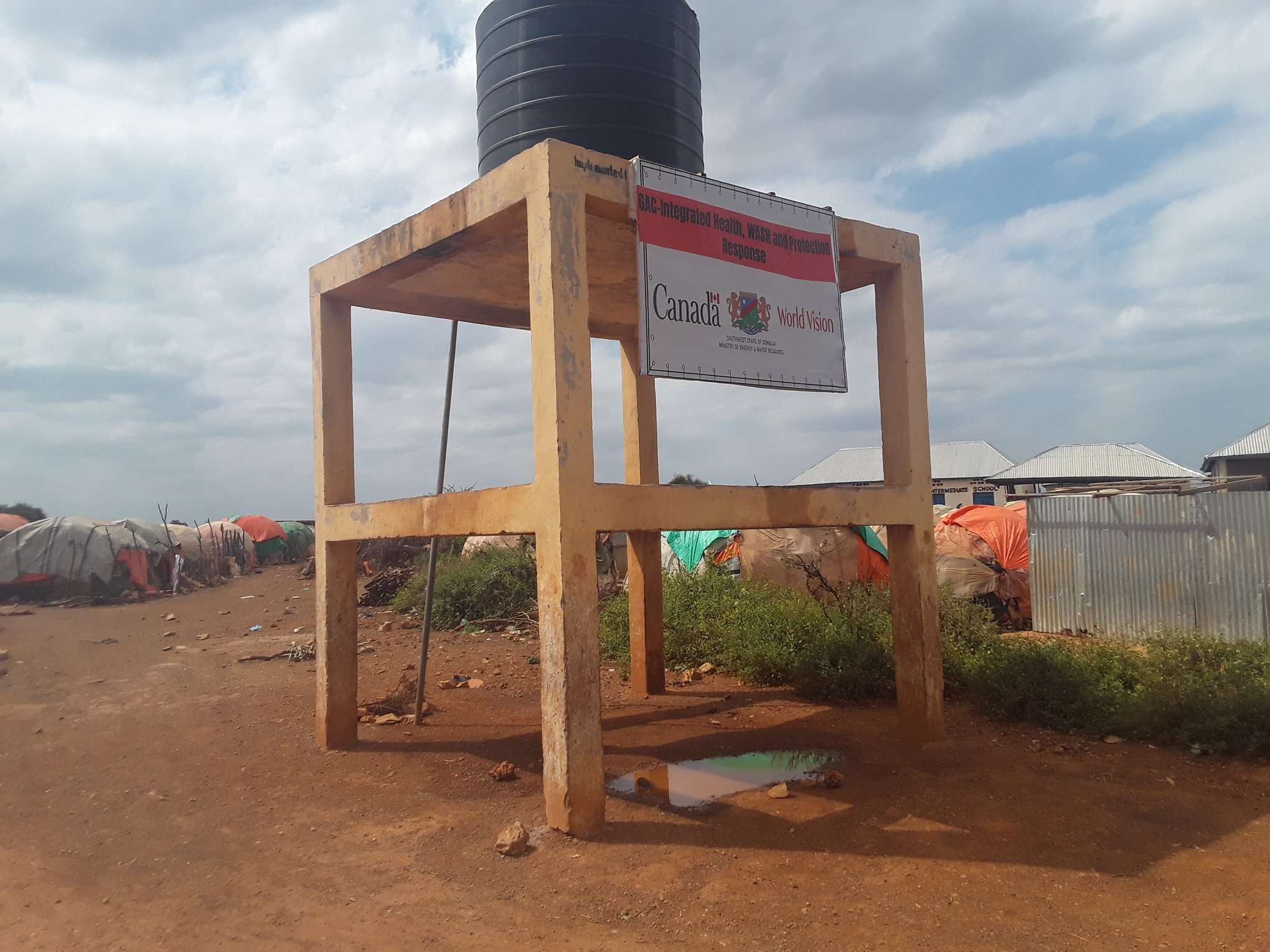 "Sometime back we suffered poor hygiene because of lack of clean drinking water, but now after World Vision supported us with the borehole and connected the kiosk, I don't need to walk a long distance to get water. My daughter joined Awal-barwaqo school saving her tremendous amount of time for her education," a happy Nuria says.
Nuria and the other members in her IDP settlement at Awal-barwaqo no longer walk long distances in search of water, which is now within their premise.
"Thanks to World Vision we have clean and safe water. I was among those who were taught how to use and take care of the tank and kiosk. This training will help us manage it well and continue to get water supply," she concludes.