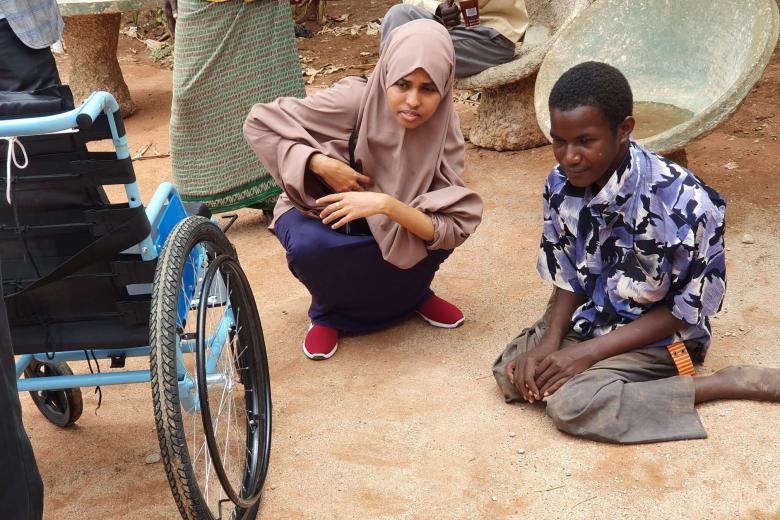 Giving hope to the physically challenged - Adan's story
Tuesday, June 2, 2020
Children with disabilities are invisible and face many barriers to inclusion, including lack of awareness in the communities, insufficient skills, negative attitudes and stigma, poverty and a severe shortage of assistive devices and mobility aids. 
They can and want to be productive members of society but are sometimes marginalized within society. They are more likely to experience adverse socioeconomic challenges than persons without disabilities, such as less education, poorer health, lower levels of employment and higher poverty rates.
During a routine campaign session to create awareness and disseminate messages on integrated protection to communities at Minafafle I IDP camp in Baidoa, a capital in the southwestern Bay region of Somalia, World Vision staff and the Community Child Protection Committee team met a 17-year-old orphaned boy who is physically challenged and lives alone.
Adan can hardly walk and moves using both his hands and feet. His condition is a result of the poliovirus he contracted during his childhood. Despite not having any source of help, he is still optimistic he will succeed in life. He has a lot of hope for the future, and his desire when he grows up is to help people who are physically challenged like him.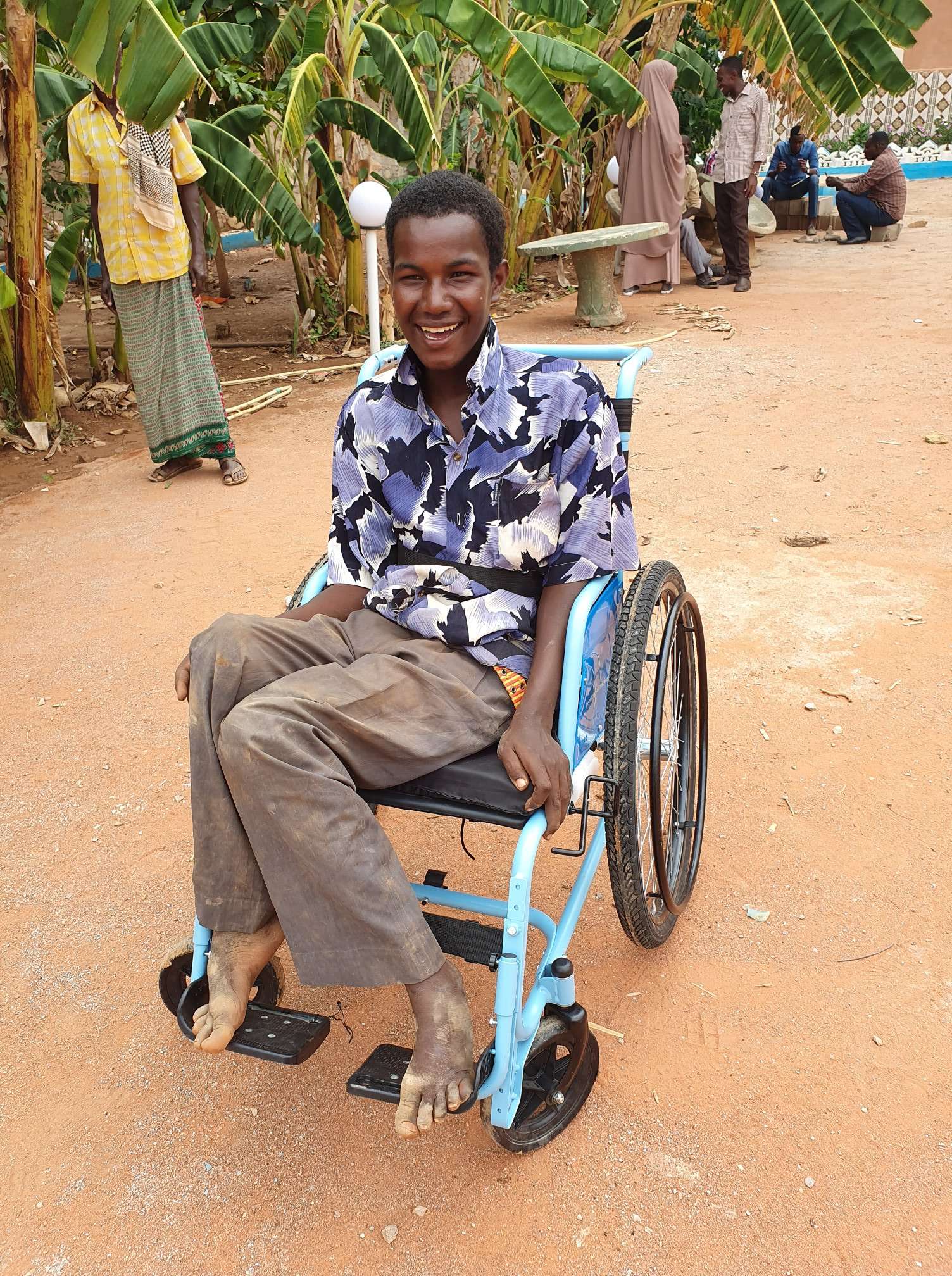 "I completed the Madrassa Quranic School and currently learning how to write Somali language. In the future I hope to be an educated person that can work on my own," says Adan.
Internally displaced persons (IDPs) with disabilities like Adan have been victims of multiple forced evictions which makes it harder for them to maintain their livelihoods, amongst other challenges.
Through the integration projects implemented by World Vision and funded by Global Affairs Canada (GAC), Adan was supported to get meals and be able to move comfortably and easily. He was enrolled for free food vouchers under the relief project and received a wheelchair under the World Vision International Gift in Kind intervention.
He moves a distance of about 6 kilometres from his home to the scope centre where he goes to redeem his food allocation and back.
Children with disabilities have very limited access to educational opportunities and face widespread discrimination. Other barriers they face include lack of accessible physical environments and transportation and non-adapted means of communication.
"I encourage all children with disabilities to learn in every way they can so that they can have productive lives in the future," he adds.
Through the Protection project, Adan is also waiting to be enrolled for an institutional and enterprise-based Technical Vocational and Educational Training (TVET) course of his choice when the COVID-19 lockdown is lifted so as to enable him to get skills for self-employment.
Through the GAC project, World Vision supports 358,001 people (147,442 women 73,174 girls, 66,850 boys, and 70,535 men) through interventions in health & nutrition, WASH and protection in Baidoa.
The Project responds to the common and unique needs of women, girls, boys, and men that have emerged because of the humanitarian situation or that have been exacerbated by the ongoing crisis. Special focus is placed on protection, gender, and disability inclusion that cut-across all activities ensuring safe and equal access.