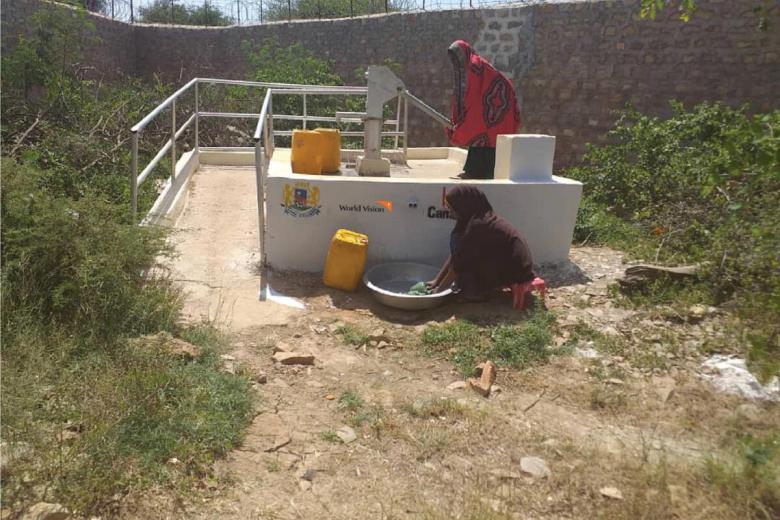 A shallow well saves girls and women in Baidoa the long trek for clean water
Saturday, May 9, 2020
In a small Howlwadaag village, located in Baidoa in the South West State of Somalia, access to safe and clean drinking water had been far from reality for many families. Like her fellow women in rural villages, Amina Ibrahim Yarow, a mother of 10 children (4 girls and 6 boys) has been trekking a long distance in search of this essential commodity.
Half of the community used to fetch water from contaminated sources. Some of the water sources from nearby villages dried up and some were contaminated and the water not safe for drinking. Even after trekking up to about 15 kilometres to look for clean water, sometimes Amina would spend a lot of time waiting in queue by the nearest wells during dry seasons before fetching water that would still sometimes not even be very clean.
''Our hand-dug well was open to germs from surface runoff, animal waste, insects and dirt from materials we used to lift the water up. The colour, odour and appearance of the water changed and our children often suffered from diarrhoea. All these issues forced us to walk to far places to fetch water,'' says Amina.
To help shorten the long treks and end access challenge for women like Amina and her community in Howlwadaag village, World Vision together with the Ministry of Energy and Water Resource supported the rehabilitation and protection of a well within the village.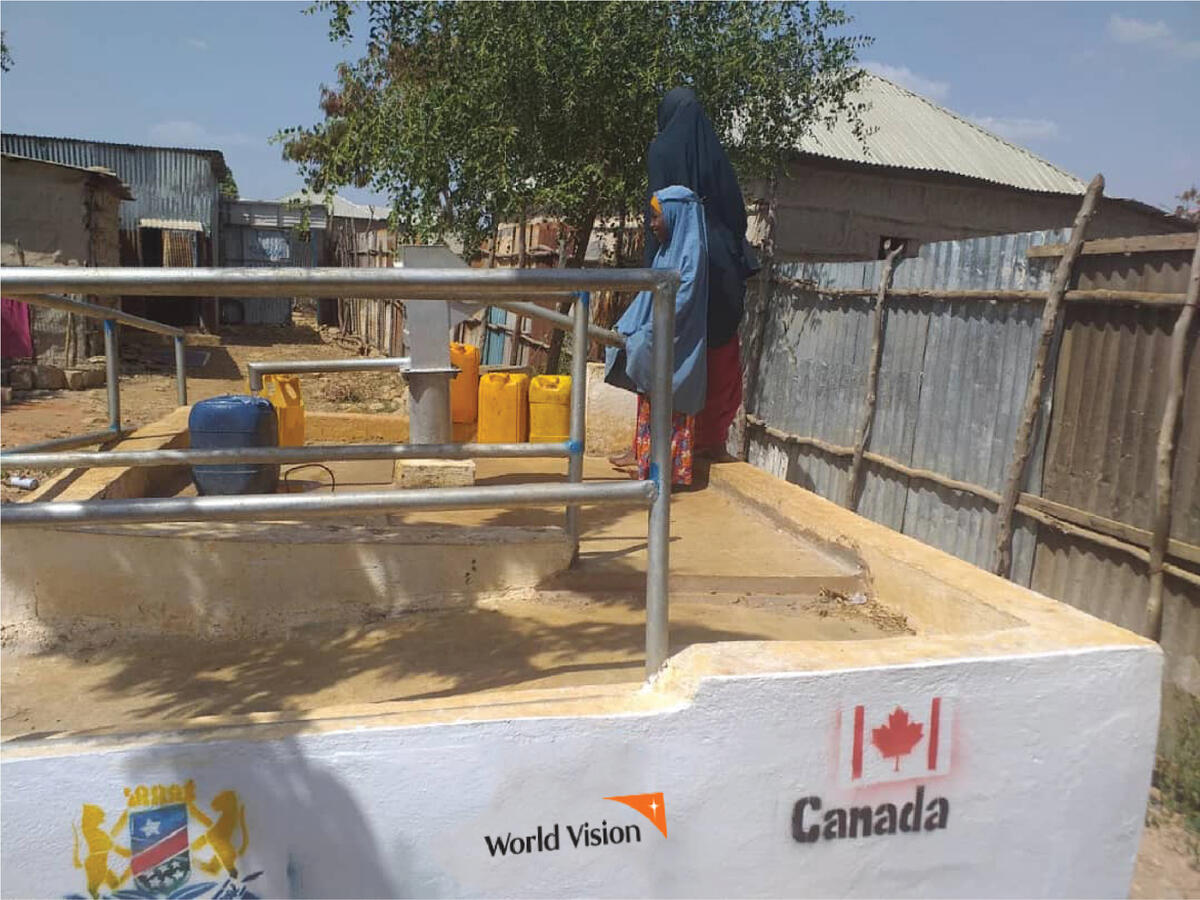 ''I am very grateful that we now have clean water from this well. Thanks to World Vision and the government for repairing this well for us. Now we can fetch clean water in less than 15 minutes because we are not going far to look for it and our girls now have time to go to school,'' adds Amina.
Before this well was rehabilitated, Mr Mayow, Amina's husband, a teacher at a local school in Howlwadaag worried about their girls' future. Like in many fragile contexts, many female students miss school because they have to spend time in search of water for their families.
Mr Mayow always wished that one day his family would access clean water and that their girls would have time to attend school. His dream came true, through funding support by GAC, World Vision partnered with the Ministry of Energy and Water Resource who worked together to ensure they provide a solution to ease the challenges girls and women faced.
"As a father and teacher, I would always feel sad to see girls not attending school as the boys did. Lack of safe water in this village has significantly affected the educational performance of many girls," he explains.
He adds that: "Our women and girls will no longer suffer to walk long distances to go look for water. I appreciate the support as this has been provided to us at the right time."
Through rehabilitating shallow wells this has also improved safety and security for young girls and women who used to walk long distances in search of safe and clean drinking water for their families.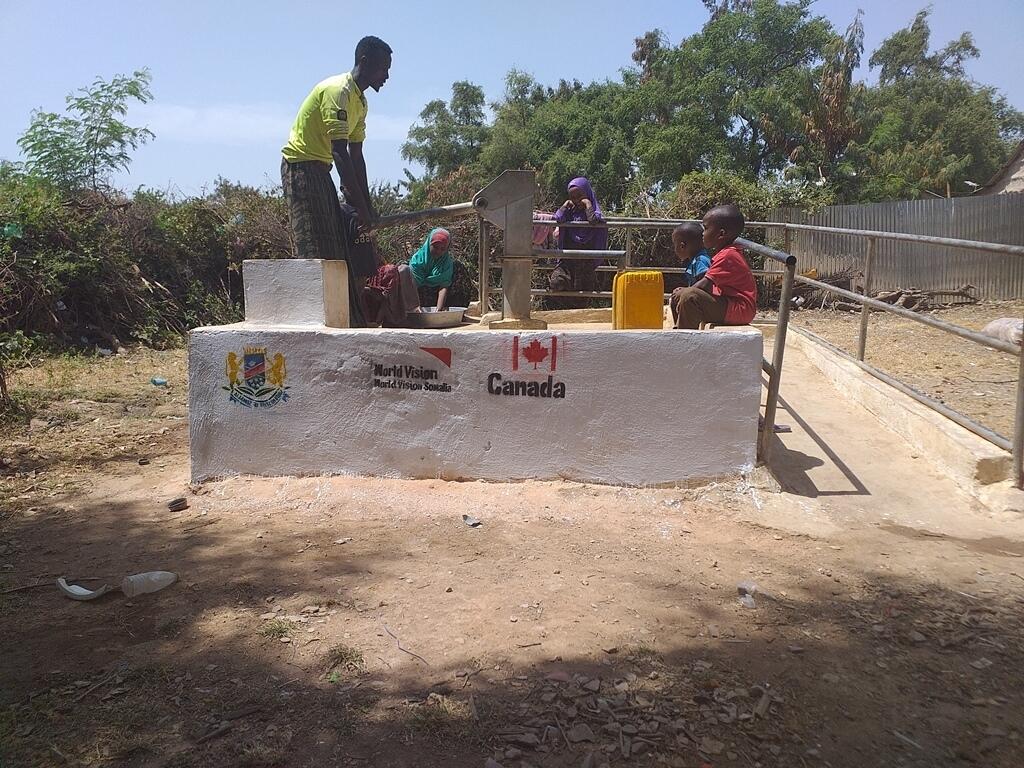 The rehabilitated shallow well in Howlwadag village will serve and provide safe and clean water for an estimated 500 households (approximately 3,000 individuals). The well has also helped to improve the health of children and their families, and seen a remarkable decrease in the incidences of water-borne diseases including and especially Acute Watery Diarrhoea (AWD) and malnutrition in under-five children.
Additionally, through support by GAC, World Vision reached people with special needs including those that are physically challenged, those with chronic illness and the elderly to get safe and drinking clean water and for other uses in their homes.
As World Vision continue to reach the needy, there is need for continued support due to a high influx of Internally Displaced People (IDP) arrivals to Baidoa and surrounding IDP/host communities who still need to access the clean water. Recent reports by the Camp Coordination and Camp Management (CCCM), indicate that new IDP arrivals in Baidoa in the past six months had increased IDP sites from 391 to 435, with an estimated population of about 390,000 people.