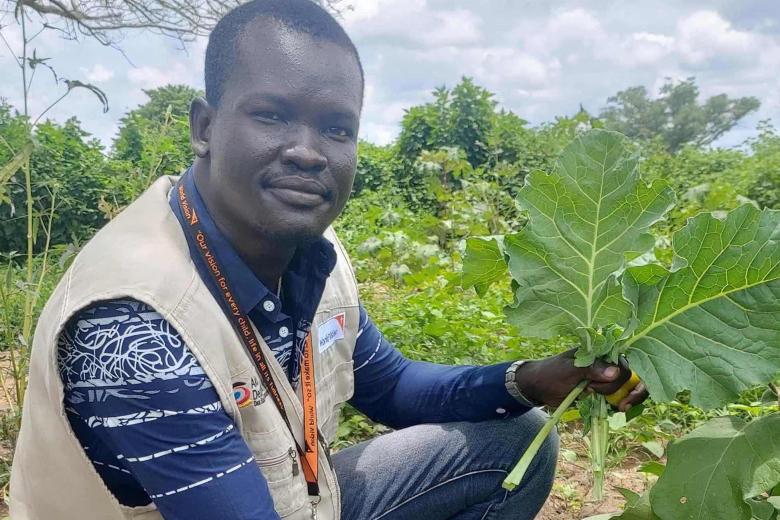 A former South Sudanese refugee gives back by serving as humanitarian
Wednesday, September 1, 2021
I grew up in Kakuma Refugee Camp in Kenya and survived my growing years through humanitarian assistance. When we arrived at the emergency reception camp, it felt like heaven to me. There was food, water, shelter and basic needs.
My father died during the civil war when I was still a toddler. My mother singlehandedly raised me and my two brothers. My university education was sponsored by Sudan Unlimited, an organization that helped children affected by conflict from South Sudan and Sudan.
The love I saw from the humanitarian workers who provided services to refugees gave me a new sense in life. I asked myself how can I give back and reward those who provided us the help and got my answers when I finished my degree on Public and Environment Health. I am now able to help others.
I went back to South Sudan and did volunteer work with local organizations and with the International Medical Corps as Infant and Young Child Feeding Officer. I joined World Vision in 2017 as Nutrition Officer in Upper Nile State.
My experience dealing with children with acute malnutrition was a life changing. Whenever I feel demotivated, I would reflect on what these innocent children will go through without my help.
There were a lot of difficult experiences working in a country like South Sudan. But out of love to serve, humanitarians can withstand the risks, stress, and hardship. I cannot forget one of my encounters with some hostile group in Malakal County.
I am a product of kindness I received from others. Now I am in a position to share.
I was stopped as I stepped out of the canoe and the group asked what was my purpose staying in the county. Though scared, I tried my best to calmly introduce myself and managed to convince them that I came to help even if I belong to a different tribe.
The service comes with personal sacrifice and commitment, even a threat to one's life. Having experienced and understood refugee life and lived on humanitarian assistance, it made me more inspired to serve the most vulnerable with faith and dignity.
I came to accept that danger is part of the challenge that comes with my work so I can serve my people. The group were touched by my words and and one of them volunteered as a translator in the assessment work we did in the communities. I learned that there is power in love of work.
My current work includes building capacity of nutrition officers, nurses, community workers and volunteers in 12 facilities that provide treatment to at least 149 children monthly with severe acute malnutrition and 547 children with moderate acute malnutrition.
We also support 547  pregnant and lactating mothers with acute malnutrition, and an average of nine children with medical complications in the stabilization centre.
The good we do to ourselves as individuals remain in us but what we do to others is a huge blessing for human transformation. I am a product of kindness I received from others. Now I am in a position to share.
Written by Gai Gabriel who is currently the Nutrition Manager based in South Sudan's Gogrial East County.