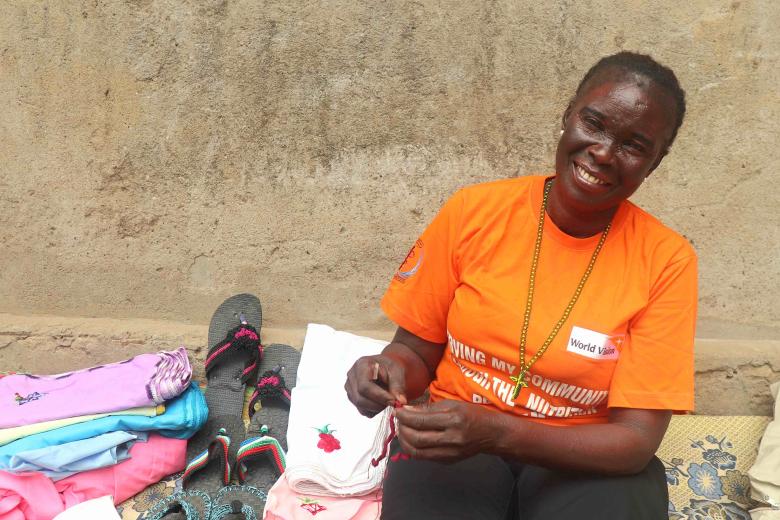 Joyce inspires fellow South Sudanese mothers to join nutrition campaign to protect children
Friday, March 5, 2021
"It was a tough decision to serve my people during this difficult time of COVID-19 to help South Sudan. I will continue to work for my community, reach out to the children, pregnant and lactating mothers", says Inna Joyce, 50.
The hardworking mother of six joined World Vision's mother-to-mother support group in April 2017 and became a lead mother in Munuki Primary Health Care Center (PHCC).
Halima Asha, Nutrition Assistant in charge of Munuki PHCC, says, "From being the lead mother, Joyce was recommended and recruited as a volunteer for Munuki PHCC Nutrition team because of her diligence and dedication."
Every morning, Joyce steps out of her home on a bicycle and her backpack. With smile on her face, she greets her neighbors along the way as she cycles towards her assigned households.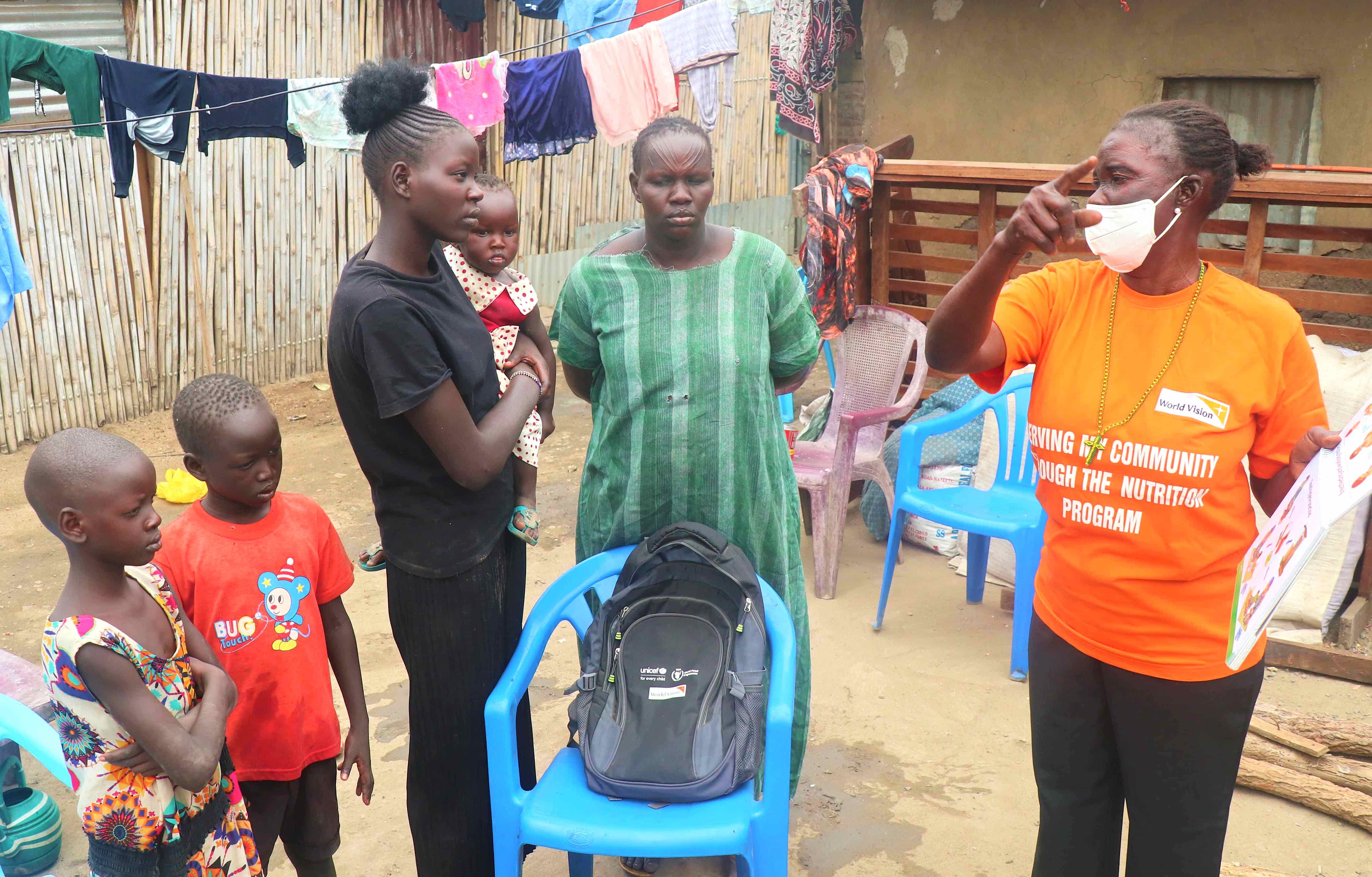 In partnership with the State Ministry of Health (SMoH), the World Food Programme (WFP) and UNICEF, World Vision implements a lifesaving nutrition programme through the Juba Urban Project.
The community nutrition volunteers like Joyce focus in community management of acute malnutrition and other interventions. The project currently has 135 volunteers, each of them deployed in a block within Juba.
"The current work arrangement balanced my work and household chores well. The volunteer incentive I receive every month helped me start a business that is greatly helping my family", says Joyce.
I am excited to serve the people and refer them to the hospital whenever they report health related issues to me. This work has given me a sense of responsibility.
She happily shares, "I make handcrafted shoes, embroidered bed sheets, locally made Juice and ice cream and sell in my neighborhood. I do this after work and on off days."
"I am a trained counselor helping screen children for acute malnutrition. I also train mothers how to properly take care of their children and raise awareness on COVID-19. The bicycle provided to me eased my movement", Joyce adds.
Joyce shared that she gets to visit 20 households every day. She adds, "I am excited to serve the people and refer them to the hospital whenever they report health related issues to me. This work has given me a sense of responsibility."
Although the COVID-19 pandemic made work difficult, the volunteers pressed on and continued serving. "Some people called us corona and even refused to let us into their homes but we persisted. They eventually they allowed us. World Vision provided us with facemasks, hand sanitizers and gloves to protect ourselves," says Joyce.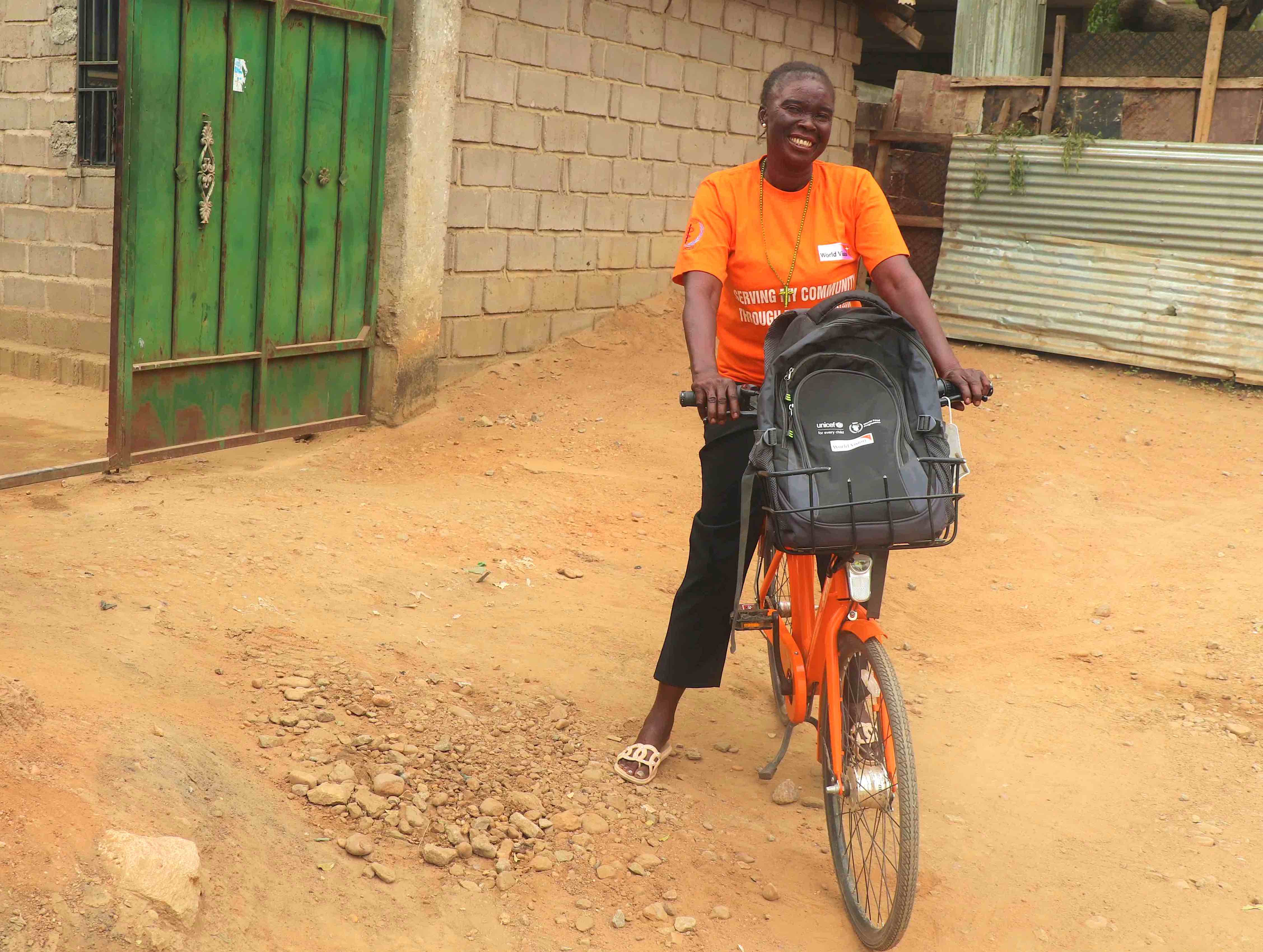 Nyawiya, another mother shares, "I joined World Vision's project through Mama Inna Joyce who taught us the importance of exclusive breastfeeding, good hygiene at home and kitchen gardening."
Rahab Kimani Nutrition Manager says, "Through Joyce and other volunteers, the project was able to reach communities with key messages despite the challenges when coronavirus came."
Kimani added that the project was able to provide individual counselling sessions on Maternal Infant and Young Child Nutrition to 14,411 female caregivers and 6,624 male caregivers in the nutrition sites and communities.
With the volunteers efforts, the project supported over 1,500 children for admission and managed for severe acute malnutrition while 5,000 children were managed for moderate acute malnutrition.
Story by Komakech Ronald Mandela, Nutrition Project Coordinator I Photos by Jemima Tumalu, Communications Officer