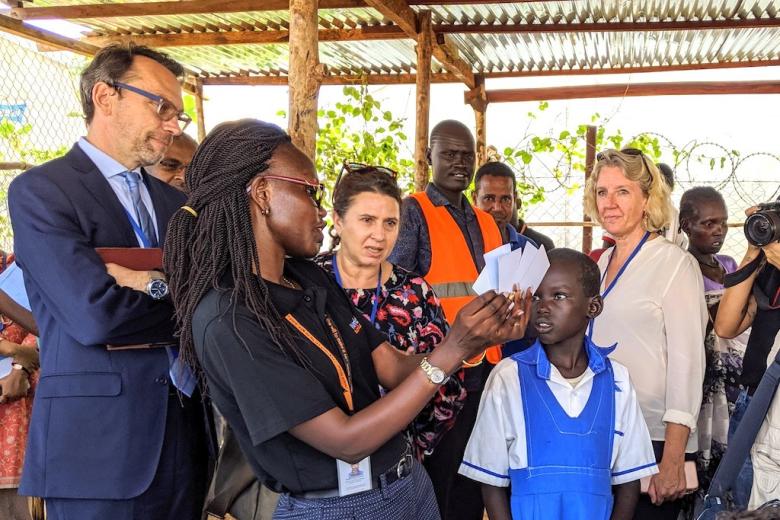 Members of the French Parliament and Ambassador Marc Trouyet visit food distribution in South Sudan's IDP camp
Wednesday, October 30, 2019
Juba, South Sudan – This week's food distribution in Juba's Protection of Civilians (PoC) 3 Camp was witnessed by Members of the French Parliament Annie Chapelier and Valerie Thomas accompanied by the World Food Programme's Deputy Country Director for South Sudan Mary-Ellen McGroarty.
World Vision, in partnership with the World Food Programme (WFP), supports 57,838 registered internally-displaced people (IDP) in three out of six Protection of Civilians (PoC) sites under the United Nations Mission in South Sudan (UNMISS). The two PoCs in Juba, South Sudan's capital have combined 31,000 IDPs while one in Malakal has 26,8383.
The monthly distribution often lasts for five days with the Food Assistance team dealing with 4,000-5,000 people daily. The food assistance is composed of oil, pulses, and cereals, cash for milling and salt. To support the team, 72 casual workers were hired, most of them are women. One of them was Regina, 38, a mother of four, who sought refuge six years ago.
She laments, "Life is difficult here despite all the help. We pray that peace will soon come so we can go home. Home for Regina is in Nasir, a small town in Greater Upper Nile region which is close to Sobat River and at least 30km from the Ethiopian border. Khor Choul, 34, a father of four, echoed Regina's sentiment. He expressed hopes for the ongoing peace negotiations to succeed so they can all go back to their towns.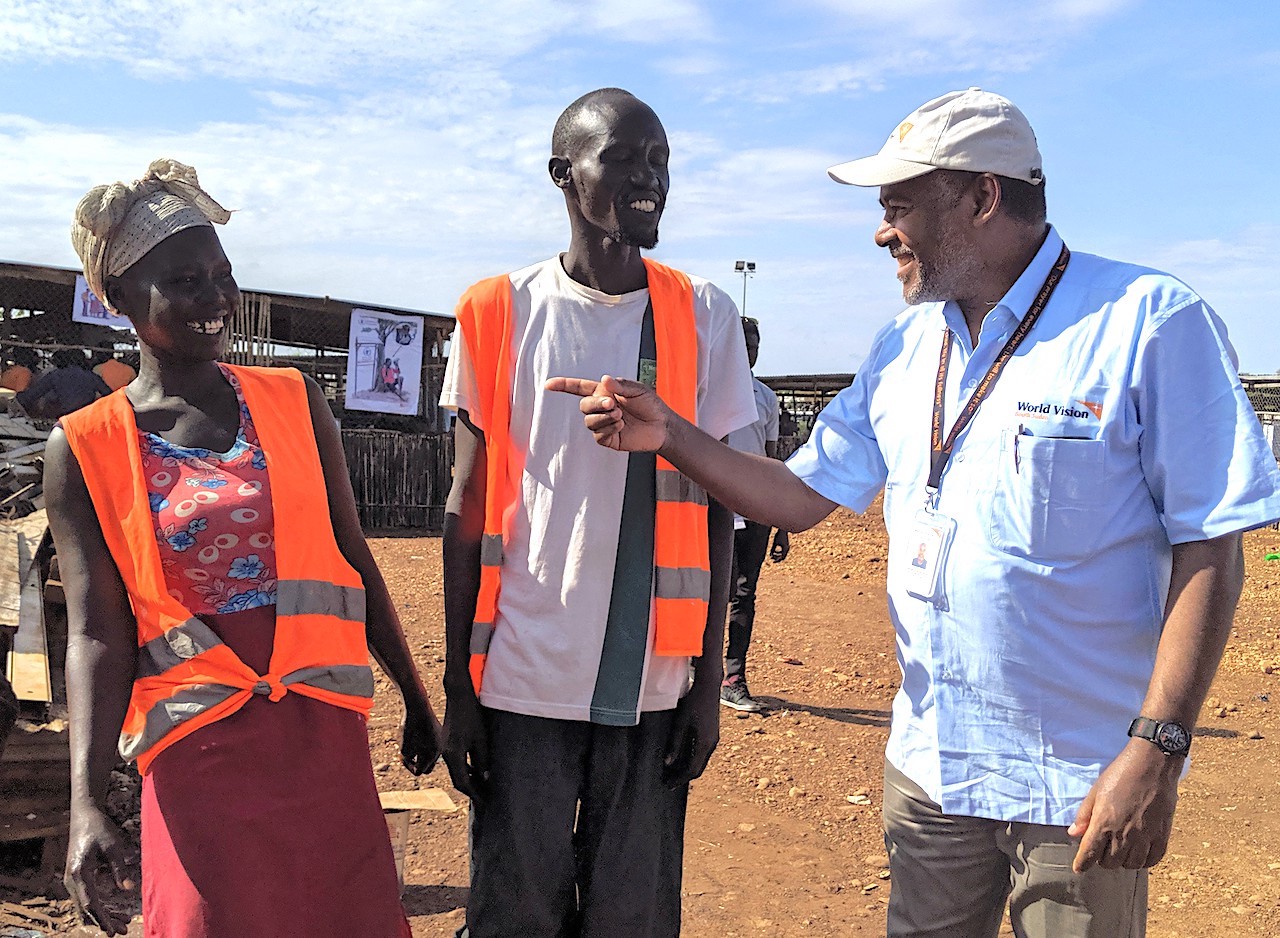 Nyaynet, a 22-year old mother of three, shared her story with World Vision's Country Programme Director Mesfin Loha as she worked with the rest of the workers dividing the oil for distribution. She walked for weeks to flee from the conflict in Unity State before reaching the PoC site in Juba.
Loha, moved by what she went through, says, "All these mothers pray and hope for in life is for peace to finally descend in South Sudan. Just like the rest of the mothers around the world, they want their children to grow healthy, go to school and have a good future. We, in World Vision, prays together with them as we also do our part of responding to their urgent needs."
Simanga Ndelebe, World Vision's Food and Cash Assistance Programme Manager shares, "Vulnerable women and children, continue to face serious hunger in South Sudan, and WV continues to go further than we imagined, in deep field hard to reach areas, and PoCs, in order to ensure that , a child has something to eat, this only possible with support of our donors, as the needs are overwhelming."
As of 24 Oct. 2019, the UNMISS reports that the total of number of civilians seeking safety in six PoC sites located in UNMISS bases is 194,954 including 115,960 in Bentiu, 32,608 in Malakal, 29,745 in Juba UN House, 1,935 in Bor, and 14,706 in the area adjacent to UNMISS in Wau.
"Despite the relative peace prevailing in the country, the humanitarian needs remain high amongst the IDPs as they are largely confined inside the camps and have no means of livelihood and source of income. It is very sad to see children growing up in the confined space with limited movement. We can only try hard to do our best to support them despite the challenges", says Gift Sibanda, World Vision's Juba Operations Manager.
World Vision's work in the PoCs started five years ago after the 2013 crisis in the country. Today, it has provided assistance to over 1.5 million people in South Sudan with various humanitarian initiatives including food.
Cover Photo: Emilienne Cyuzuso, World Vision's Food and Cash Assistance Project Manager explains the use of the food voucher to French Ambassador to South Sudan Marc Trouyet and French Parliamentarians Annie Chapelier and Valerie Thomas at the Juba PoC during the visit.
Story: Cecil Laguardia, Communications Manager
Photos: Eugene Combo/World Vision