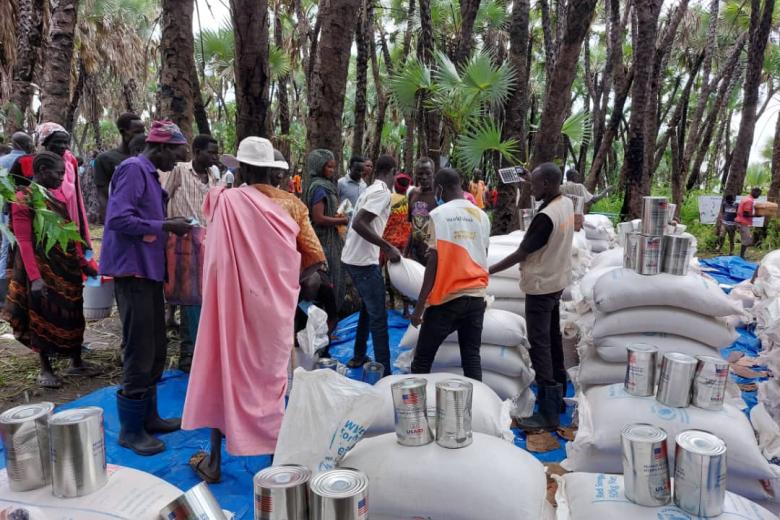 World Vision joins team responding to thousands displaced by conflict in Panyikang County
Friday, September 2, 2022
World Vision is partnering on an inter-agency humanitarian response to thousands of people displaced by conflict in Panyikang County, Upper Nile State.
With support from the WFP, and UNICEF, World Vision staff are delivering food assistance, providing nutrition support to children, and pregnant and breastfeeding women who are experiencing malnutrition, distributing hygiene kits and mosquito nets to families, and establishing emergency latrines to prevent waterborne diseases, among other things.
People fleeing violent clashes have arrived in Adidyang, and Obaye  in the last two weeks after several nights and days of agonising trekking.
"People are still arriving with very little. They're tired, weak, sick, hungry and they have very little when they arrive. There is a desperate need for food, health care, shelter, clean water, hygiene items, and sanitation services," said Patrick Mugalula , Zonal Program Manager, Greater Upper Nile, of World Vision South Sudan whose team is on the ground in the area. "We are hearing that people have had to leave the elderly and children behind and others have been separated from their loved ones."
World Vision is committed to continue supporting the needs of the displaced people in Panyikang County, Upper Nile State.
"Together with our partners, World Vision is committed to ensuring children and their families who have been displaced by conflict have lifesaving support. Our response teams are on the ground, and are working closely with other aid agencies and the UN determined to assist," Mugalula said.