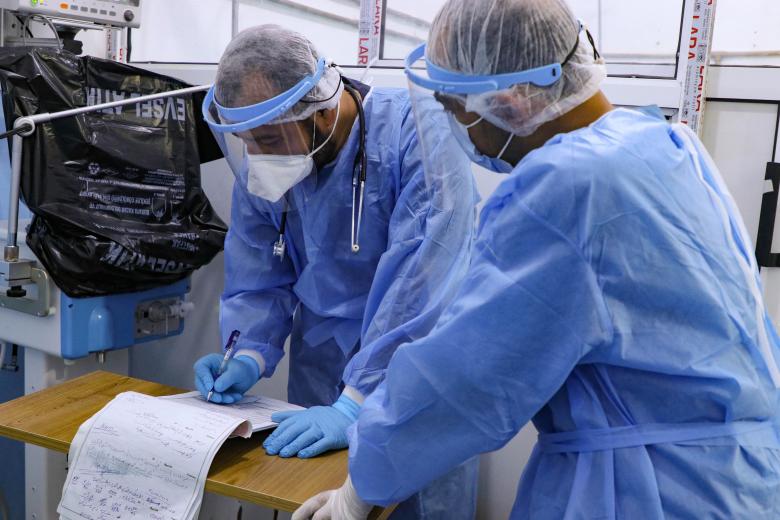 Overcoming COVID-19 at World Vision-supported isolation facility in Northwest Syria
Thursday, July 7, 2022
Sawsan* is a 56-years-old COVID-19 patient at a COVID-19 isolation facility supported by World Vision and run by its partners SAMS in Aleppo, Northwest Syria. "I was so tired and my lungs were infected. They brought me here to the emergency room by ambulance," she recalls.
Since arriving at the hospital, Sawsan says she has been cared for by the staff who provided her with much-needed medicines and medical care to recover. "Thank God I am feeling so much better now. I only wish the best for the hospital staff and hope that God gives them the strength to continue caring for other patients," she added.
Dr Moayad*, an internal doctor based at the facility confirms that Sawsan was in really bad shape when she was first admitted and had difficulty breathing. "Nevertheless, she has responded very well to treatment and is now doing much better," he added. Dr Moayad is hopeful that Sawsan will be ready to be discharged in the coming days, bidding farewell to the temporary family that cared for her at the hospital, in order to return to the original family that is eagerly waiting for her back home.
A few kilometers away at another COVID-19 isolation facility supported by World Vision and run by SAMS in Idlib, Northwest Syria, 41-years-old Mahmoud* is also seeking care. He woke up one day feeling intense pain in his abdomen and was suffering from severe shortness of breath.
"My family helped me to a nearby medical point, and I didn't wake up until I was at the isolation facility in Idlib," he recalled.  
Dr. Samaan* an ICU doctor at the hospital followed up on Mahmoud's condition and confirmed that he was unconscious when he first arrived to the facility. "He was admitted immediately and put on vital supports, starting with oxygen, and a general evaluation was conducted for him," he added.
According to the doctor treating Mahmoud, X-Rays and blood tests showed that the patient was suffering from pneumonia and anemia among other serious health issues, which required immediate attention and treatment from the staff.
After three weeks at the isolation facility, Mahmoud improved significantly, and was able to breath again. The patient – who has also known displacement in Northwestern Syria in recent years – feels thankful to have found stability and professional care at the COVID-19 isolation facility in Idlib, where the staff has taken the time to address all of his health issues in order to help him get back on his feet.
World Vision has been delivering life-saving assistance and health, WASH, education, protection and livelihood support to over 1.2 million people inside Syria since the start of the crisis in 2011. On average, more than 75,000 beneficiaries benefit from World Vision's Syria Response's health supported services in the community, primary health-care facilities and hospitals. As part of its response to COVID-19 in Northwest Syria, World Vision is working in five COVID-19 dedicated facilities where we provide life-saving support by running intensive care units with equipment, and staffing as well as providing essential pharmaceutical supplies such as medications, consumables and oxygen.
In addition, World Vision supports the epidemiological surveillance of COVID-19 by providing support to the PCR-laboratories, sample collection, transportation, analysis and result reporting, and contact tracing of cases, as well as the training of 1,500 volunteers, providing Information, Education and Communication materials and other support. World Vision's Syria Response is also advocating for the equitable distribution of COVID-19 vaccines and recently participated in a research survey assessing national vaccine deployment readiness.
World Vision worldwide is responding to the devastating impact of COVID-19 in more than 70 countries, reaching more than 66.1 million people, including 28.9 million children.
*The names of staff and patients have been changed to safeguard their privacy.