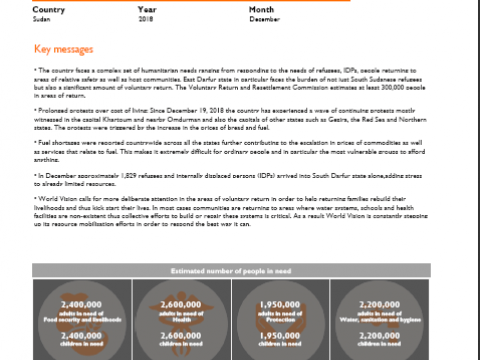 Sudan - December 2018 Situation Report
Wednesday, February 13, 2019
The country faces a complex set of humanitarian needs ranging from responding to the needs of refugees, IDPs, people returning to areas of relative safety as well as host communities. East Darfur state in particular faces the burden of not just South Sudanese refugees but also a significant amount of voluntary return. The Voluntary Return and Resettlement Commission estimates at least 300,000 people in areas of return.
Prolonged protests over cost of living: Since December 19, 2018 the country has experienced a wave of continuing protests mostly witnessed in the capital Khartoum and nearby Omdurman and also the capitals of other states such as Gezira, the Red Sea and Northern states. The protests were triggered by the increase in the prices of bread and fuel.
Fuel shortages were reported countrywide across all the states further contributing to the escalation in prices of commodities as well as services that relate to fuel. This makes it extremely difficult for ordinary people and in particular the most vulnerable groups to afford anything.
In December approximately 1,829 refugees and internally displaced persons (IDPs) arrived into South Darfur state alone,adding stress to already limited resources.
World Vision calls for more deliberate attention in the areas of voluntary return in order to help returning families rebuild their livelihoods and thus kick start their lives. In most cases communities are returning to areas where water systems, schools and health facilities are non-existent thus collective efforts to build or repair these systems is critical. As a result World Vision is constantly stepping up its resource mobilisation efforts in order to respond the best way it can. For more information, read or download our December 2018 situation report.