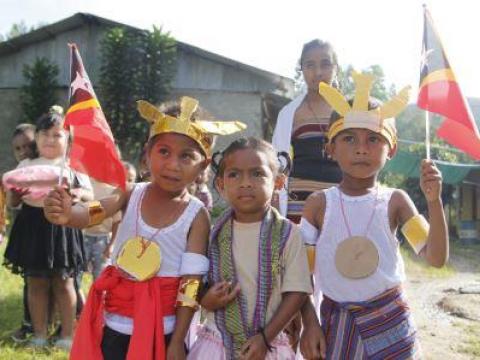 About Us
(Haree versaun Tetun iha okos)
World Vision is a Christian relief, development and advocacy organisation dedicated to working with children, families and communities to overcome poverty and injustice. Inspired by our Christian values, we work with the world's most vulnerable people, regardless of religion, race, ethnicity or gender.

World Vision Timor-Leste began its first project in Aileu municipality in 1995. Shortly after the country's independence referendum in 1999, World Vision opened its national office in Dili. Today, we have three Area Programs implementing projects in four municipalities: Aileu, Baucau, Bobonaro and Covalima.
Our mission is 'Healthy children for strong communities'. We recognise that children's health is holistic in nature and includes their physical, mental, intellectual and social wellbeing. We aim to empower Timorese children to transform their lives, in partnership with their families and communities.
Our four strategic areas 
  Ensure children enjoy good health, safe water and improved sanitation
  Ensure children are educated for life
  Reduce gender-based violence
  Enhance community resilience and livelihoods
***
Kona-ba Ami
World Vision mak núdar organizasaun Kristaun ba asisténsia, dezenvolvimentu no advokasia atu servisu ho labarik, família no komunidade sira hodi rezolve pobreza no injustisa. Inspira ona ba ita-nia valór sira Kristaun, ami servisu ho ema vulneravel liu iha mundu, la haree ba relijiaun, rasa, etnisidade ka jéneru.
World Vision Timor-Leste hahú nia projetu dahuluk iha Munisípiu Aileu iha tinan 1995. Iha tempu badak liutiha país-nia referendu ba independénsia iha tinan 1999 World Vision loke ona nia edifísiu nasionál iha Dili. Ohin loron, ami iha Área Programa sira tolu implementa projetu sira iha munisípiu haat: Aileu, Baucau, Bobonaro no Covalima.
Ami-nia misaun mak 'Labarik Saudavel ba Komunidade Forte'. Ami rekoñese katak labarik-nia saúde mak olístiku natureza no inklui sira-nia fíziku, mentál, intelektuál no prosperidade sosiál. Ami-nia objetivu atu habiit labarik Timor-oan hodi transforma sira-nia moris, iha parseria ho sira-nia família no komunidade sira.
Ami-nia área estratéjika sira haat 
  Garante labarik sira goza saúde di'ak, bee potável no sanitasaun melloradu
  Garante labarik eduka iha vida tomak
  Redús violénsia bazeia ba jéneru
  Hasa'e komunidade-nia rezilensia no subsisténsia sira