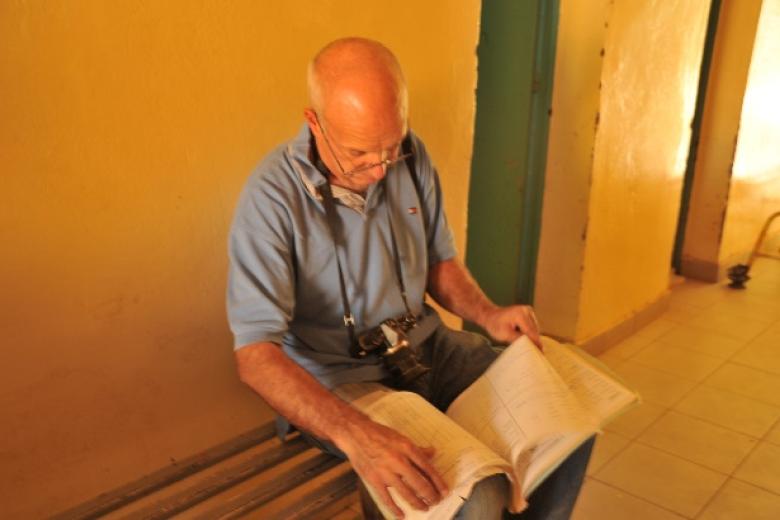 #REVISITED: Return to Niger
Monday, December 15, 2014
Photojournalist Nick Danziger is traveling with author Rory Maclean to eight countries as part of the #REVISITED project – where they are documenting the impact of the Millennium Development Goals (MDGs), and how progress, or lack of progress, can inform the post-2015 development agenda.
Aisha, Hassana and Husseina 
Danziger writes: I first photographed young twins – they were just 40 days-old – Hassana and Husseina in 2005. At the time, I learned that for several days their mother Aisha had been having terrible labour pains. It took her family three days to raise the money needed for an ambulance to take her the 72 kilometres to Tera hospital. Aisha died giving birth. When I returned in 2010, the twins were also dead – their aunt explaining she hadn't had the money to buy milk powder.
On my third visit last week, I visited the Tera hospital to try and find more information on what had happened to the twins' mother. Searching their archives revealed that upon arriving at the hospital, Aisha was immediately taken to the operating theatre shaking violently from edema and eclampysia. As she gave birth to the twins, one and possibly both had to be resuscitated. Aisha died soon after on the operating table. According to the records, she was 14-year-old.
Abbas
Another person I revisted in Niger recently was Abbas. When I first met Abbas in 2005, he was risking his life descending a 23-metre mine nine hours a day, 363 days a year in the search for gold. Abbas had abandoned this job in 2010, and was now working at the top of the pit washing sludge. Less precarious both in body and pocket, he had saved enough to marry.
Last week, I again met with Abbas in his home. He explained that because his first wife had failed to become pregnant, he had taken a second wife – 13 years old. As soon he raised the down payment necessary for the new marriage, his first wife Aïsha fell pregnant. Abbas has now returned to descending the mine shafts in search of gold.
I believe both these stories are illustrations of why the new post-2015 goals that replace the MDGs must seek to reach the world's most vulnerable people, says Danziger.
Read more about Danziger's visit to Niger.
Nick Danziger's next visit will take him to Uganda. Follow @WorldVisionUN and #REVISITED for updates.